Preview: Lakers at Minnesota Timberwolves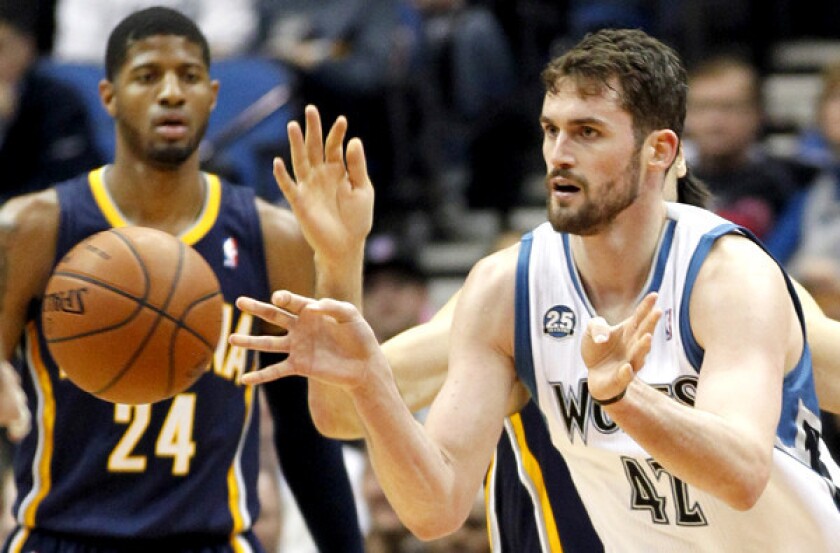 The Minnesota Timberwolves (35-35) appear to have fallen short of their playoff goal, sitting in 10th place in the Western Conference, seven games behind the eighth-place Phoenix Suns (43-29).
The Lakers (23-47) visit the Timberwolves on Friday night, playing their second game in as many days after a 108-105 loss to the Bucks on Thursday in Milwaukee.
The Wolves are a potent offensive team but the status of center Nikola Pekovic (ankle) isn't clear. Rookie Gorgui Dieng, drafted with the 21st overall pick in the 2013 NBA draft, has made a significant impression in recent weeks.
Neither Pau Gasol (vertigo) nor Steve Nash (nerve root irritation) is expected to play. Kobe Bryant (knee) and Jordan Farmar (groin) are also out.
Key matchup
Kevin Love is one of the top power forwards in the league, averaging 26.3 points, 12.6 rebounds and 4.3 assists a game.
The UCLA product is shooting 46.2% from the field and 38.2% from three-point range.
The Lakers are likely to match Jordan Hill against Love, although Chris Kaman, Robert Sacre, Ryan Kelly and Wesley Johnson might all take turns defensively.
Hill has set and matched his career high of 28 points twice in the last three games. Against the Bucks, Hill also collected 16 rebounds in 31 1/2 minutes.
X-factor
Kevin Martin is a high scorer at 19.3 points a game this season. Ricky Rubio leads the Wolves with 8.6 assists a game.
Dieng has been the surprise, averaging 12.7 points and 14 rebounds over six starts at center.
In a recent loss to the Houston Rockets, Dieng scored 22 points and had 21 rebounds.
The Lakers have been starting Kaman at center with Gasol out. Over the last two games, the veteran has averaged 13 points and 6.5 rebounds.
Outlook
The Lakers are still battling the Utah Jazz (23-49) and Boston Celtics (23-48) for lottery position. A win over the Timberwolves would be a setback.
The Timberwolves aren't officially eliminated. A win for Minnesota is a lot more important than a win for the Lakers.
ALSO:
Pau Gasol doubtful Tuesday after suffering from vertigo
Xavier Henry has ruptured wrist ligament that will require surgery
Kansas falls, Andrew Wiggins, Joel Embiid out of NCAA tournament
Lakers' Nick Young has about $100,000 in goods stolen from his home
Email Eric Pincus at eric.pincus@gmail.com and follow him on Twitter @EricPincus.
---
All things Lakers, all the time.
Get all the Lakers news you need in Dan Woike's weekly newsletter.
You may occasionally receive promotional content from the Los Angeles Times.