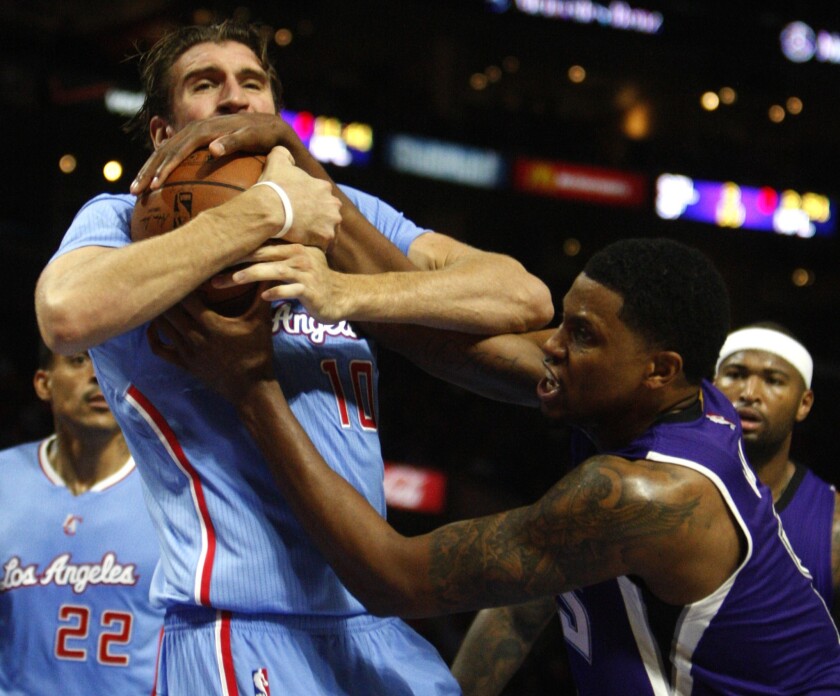 The Lakers (5-16) hope to end a three-game losing streak when they host the Sacramento Kings (11-10) on Tuesday night at Staples Center.
The Kings have been playing without center DeMarcus Cousins, who is sidelined indefinitely with viral meningitis. Cousins started the season like an All-Star. Sacramento is 2-5 without him.
Coach Byron Scott recently changed the Lakers' rotation, moving Ed Davis and Ronnie Price into the starting group in place of Carlos Boozer and Jeremy Lin. After a loss Sunday to the New Orleans Pelicans, Scott is hoping his tinkering will pay dividends.
The Lakers will play without Xavier Henry (Achilles'), Ryan Kelly (hamstring), Steve Nash (back) and Julius Randle (leg).
Key matchup
Without Cousins, the Kings are even more reliant on the perimeter scoring of small forward Rudy Gay.
Gay is averaging 21.5 points, 6.3 rebounds and 4.3 assists a game this season, shooting 46.7% from the field and 33.3% from three-point range.
Wesley Johnson is the Lakers' best perimeter defender. He'll have a challenge in Gay, as will Nick Young and possibly Kobe Bryant over the course of the game.
Johnson is an inconsistent scorer, but the Lakers will lean on Bryant and Young for their offense.
X-factor
The Kings have a number of players to fill in for Cousins, although none is nearly as productive.
Reggie Evans is a prolific rebounder but not much of a scoring threat.
Ryan Hollins is tall and athletic but depends on others to create offense.
Jason Thompson is shooting just 41.7% from the field this season. Derrick Williams is more efficient at 50.0%, but both are inconsistent.
Carl Landry doesn't have the size to play center, but he has hurt the Lakers many times in the past.
Of course the Lakers also have to deal with perimeter players Darren Collison, Ben McLemore, Omri Casspi, Ramon Sessions and rookie Nik Stauskas.
The Kings may be without their best player, but they're still a handful.
Meanwhile, the Lakers need scoring from others on the team outside of Bryant. Jordan Hill, Young, Boozer, Lin and even Wayne Ellington need to give the team an offensive punch that was missing Sunday against the Pelicans.
Outlook
Sacramento pulled out a win at home Monday over the Utah Jazz, 101-92, and always seems to play the Lakers well, regardless of roster.
The Lakers have struggled of late, but Tuesday is a real opportunity to catch the Kings on the second night of a back-to-back without their dominant center.
Email Eric Pincus at eric.pincus@gmail.com and follow him on Twitter @EricPincus.
---