Lakers' Shawne Williams looking for redemption, could end up starter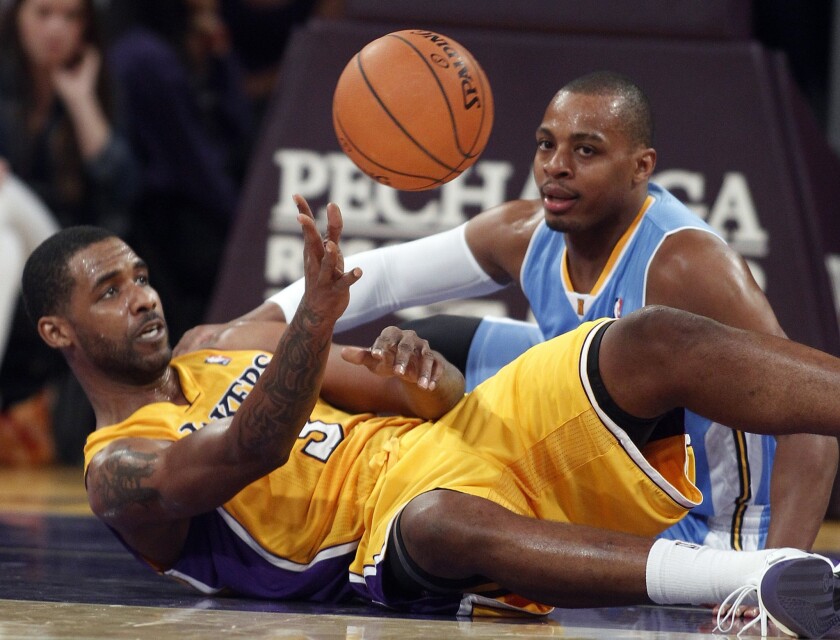 Shawne Williams came into the league in 2006 out of Memphis with tremendous promise as the 17th draft pick of the Indiana Pacers.
Seven years later, he's fighting to get back into the league after a number of drug-related incidents tarnished his reputation.
Williams was cut by the Portland Trail Blazers in 2012 without playing a game, unsure he'd get another opportunity in the NBA.
"I'd be lying if I said I did," said Williams on Monday after practice with the Lakers. "I've been through so much. I've been to the bottom of the bottom. You've just got to keep your head down and get through it."
Fortunately for Williams, he still had a believer in Lakers Coach Mike D'Antoni, who had the mercurial forward in New York with the Knicks in 2010-11.
"Sometimes he gets left out in the cold because he shouldn't have done what he did," said D'Antoni. "If you know his character, you know what you can get."
Williams was first arrested in 2007 on a marijuana charge. In 2010, he pleaded guilty to a separate, misdemeanor drug possession charge. In 2012, Williams was arrested in yet another drug incident.
D'Antoni liked the 6-foot-9 Williams as a mobile power forward with shooting range. He was willing to go to bat for Williams this summer.
"I knew that Shawne, if he gets focused, he can play," said D'Antoni. "He's got a huge amount of talent."
"You've got to know the guy's heart. He's got a good heart. He's very respectful," he continued. "Sometimes he's gets unfocused ... maybe in the wrong environment, but overall I know he's a good, good guy."
Williams, who signed a one-year deal with the Lakers at the minimum $916,099, has $100,000 of his contract guaranteed.
On Sunday, Williams started at power forward for the Lakers in a 97-88 loss to the Denver Nuggets.
"I've been a fan of his for a long time. I think he spreads the floor. He battles," said D'Antoni. "[He's] not a great rebounder. He's a very good three-point shooter, he's in the 40s. He doesn't put the ball on the floor, but I don't want him to. I just think he lets everybody around him play better."
Williams' spot in the starting lineup may not be a fluke -- D'Antoni is considering making that a regular role.
"That's possible," said the Lakers coach. "That's why we're going to do the next 30 days and players will tell me which way it should go."
D'Antoni is trying to decide whether he should go big with his starters, using a combination of Pau Gasol with either Chris Kaman or Jordan Hill -- or go with a mobile, stretch player at the four.
"[Williams] would be first in line right now," he said. "Hopefully we'll get Ryan Kelly back. He's another guy who can stretch the floor."
Kelly is almost ready to start practicing in full with the team after rehabbing a foot injury since April.
Williams is happy to do whatever is asked of him.
"I'm happy to have any role. Just to be around," he said, "I don't care if I don't play."
Of course he wants to play, but more importantly Williams wants to prove that he is more than his mistakes.
"I feel like just being around this organization, this family -- like Jordan Farmar, that's one of my best friends on this team," said Williams. "It's just a lot of positive energy around here. I just want to capitalize off that and stay around this family-oriented group."
While he has D'Antoni in his corner, that's a double-edged sword.
"I feel Mike is harder on me than a lot of people," said Williams. "Every day in the film [sessions], I'm in the film four or five times -- and it's not going that good."
"I feel he stays on me because he expects a lot out of me. I respect that," he continued.
At 27, Williams is playing alongside rookies and first-round castoffs such as Wesley Johnson and Xavier Henry -- all heralded players still looking for a home in this league.
"I wish I could be in some of the shoes of [those] that have never been at the bottom," said Williams. "Having been there before, it gives you a little experience ... but I don't want to go there again.
"At the end of the day, I'm not guaranteed," he said.
For the Lakers, Williams is not a guarantee, but D'Antoni hopes that in the right environment, the young man can find his way.
If he makes it opening night, he could be the Lakers' starting power forward.
ALSO:
Lakers, Xavier Henry make strong first impression in preseason opener
Are the Lakers better than the Houston Rockets?
Email Eric Pincus at eric.pincus@gmail.com and follow him on Twitter @EricPincus.
---
All things Lakers, all the time.
Get all the Lakers news you need in Dan Woike's weekly newsletter.
You may occasionally receive promotional content from the Los Angeles Times.