Lakers center DeMarcus Cousins has a torn ACL in his left knee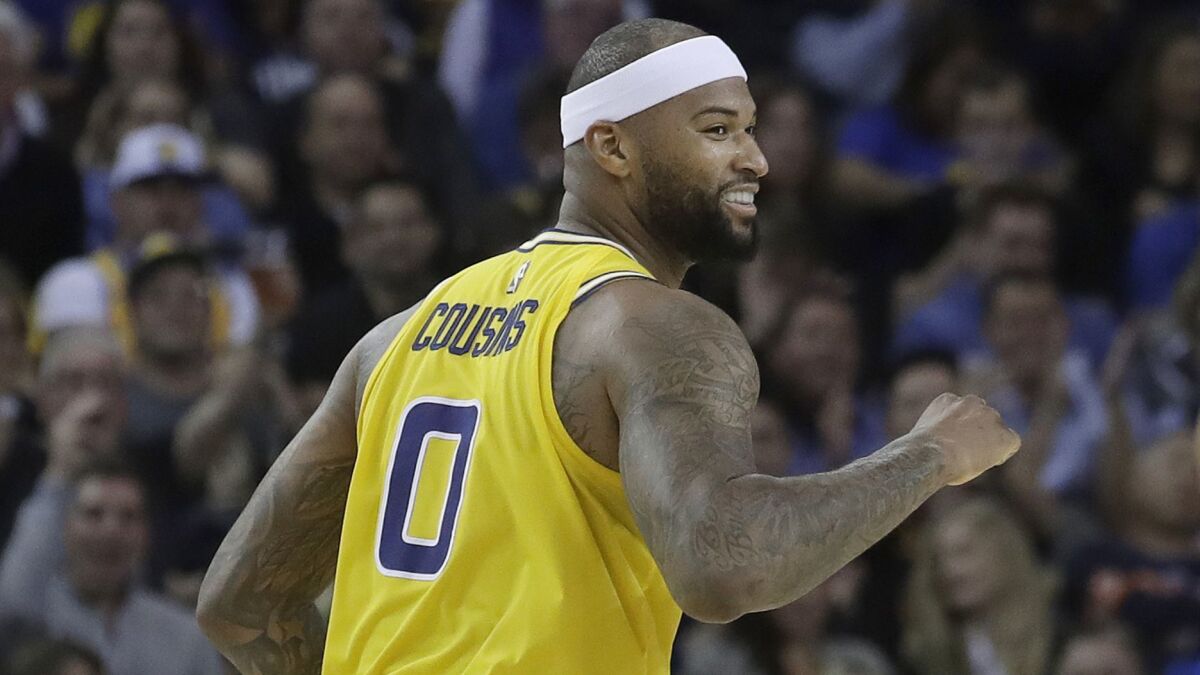 DeMarcus Cousins planned to prove doubters wrong while playing on a one-year contract with the Lakers this season.
Those hopes were dealt a crushing blow this week.
Cousins sustained a torn anterior cruciate ligament, according to his agent, Jeff Schwartz, of Excel Sports Management.
"Injuries are part of the game, but you're talking about a player who has now dealt with the two most feared injuries for NBA players — the Achilles and the ACL," Golden State Warriors coach Steve Kerr said after a Team USA practice at the Lakers' practice facility in El Segundo. "To deal with that over two-and-half, three-year span, it's unheard of. I don't know. What a blow for him, for the Lakers."
The injury occurred during a five-on-five game of organized pickup with other NBA players earlier this week in Las Vegas. Cousins bumped knees with another player and fell to the court, but when he rose he walked without any apparent limitations. It wasn't until the next day that the injury began to seem more serious.
Those familiar with Cousins' condition feared the diagnosis early on Thursday, and it was confirmed after Cousins met with Lakers doctors Thursday afternoon. The center, who turned 29 on Tuesday, is still working through a recovery plan and timetable. Recovery from ACL tears often take between nine months and a year.
Cousins went into free agency this season feeling healthy, and he was slimmer than he'd been throughout his playing career, but knowing many teams would be wary of his health.
When fully healthy, he was widely considered one of the league's best centers. The New Orleans Pelicans considered it a coup to have traded for him in February 2017. During the 2017-18 season Cousins was playing some of the best basketball of his career. His Achilles tendon tear in January 2018 depressed his free-agent value and kept him off the court for a year.
He signed a one-year deal with the Warriors without offers from any other team. He made his Warriors debut in January 2019, but suffered a quadriceps injury three months later. That injury caused him to miss most of the playoffs.
"I love it that much more," Cousins said in July when asked how his injuries had impacted his mindset. "Everything I've gone through in the past three years it just helped me realize how fast this thing can be taken away from you. I love it that much more. I'm grateful for every opportunity. I learned the hard way."
Sign up for our free Lakers newsletter >>
The Lakers had hoped Cousins would beef up their frontcourt and allow star big man Anthony Davis to play his preferred position of power forward, rather than center.
Davis and Cousins had played together in New Orleans, and hoped they could reunite one day.
Cousins hit an uncertain free agent period this summer, but in the Lakers he found a familiar team. Davis enjoyed playing with Cousins. He wanted to reunite with Cousins, especially since that reunion would allow Davis to play his preferred position of power forward.
Cousins had a very simple but powerful goal in mind for this season.
"I'm working my tail off every single day," Cousins said in July. "My quad is 100% healed. I'm building it up every day, I'm building my lower body up every single day. I'm getting stronger, getting in better shape. My plan is to come into camp in tip top shape. My goal is to play 82 games this season. I want a full season of health."
A stroke of bad luck this week made that impossible.
Staff writers Broderick Turner and Dan Woike contributed to this report.
Steve Kerr discusses former Warriors and current Lakers center sustaining a torn ACL in his left knee.
---
All things Lakers, all the time.
Get all the Lakers news you need in Dan Woike's weekly newsletter.
You may occasionally receive promotional content from the Los Angeles Times.