LeBron James rises to the occasion in Lakers' win over Celtics
LeBron James wasn't talking specifically about Sunday, but what he said before leaving the Lakers' locker room truly applies.
"If you know anything about me," James said, "I'm all about the process."
The intensity and importance in the Lakers' 114-112 win over Boston? Those embers were lit generations ago by the sweat and desire of Bill Russell and Bob Cousy and Jerry West and Elgin Baylor. This is Lakers-Celtics, James said, and that needs to mean something special to the players on the court today because it mattered to the players on the court 60 years ago.
And the game-icing bucket, a spinning jumper from the right post? That was a move set up by an entire game of physicality, pounding Boston's young wing, Jaylen Brown, to the point where James knew he had him right where he wanted him.
"I had been setting him up all night," James said, not an ounce of remorse in his voice for the lesson he just dealt to the player 12 years his junior.
It's no mystery why the games between the Lakers and the Celtics feel bigger and more essential even in the regular season. On Sunday, NBA legend Bill Russell sat in the first row right where the sideline and baseline meet, while soon-to-be Hall of Famer Kevin Garnett sat courtside diagonal from him.
No ticket to the Kobe Bryant memorial on Monday? Here's how to watch
Staples Center has instructed people without tickets to not enter the surrounding L.A. Live area during the service. The event will be streamed on several outlets.
Magic Johnson, who saw his star shine brightest against Boston green, attended the game. So did former Lakers A.C. Green and Sasha Vujacic.
And Sunday, the people from the rivalries past saw a fun new chapter play out, with established stars like James and Anthony Davis trying to hold off a future one in Jayson Tatum in a game that wasn't decided until the final second.
Tatum scored 41 points, including 36 in the second and third quarters, while providing a fitting tribute to one of his mentors: Kobe Bryant. Wearing a purple double wristband on his arm, Tatum, who trained with Bryant two summers ago, looked like a pretty spot-on doppelganger, side-stepping for threes and slipping between double-teams for acrobatic layups.
But with Kentavious Caldwell-Pope all over him in the final moments, Tatum was unable to take a potential game-tying jumper, instead being called for an offensive foul to seal the Lakers' win.
On the other end, it was Davis' skill and size — a calmly swished three-point jumper and seven free-throw attempts in the fourth quarter (even though three were misses) — that gave Boston trouble even with the Lakers big man unable to convert near the bucket.
Davis finished with 32 points and 13 rebounds, his 10th game this season with at least 30 and 10.
And it was James, flirting with another triple-double, with 29 points, nine assists and eight rebounds, no play bigger than that turnaround jumper.
"He got to his money shot, the shot he always makes, a shot he always takes in practice and in games," Davis said. "And he did what he does best and made the shot."
For the Lakers, the win helped heal some of the sting from their first meeting with Boston this season, a game devoid of the intensity and drama of Sunday's contest, because Boston ran the Lakers off the court and beat them by 32.
It's also their first win over one of the consensus Eastern Conference contenders — a group that includes Milwaukee, Toronto and Philadelphia.
Despite the Lakers having won 43 games and owning the best record in the West, Lakers coach Frank Vogel said experiences like Sunday, win or lose, are really valuable because they address their most glaring weakness.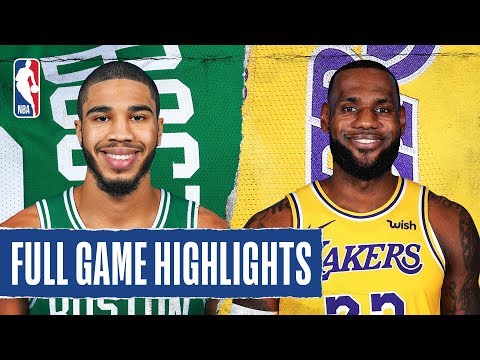 Highlights from the Lakers' win over the Boston Celtics on Sunday.
"The more that you're in that environment of a close game, of an intense game like that, I think everybody just gets a chance to grow together. I mean, one of the weaknesses of our team is our continuity," Vogel said. "We just haven't been in a lot of those situations as a group. … I'm super impressed with our guys' ability to work together and still win games throughout the season. Each time we get into a close game like that, win or lose, you learn lessons, you get a better feel for each other. That stuff is going to be beneficial for us in the playoffs."
More help is coming — the Lakers officially signed Markieff Morris and waived DeMarcus Cousins — but that means more need for experiences like Sunday, a high-stakes, tight game packed with emotion, history and intensity.
And if you know anything about James, embracing those lessons are important. Enough of them for the right team with the right players, and you could end up with a title.
But in between, you've got to be all about the process.
"We knew it was going to be a playoff type of atmosphere today, one because of the rivalry and two because of how well they played against us in Boston; they beat the hell out of us there. And three, just on the simple fact it's two teams that have aspirations of holding that trophy up at the end of the season," James said. "So we knew what we were getting ourselves into, they knew what they were getting themselves into and it was a great game for both of us."
Monday's schedule of events at Staples Center will begin with the Kobe and Gianna Bryant memorial and end with a Clippers game. In between comes plenty of work.
All things Lakers, all the time.
Get all the Lakers news you need in Dan Woike's weekly newsletter.
You may occasionally receive promotional content from the Los Angeles Times.