Lakers-Warriors takeaways: Austin Reaves, Malik Beasley make their mark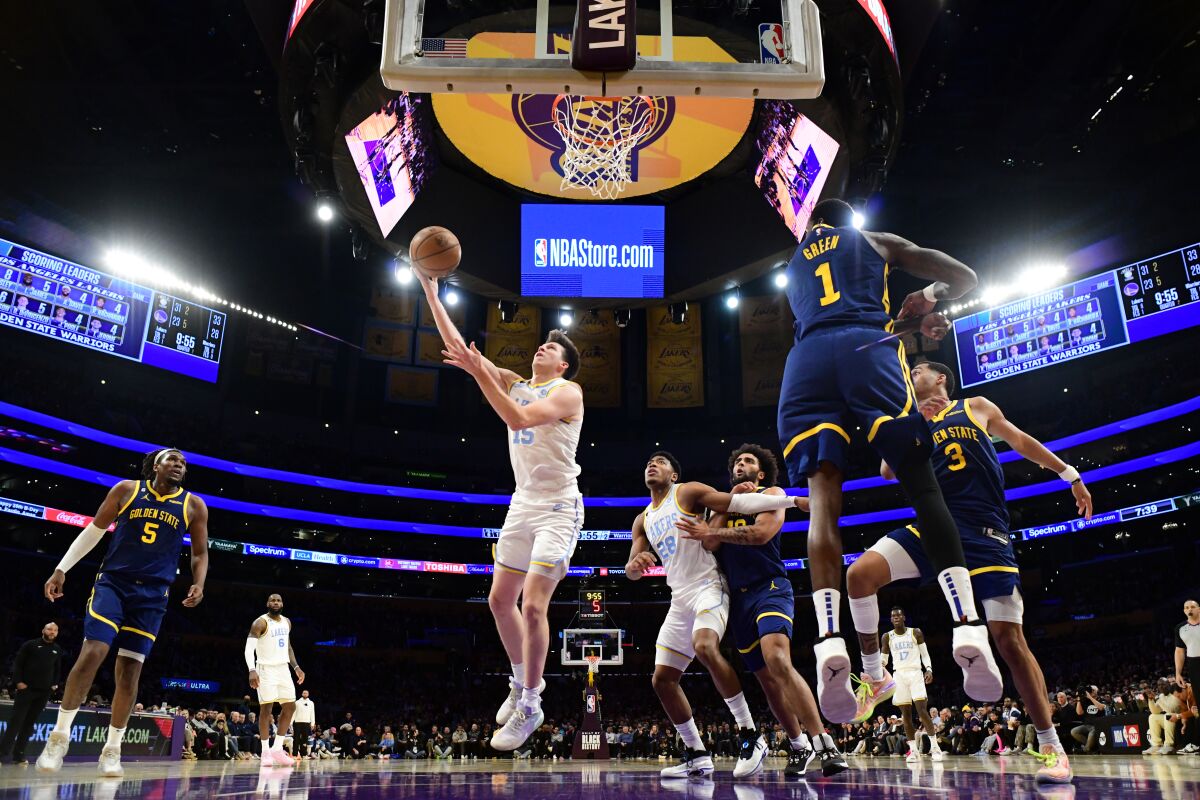 Austin Reaves collected the ball after a Klay Thompson turnover and raced up court, his eyes looking directly ahead at the basket, his feet moving as fast as they could until the Lakers guard threw down a two-handed dunk.
It was one of Reaves' highlight plays in the third quarter of the Lakers' easy win over the Golden State Warriors on Thursday night at Crypto.com Arena.
He did not miss any of his four shots in the quarter, including his only three-pointer. He had 13 points, three assists and one steal in the third.
For the game, Reaves was six for six shooting from the field, four for four from the free-throw line, and had 17 points.
Reaves announced his presence with an all-round effort that included playing his typically tough defense and providing hustle.
"At this point, man, he does it all," Anthony Davis said about Reaves. "He can shoot, put it on the floor, play-make. He's tough defensively. Nothing surprises me with Austin. He's continuously getting better every day. He's coming in, puts his work in. And he's just out there having fun."
Days after LeBron James said he's playing in one of the most critical stretches of his career, the Lakers respond with a 124-111 win over the Warriors.
Reaves served as the backup point guard after D'Angelo Russell went down in the first half because of a sprained right ankle.
When Dennis Schroder started in the second half at point guard, Reaves came in to run the show for the second unit.
Reaves finished the game with four assists.
"I like playing point," he said. "… I like getting everybody involved a lot, I like the feel of the team when everybody is being successful."
At times, Reaves found himself defending Klay Thompson and Jordan Poole, Golden State's sharpshooting guards.
Reaves said he takes "pride" in playing defense, something he wasn't known for coming out of college.
"I take pride in it just because a lot of people didn't think I could do it," Reaves said. "So, it's kind of like a middle finger to 'em and move on."
Beasley hot for three-point range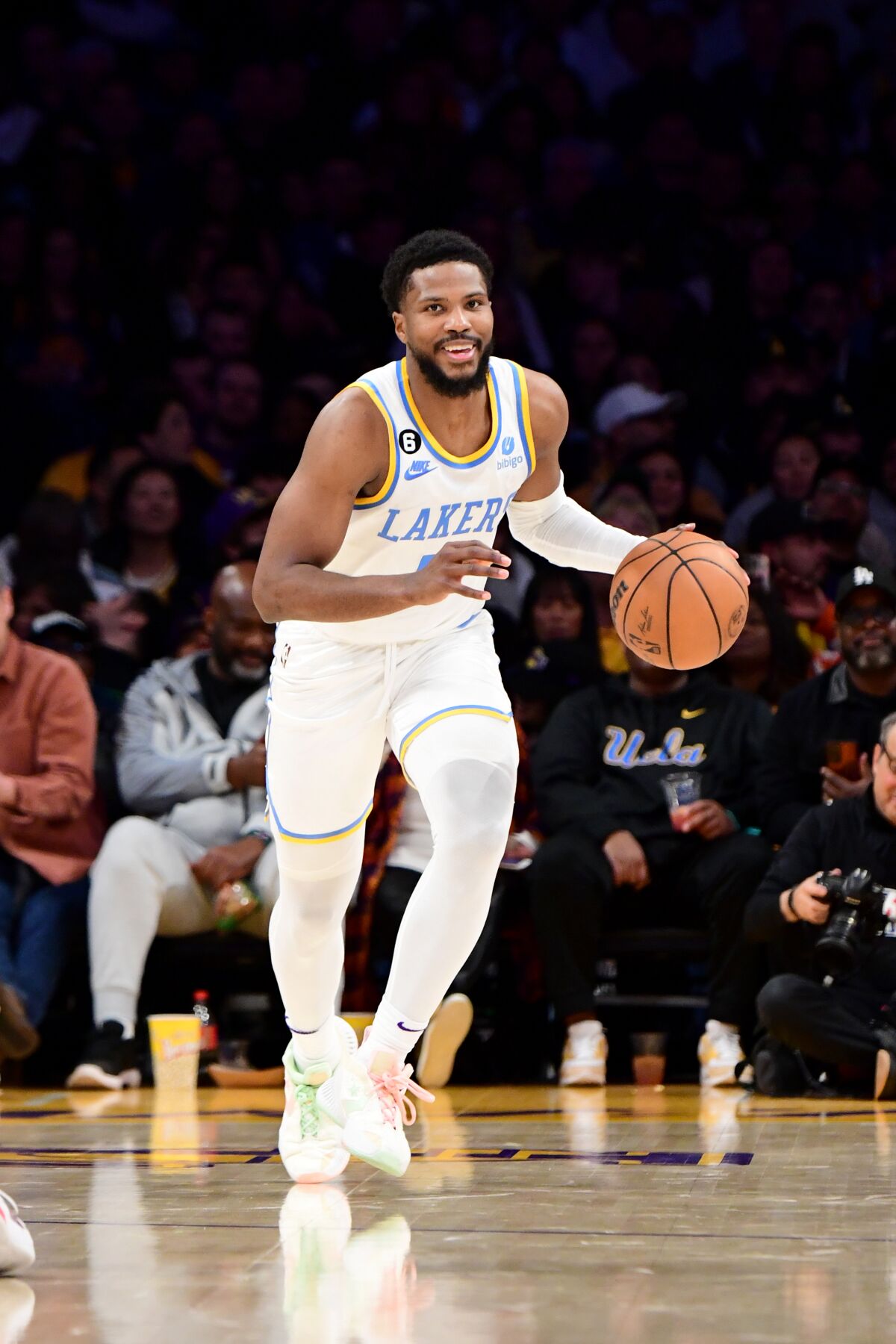 Earlier on Thursday, Davis got on Malik Beasley for throwing the ball back to Davis during a play the team was running in the pregame shoot-around.
Davis and the Lakers want Beasley to look for his shots, to take his shots when open, and to be the outside threat as expected after he was acquired from the Utah Jazz.
Davis said they were running a play for Beasley, a career 38% three-point shooter, and that the guard caught the ball and passed it back inside to instead of shooting.
"I threw the ball back out of bounds and ran it again and told him, 'You shoot the ball. Like, I'll get touches. You shoot. We want you to shoot,' " Davis said. "And the result of that, he hit seven threes tonight. I think he's a key piece to our team, able to space the floor."
Indeed, Beasley was on fire against the Warriors, making seven of 11 shots from three-point range while leading the Lakers in scoring with 25 points.
Beasley said he was trying to make the right play by throwing the ball back to Davis.
"I mean, I was just going through script, and I just thought it was the right play to throw it to him, and he threw it back, and he was like, 'Shoot the ball!' So, we had to do it all over again," Beasley said. "Same with coach [Darvin Ham]. He told me to shoot the ball, keep shooting.
"And that feels good when you're a shooter. It gets my confidence high, A.D. and LeBron [James] keep saying, 'We gonna get ours, so do what you do and keep spacing the floor and knock down shots.'"
All things Lakers, all the time.
Get all the Lakers news you need in Dan Woike's weekly newsletter.
You may occasionally receive promotional content from the Los Angeles Times.