Short-handed Lakers fall short against Western Conference-worst Rockets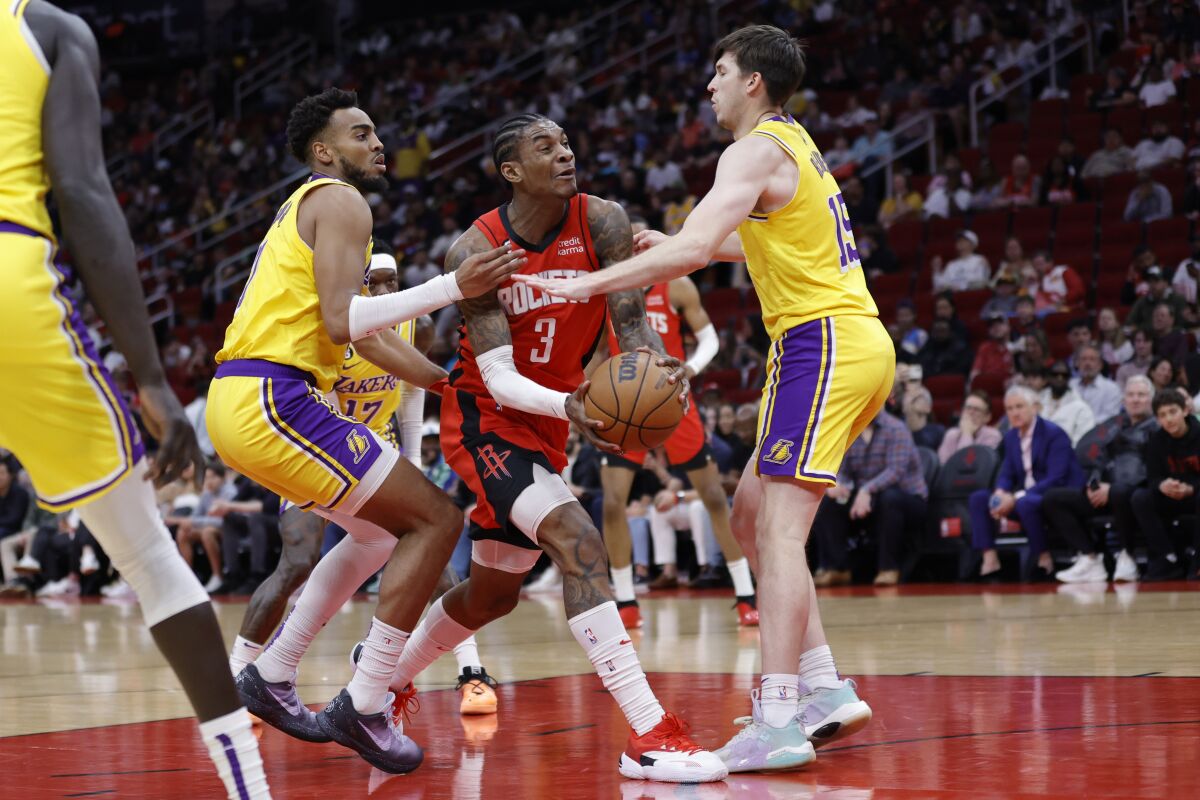 HOUSTON —
At the end of the Lakers' bench sat Anthony Davis and LeBron James, both of them dressed in their gear, both unable to help their teammates because of injuries.
Davis didn't play because the Lakers held him out of the second game in two nights to keep his right foot stress injury from flaring up and James was out with right foot soreness.
So, it was left up to D'Angelo Russell, Malik Beasley, Jarred Vanderbilt, Austin Reaves and the rest of the Lakers against a Houston Rockets team with the second-worst record in the NBA.
Still, the Rockets posed a threat for the Lakers because they had just defeated the Boston Celtics in their previous game and this young Houston team has a bunch of athletic and skilled players looking to make things difficult for teams either in the playoffs or fighting for play-in seeding.
The Lakers found this to be true, falling to the Rockets 114-110 Wednesday night at Toyota Center.
Anthony Davis had 35 points and 17 rebounds and the Lakers built a 36-point lead on their way to victory over the Pelicans on Tuesday night.
"We talked about it and I said it before games, nongame days: Energy, effort and urgency. And I thought coming out of the gates that kind of was nonexistent,'' Lakers coach Darvin Ham said. "I didn't see a lot of that. I saw it on their part, Houston. Young team. Regardless of what their record is, they came to play and we felt them. They made us feel them, in terms of them attacking the paint, them getting hits, them getting offensive rebounds, giving themselves extra possessions. We should have been the ones playing with that type of edge."
Without Davis' defensive presence inside, the Rockets feasted in the paint.
The Rockets scored 48 points in the paint in the first half, which helped them build an 18-point lead at one point. They finished the game with 78 points in the paint.
"It's a product of us not being good on the ball," Ham said about Houston's inside game. "That
individual pride it takes to keep the ball in front and guys behind knowing that the paint is the priority. This team lives in the paint. The Houston Rockets live in the paint.
"And whether it's drives, whether it's giving themselves second and third possessions on one particular play through their offensive rebounding, they live and thrive in the paint. And we preached that to them before the game."
The Lakers did give a better and more energized effort in the third and fourth quarters, getting to within four points in the final 12 minutes.
But the Rockets responded with three consecutive three-pointers to push their lead to 13 points, essentially putting an end to the Lakers' slim chances.
"Once we did catch up, they went on a 9-0 run," Ham said. "Jabari [Smith] hits two threes and then [Josh] Christopher hits a three. But, you put yourself behind the eight-ball if you don't come out the right way."
And even with five players scoring in double figures, the Lakers couldn't overcome their poor shooting. They shot 37.8% from the field and 25% from three-point range. They were outrebounded 51-36 and the Lakers gave up 16 offensive rebounds.
Anthony Davis tries to take blame for the Lakers' loss to the Knicks on Sunday, but teammate Dennis Schroder says they win and lose as a team.
"I just think we started off a little slow," said Vanderbilt, who had 13 points and 11 rebounds. "We took them a little lightly and the energy just wasn't there to start the game like it was in the second half. But we was just fighting an uphill battle from that point."
Reaves, who was six-for-14 from the field and one-for-seven from three-point range, led the Lakers with 24 points off the bench. Russell had 18 points, but he was just five-for-17 from the field, three-for-11 from three-point range. Beasley had 16 points, but he was six-for-17 from the field, four-for-12 from three-point range.
As a result, the Lakers fell two games below .500 at 34-36. They have 12 regular-season games remaining.
"We just got to play the game like it's our last," Vanderbilt said. "We're running out of time. We got what, 12 games left? We have no more freebies. We never had none to begin with. But we need all these games. We need to win as much as possible, especially ones like tonight against teams that aren't even fighting for playoff positions, especially Western Conference teams. We need to win those games."
All things Lakers, all the time.
Get all the Lakers news you need in Dan Woike's weekly newsletter.
You may occasionally receive promotional content from the Los Angeles Times.