How to watch Conor McGregor vs. Dustin Poirier 3
If you don't have tickets to watch UFC 264 at the sold-out T-Mobile Arena in Las Vegas, you can order the card exclusively through ESPN+.
That means viewers need to be an ESPN+ subscriber in order to purchase the event at $69.99. The five-fight pay-per-view portion of the event begins at 7 p.m. PDT. Conor McGregor and Dustin Poirier are set to fight around 9:15 p.m. PDT.
UFC president Dana White reiterated all week that UFC 264 had the most pay-per-view pre-buys in the company's history.
In case you want to go out to watch the fight, search the portal at Joe Hand Promotions to find out which local bar or restaurant will be carrying the event.
The co-main event features a welterweight fight between No. 2-ranked Gilbert Burns (19-4) and No. 4 Stephen Thompson (16-4-1).
Former NFL defensive end Greg Hardy (7-3) will continue his MMA career in a heavyweight bout against Tai Tuivasa (12-3). Hardy tallied 40 sacks playing for the Carolina Panthers and Dallas Cowboys from 2010 to 2015.
Conor McGregor injures leg as Dustin Poirier wins UFC 264 showdown
LAS VEGAS — Dustin Poirier beat Conor McGregor for the second time in six months when McGregor badly injured his left leg in the closing seconds of the first round at UFC 264 on Saturday night.
The fight was stopped after the first-round bell when McGregor (22-6) was unable to continue. The biggest star in mixed martial arts never got up after falling to the canvas following a final-minute blow by Poirier (28-6), who will get the UFC's next lightweight title shot.
Poirier said he thought McGregor's leg broke when he checked one of McGregor's kicks earlier in the fight.
Poirier was largely in control of the opening round, parrying McGregor's kicks and landing several strikes before getting control over McGregor on the ground. After a long stretch of punches and elbows on the prone McGregor, Poirier knocked him down one last time — and McGregor's ankle bent gruesomely as he fell.
"I felt something, for sure," Poirier said. "He fractured it on one of the kicks at the beginning of the fight, and then he broke it."
McGregor was furious about the circumstances of his loss before he was carried from the cage. He also continued his lengthy campaign of verbal abuse against Poirier and his wife on the way out.
"This is not over!" he shouted.
UFC President Dana White said he was told McGregor broke his shin near the ankle. McGregor will have surgery on Sunday morning.
White confirmed Poirier will get the next shot at new lightweight champ Charles Oliveira. He also said he expects a fourth fight between McGregor and Poirier at some point after McGregor's leg heals.
"The fight didn't get finished," White said. "You can't have a fight finish that way. We'll see how this whole thing plays out. Who knows how long Conor is out? Poirier will do his thing until Conor is ready."
McGregor dropped to 1-3 in the cage since 2016, when he abdicated his UFC title reigns and accepted a wildly lucrative boxing match with Floyd Mayweather. McGregor has been unable to recapture his fearsome MMA form, losing decisively to Khabib Nurmagomedov and twice to Poirier while beating only an over-the-hill Donald Cerrone.
Poirier stopped McGregor in the second round when they met in Abu Dhabi last January, avenging his first-round knockout loss to McGregor in 2014. Poirier's clear superiority in the fighters' second bout made a third showdown seem questionable just six months later, but McGregor demanded the chance to fix his mistakes and Poirier accepted the massive paycheck that comes from sharing a cage with McGregor.
Instead of taking an easier fight or another boxing match, McGregor wanted another shot at Poirier after getting stopped by strikes for the first time in his MMA career. He claimed he had been distracted by his plans to box Manny Pacquiao this year, and he vowed to devote his full attention to MMA in training camp.
McGregor's star power has shown no significant decline despite the dwindling evidence of his once-transcendent skills. The celebrity-studded Vegas crowd was vocally behind McGregor, who strutted into the octagon with his usual flair.
But the steady, hardworking Poirier has earned the chance to recapture the lightweight title he held on an interim basis in 2019 before his loss to Nurmagomedov. That was the only defeat in nearly five years for Poirier, who has mostly maintained a decade of upward momentum in the UFC.
Poirier likely would have been the next opponent for Oliveira in the wake of Nurmagomedov's retirement, but Poirier risked that opportunity by taking this lucrative rematch with McGregor. The decision revealed Poirier's confidence in his ability to handle McGregor again, and the fighter known as "The Diamond" shone.
McGregor was charming and friendly to Poirier throughout the promotion of their second bout earlier this year, but that collegiality was gone for the third fight. McGregor returned to his verbose, mean-spirited promotional persona, repeatedly insulting Poirier's wife and vowing to kill the man who beat him six months earlier.
T-Mobile Arena was packed with a sellout UFC crowd for the first time since the coronavirus pandemic began, and President Dana White said the gate revenue was around $16.5 million, ranking among the highest in UFC history. The celebrity crowd included Dave Chappelle, Mel Gibson, Miles Teller, Jared Leto, Steve Aoki, Jackass' Steve-O, Baker Mayfield and NFL owners Robert Kraft and Mark Davis.
Donald Trump also arrived for the final three fights and got a brief, loud burst of cheers and boos from the packed arena.
Gilbert Burns won a unanimous decision over Stephen "Wonderboy" Thompson in the co-main event, with the Brazilian bouncing back from his knockout loss to welterweight champ Kamaru Usman in February.
Earlier on the pay-per-view card, Australian heavyweight Tai Tuivasa celebrated his violent first-round knockout of former NFL player Greg Hardy by climbing onto the octagon fence and doing a shoey -- drinking booze from a shoe in proper Aussie celebratory style. Hardy, who lost his NFL career in 2015 after being convicted of domestic violence, has lost two straight fights after a 7-2 start to his MMA career.
Welterweights Michel Pereira and Niko Price put on the best show on the early undercard, and Pereira highlighted his narrow decision victory with a remarkable standing backflip and a scramble into full mount on a prone Price.
Round 1: Conor McGregor and Dustin Poirier trade spirited blows before ankle injury ends bout
Conor McGregor begins the fight with a couple of spinning sidekicks to the solar plexus of Dustin Poirier.
It appears he is taking a page out of Poirer's playbook from the second fight in which he suffered a second-round loss in January. Poirier wants to play no part in a reverse encore script and returns the favor with kicks of his own.
McGregor gets Poirier to the ground and quickly positioned in a guillotine, but Poirier turns the fight into a grappling match. The ebb and flow of the fight is a beautiful one so far. Poirier pops McGregor's ear with a heavy right hand and blood begins to gush out.
McGregor delivers a few upkicks but can't fend off the heavy assault. He's able to get back on his feet in the final seconds and both combatants exchange strikes.
Both miss, but McGregor can't contain the momentum of his body, and suffers a serious ankle injury due to a wrong step once the weight shifts over to his lower left leg.
The fight is suddenly stopped anti-climactically after the first round, which was one of the most opening rounds in recent UFC history.
The first five minutes of the fight were clearly won by Poirier. Referee Herb Dean ends the bout based on doctor's orders and Poirier (28-6) beats McGregor (22-6) for the second time in their trilogy. A distraught McGregor was immediately placed in a splint and stretchered off to the back of T-Mobile Arena in Las Vegas.
Wow, what an ending.
Gilbert Burns bullies Stephen Thompson, secures unanimous decision 
Gilbert Burns used his prodigious ground game to stop complicated kickboxer Stephen Thompson over a three-round unanimous decision win in their welterweight affair.
The Brazilian Burns (20-4) beat the South Carolina-based tactician Thompson (16-5) by scores of 29-28 across all three scorecards.
The first round started timidly until Burns brought Thompson to the ground with a single-leg takedown and leveraged his jiu jitsu skills to steal the first stanza. The No. 4 ranked Thompson, 38, was not able to land many significant strikes in a round Burns wound up winning.
The pace of the fight slowed down in the second and the boo birds came out until Burns caught Thompson with a double-leg takedown and against the cage and repeatedly slugged Thompson for several seconds as if it were a video game glitch.
Thompson was not demoralized, however, as he used his prolific kickboxing skills to kick off the round with a scintillating combination of kicks (including spinning ones) and punches.
Burns quickly reconsidered his game plan and again took the fight to the ground, an area he maid paydirt all night. Burns ended the bout by reeling off a blistering combination to the back of the head of Thompson.
The No. 2 ranked Burns, 32, got back into the win column after losing to welterweight champion Kamaru Usman in February.
Thompson had his two-fight winning streak snapped.
Former NFL star Greg Hardy knocked out by Tai Tuivasa in 67 seconds 
Former NFL star Greg Hardy, who tallied 40 quarterback takedowns in his five-year career for the Panthers and Cowboys, was sacked by Tai Tuivasa with a first-round knockout in their heavyweight tilt.
Tuivasa (12-3) caught Hardy (7-4, 1 no contest) with a picture-perfect short left hand and that was all she wrote, as the defensive end turned mixed martial artist crumbled to the canvas. Tuivasa connected with a few more shots until referee Mark Smith stopped the action 67 seconds into the fight.
Tuivasa touched up Hardy with chopping leg kicks as soon as the fight kicked off, while Hardy tried to pull off a KO with one-punch power. He momentarily caught Tuivasa, but the Australian fighter put a quick stop to the assault with an obliterating shot that stopped Hardy.
Tuivasa scored his third win in a row and returned to his schtick off chugging beers out of shoes in the cage, and en route to the locker room, taking shoes from strangers and pouring brew into them for consumption.
Hardy suffered his second straight loss.
Irene Aldana bludgeons Yana Kunitskaya via first-round TKO
Irene Aldana drew blood from Yana Kunitskaya one minute into the fight by cracking her Russian counterpart's nose, and the Mexican fighter continued her assault from there on out, scoring a first-round TKO.
With two minutes left in the first round, Aldana dropped Kunitskaya with a short counter left hook and continued beating her on the canvas with clubbing shots as Kunitskaya turned her back until referee Jason Herzog stopped the action at 4 minutes and 35 seconds into the fight.
The No. 4 ranked Aldana (13-6) was making her 10th UFC appearance after losing to Holly Holm in October. Before the fight, Aldana blew weight by 3.5 pounds and lost a portion of her purse. The No. 5 ranked Kunitskaya dropped to 14-6.
Sean O'Malley batters Kris Moutinho in one-sided beating, scores third-round TKO
A colorful matchup between two up-and-coming prospects kicked off the UFC 264 pay-per-view portion of the broadcast Saturday night when bantamweights Sean O'Malley and Kris Moutinho met in a three-round battle.
O'Malley (14-1), in lavender color hair, met Moutinho (9-5), with neon green locks on his head, straight on for the entire fight. O'Malley dominated Moutinho, who was making his UFC debut, with 27 seconds remaining in their 15-minute fight.
Referee Herb Dean deemed Moutinho took too much punishment in a one-sided beating and called a questionable stop to the action as a relentless Moutinho was still fighting for a chance to pull off a massive come-from-behind win.
The -1000 favorite O'Malley leveraged a crisp front-leg kick and a vicious straight right hand to stymie the come-forward Moutinho. O'Malley fought most of the first round against Moutinho off his back foot but landed at will as if it were target practice. O'Malley knocked down Moutinho with a cracking straight right hand in the final five seconds of the round but ran out of time to stop the wobbled Moutinho, who seemingly looked out on his feet as he walked back to his corner, bloodied and bruised.
The +600 Moutinho, who took the fight on 11 days notice, continued taking a mauling in Round 2 as O'Malley stuck to the same script as Round 1 and delivered a one-sided beating in action that exclusively took place standing up.
The ultra-aggressive Moutinho, trudging forward as if he were a zombie-like figure with a crimson mask, continued leaning in on his heart and courage in the early part of the third round and showed the best version of himself in the fight, but O'Malley ultimately stopped Moutinho with a late one-sided rally.
UFC uses Conor McGregor's platform to unveil big business 
UFC has strategically used the massive platform Conor McGregor presents to unveil a series of marketing activations ahead of the Irishman's trilogy fight against Dustin Poirier at UFC 264.
UFC announced a $175 million partnership with Crypto.com, a marketplace for cryptocurrency. The company is now the "official fight kit partner" of the UFC, and the brand's logo will appear on the uniform of every UFC fighter beginning with UFC 264.
The MMA promotion also announced its first tequila sponsor, unveiling a three-year deal with Jose Cuervo valued in the mid-seven figures.
The UFC also announced a separate deal with electric vehicle technology company Battle Motors as the "official light duty truck of UFC" and the presenting partner of the UFC's light heavyweight division.
Donald Trump among brigade of stars slated to attend UFC 264 in Las Vegas
UFC president Dana White has presided over the MMA company for the past 20 years, and never has there been as many big-name celebrities as there will be Saturday night at the T-Mobile Arena in Las Vegas, he said.
Chief among the attendees will be the former President Donald Trump.
White and the 45th president of the U.S. have maintained a close relationship throughout the years. The MMA promoter even supported Trump by speaking at the Republican National Convention last year and has labeled Trump "a loyal and amazing guy."
Trump is a big fight fan dating back to his days staging lucrative events headlined by Mike Tyson at his casino in Atlantic City. The last UFC event Trump attended was in 2019 — UFC 244 headlined by Jorge Masvidal's win over Nate Diaz at the Madison Square Garden in New York.
Other stars slated to attend UFC 264 Saturday night include Justin Bieber, Mel Gibson, Dave Chappelle, Kevin Durant, Odell Beckham Jr., Machine Gun Kelly, Megan Fox, Mel Gibson, Kourtney Kardashian and Travis Barker, among many others.
Experts make their Conor McGregor vs. Dustin Poirier III picks
"Dustin Poirier exposed Conor McGregor in their second bout as he figured something out about the "Notorious" one. The statistic is that 70% of the trilogies in the UFC goes in favor of the winner of the second fight, but if there is someone that can defy those numbers, it's McGregor. He is an exciting fighter and a prodigious businessman and beating Poirier is still a possibility even though his recent numbers do not support the claim. McGregor has remained busy outside of the octagon where his popularity demands his presence but his credibility inside the cage is fading. Beating Poirier would be a great booster, but I do not expect that to happen. Poirier will once again win it by TKO in the fourth round."
— Jad El Reda, LA Times en Español sports editor
"Dustin Poirier has matured into an incredible fighter, and he's on a Khabib Nurmagomedov-level run, beating five current or former champions over the last four-plus years. Conor McGregor has heavy hands and kicks, and will likely use his movement and kicks more than he did in the January rematch. But Poirier is the more diverse striker, and if he weathers the early storm that's sure to come, this is his fight to win. Poirier by decision."
— Kevin Iole, combat sports writer for Yahoo! Sports
"Conor McGregor's journey up in weight hasn't gone so well. He's 3-3 as a lightweight and welterweight after going 7-0 with 6 KOs at 145 pounds. The power hasn't necessarily traveled up with him while Dustin Poirier has acclimated to the division with wins over some of the best 155 pounders in the world. Poirier's knockout victory in January over McGregor wasn't a fluke and amplified the fact McGregor is a front-runner who often runs out of gas. Poirier will likely again deploy calf kicks to slow McGregor down before picking up the activity and finishing the job in either round three or four."
— Andreas Hale, senior editor of combat sports for Sporting News
Conor McGregor hurt Dustin Poirier in the rematch, but this time, he will stop him via knockout.
— Mike Coppinger, combat sports reporter for ESPN
"Conor McGregor could absolutely make the tweaks needed to beat Dustin Poirier in the trilogy bout. McGregor looked good in the first round back in January; he rocked Poirier with a left hand at one point. But despite that, Poirier executed perfectly and some of that mystique seems to have come off of McGregor. Fights aren't really won by mystique, though. They're won by superior skills. Poirier has more ways to emerge victorious here than McGregor does. I think McGregor will give him hell for the first 10 minutes. But ultimately, I'll take Poirier by submission in the fourth round."
— Marc Raimondi, combat sports reporter for ESPN
"Will we see a more focused Conor McGregor just six months after suffering his first loss via TKO to Dustin Poirier? Without question, which is why he has kept such a low profile during training camp and largely avoided interviews. While an even more inspired McGregor might last longer than his January defeat, the larger problem is that he's facing a battle-tested version of Poirier who just might be better than him in every single facet of the game. McGregor will always be a dangerous threat to get to his opponent's chin early but the longer this fight goes, particularly should Poirier utilize his wrestling, the idea of an exhausted McGregor being finished becomes more likely."
— Brian Campbell, CBS Sports insider
"Dustin Poirier is a better mixed martial artist than Conor McGregor. We saw this in their second fight. Poirier generally outpaces foes in sustained bursts, and this factor could be too much for McGregor to overcome even if the Irishman keeps 'The Diamond' within range of his left hand. The onus is on McGregor to make defensive and tactical adjustments. Meanwhile, he still must contend with pinpoint punches and submission threats. Poirier remains cool under pressure to take the trilogy by fourth-round TKO."
— Josh Gross, editor-at-large for Sherdog.com
"Many people, myself included, wrote Dustin Poirier off at the expense of a Conor McGregor win ahead of their rematch on Fight Island earlier this year. Not again. While McGregor hasn't had a meaningful win since he finished Eddie Alvarez five years ago, Poirier has had plenty — including that second-round shellacking in which he calf kicked McGregor to hell. Everything we've seen of late, including that lightweight fight in January, suggests Poirier has clear edges when it comes to form, technique, athleticism, power, and strategy. Crucially, he may have won the mental game, too. McGregor, this week, has talked about corpses and tried to bring Poirier's wife Jolie into his pre-fight shenanigans in an attempt to get in Poirier's head. As Poirier did little more than laugh, the only person whose mind seems affected right now is McGregor's. For me, this is a clear case of a repeat. Same winner, same result — Poirier by second-round finish."
— Alan Dawson, combat sports correspondent for Business Insider
"Dustin Poirier is in Conor McGregor's head. Poirier put McGregor down and out with his hands. They may be 1-1 going into the trilogy, but Poirier proved to be the more evolved mixed martial artist in 2021. I don't think McGregor can make up enough ground in the sport he let pass him by due to inactivity and an ongoing affair with boxing. It'll be another fun one, but the better man still wins. Poirier by a middle-round finish."
— Scott Fontana, MMA reporter and copy editor for New York Post
"Not enough time has passed for me to pick against Dustin Poirier. I think Poirier outlasts Conor McGregor in a slower-paced fight and turns up the volume late for a third or fourth-round finish."
— Aaron Bronsteter, MMA reporter and content Editor for TSN Sports
"I expect Conor McGregor to fight better than he did in the second bout. He will adjust to Dustin Poirier's calf kicks and try not to largely just box. But ultimately I think it won't matter unless he quickly knocks out Poirier. The rematch showed Poirier to be a better striker, and really at this stage of his career, a better MMA fighter than McGregor. I think Poirier will weather the early storm again, break McGregor down with his accurate combination boxing and grueling pace, and then d'arce choke him when he's hurt. Poirier by third-round submission."
— Mookie Alexander, associate editor for BloodyElbow.com
"The only thing I'm semi-confident about in this matchup is that it won't last long. The rubber matches in MMA's best trilogies all seem to end with a knockout, and I expect Poirier-McGregor III to follow suit. These two sluggers are obviously quite familiar with each other at this point, and I believe they're ready to trade leather and crack each other repeatedly at UFC 264. So, who's the last man standing? Based on size, cardio and heart, "Diamond" is my pick. I've got Poirier via second-round TKO in what should be a crackerjack of a slugfest."
— Dann Stupp, writer for PlayVirginia.com
Dana White wonders if mean, nasty, focused version of Conor McGregor will return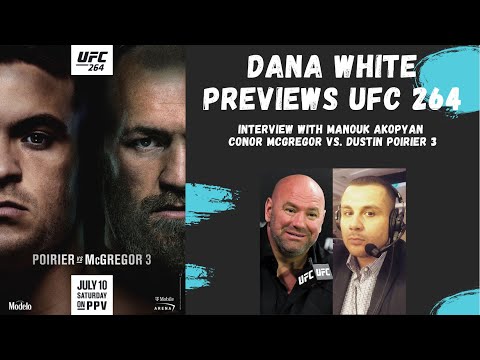 We talked with UFC president Dana White about the conclusion of one of the most anticipated trilogies in UFC history when Conor McGregor looks to rebound in a rubber match against Dustin Poirier Saturday night after suffering a second-round TKO in January.
Manouk Akopyan: Conor McGregor is certainly more subdued lately, and surely the losses have played a part in him toning down the histrionics. How would you describe your most recent dealings with Conor? What kind of headspace have you found him to be in since the Poirier loss?
Dana White: "I find him extremely focused and extremely serious about this fight. His family isn't coming in for this fight. He's been turning down lots of media and other things to do. This kid's a competitor, man. There are two things Conor loves. He loves to fight and compete, and he loves money. If he gets another win, it puts him in title contention and he has the chance to become a world champion again. I think he's very focused on that."
Akopyan: Poirier is considered a very slight betting favorite despite the fact that he dismantled Conor in the rematch. Do you feel that Dustin Poirier is still being overlooked and not getting the credit he deserves?
White: "Yeah, it's true. Conor does take away a lot of the limelight. Not just from his opponents, but the co-main event is awesome and people are not talking about that as much as they should be. If you look at how successful this fight is [going to be,] part of that success is because of Dustin Poirier. We're going into a bad— trilogy between two really good fighters. People want to see this. Dustin is a slight favorite and a lot of people believe that Dustin can beat him, which makes the fight that much more fun. While Dustin might not get as much verbal credit for the fight as Conor does, he's absolutely, positively one of the stars of the show."
Akopyan: Conor's personal brand seems to be impregnable. Even after the loss he sold his whiskey brand Proper Twelve for $600 million. Do you think he still has the hunger and desire to fight and to be an elite fighter despite the millions in money he continues to make?
White: "That's the problem. Once you make that kind of money. This kid is doing things the 1% are doing. He has that kind of money. It's hard to stay focused, mean, nasty — all the things you need to be to get back to where he was. It's tough to do when you have that kind of money. That's kind of the narrative of this fight. Will that [version of] Conor McGregor be back?"
Akopyan: Would you consider McGregor to be the modern-day Mike Tyson as to how he moves the needle?
White: "Conor is one of the biggest stars of all time in Las Vegas history, up there with Tyson, Oscar De La Hoya and Floyd Mayweather Jr."
Akopyan: Conor has only one win over the last four years. How much longer can he realistically be this kind of a draw if the wins don't translate in the cage?
White: "Good question. That's what remains to be seen. That's why this weekend is a big deal. It's a big fight for everybody. The seriousness in which Conor is acting, you know that Conor believes this is a big fight for him."
Akopyan: You've been very vocal saying that Conor will still go down as one of the greatest of all time? Why do you feel that way?
White: "He's one of the first guys to [simultaneously] carry belts in two weight classes. Not only is he a megastar people love, he's actually accomplished some real stuff and beat some real guys. Really guys who at the time people didn't believe he would beat. Don't forget, when he was on his way up, a lot of people said he was all hype. He proved everybody wrong."
Akopyan: One of your biggest pay-per-view stars in Jon Jones is still on the sidelines waiting to make his heavyweight debut. How do you plan on repairing your relationship with him so that he gets back in the cage?
White: "I don't think it's about repairing a relationship with him. Jon and I have gone round and round for years. We've had our good times and we've had our bad times. I say it all the time. We put on fights every Saturday night. When Jon is ready to fight again, I'll have a Saturday ready for him. Jon doesn't owe me anything, or any apologies that we should sit down and kiss and makeup. We're cool. We're both very opinionated. We're both very hard-headed with things. I don't dislike Jon Jones. I don't think Jon Jones dislikes me. When he's ready, we're ready. We'll get it figured out ... if you ever hear me talk about Jon Jones, I say that he's the GOAT and the No. 1 guy in the world. I don't ever talk negatively about him. I have a deal with Jon Jones. If Jon Jones wants to fight, he'll fight. Listen, he wants this. He wants that. We're talking to him. We're trying to do what we can to make him as happy as we can make him and make this fight."
Akopyan: There has been a lot of conversation recently over fighter pay in the UFC, an issue raised by Jones as well.
White: "It hasn't been lately. It's been 20 years. And guess what? It will for the next 20 years, too."
Akopyan: What is your response to those who have been critical of UFC's stronghold over payouts for its top stars?
White: "The reality is that anybody who is being critical outside of the fighters themselves doesn't know anything anyway. They don't actually know what these guys are making. And the fighters don't ever come out and tell you. There's no gag order on any of these guys. These guys can come out at any time and tell you what they're making. I have no problem with that. But they don't, do they? No, they do not. So it's sort of a Catch 22. Fighter pay has continually gone up every year since we owned the business. Obviously, there have been tons of opportunities with the outfitting policy and some of the sponsors that we've brought in that spend tons of money with the fighters, too. There's a lot of opportunities for fighters here. Listen, there is never going to be a guy that comes out and says they are paying me too much. They are overpaying me. All of these guys that are champions share the pay-per-view revenue. If you don't like it, go start your own MMA league and pay them whatever you want to pay them. This is mine, and this is the way we're doing it, you know what I mean?"
Betting odds for Conor McGregor vs. Dustin Poirier III
Is the magic of "Mystic Mac" all but gone? Conor McGregor is the betting underdog for his UFC 264 lightweight trilogy bout against Dustin Poirier.
The UFC has Poirier listed as a -130 favorite via partner DraftKings, and McGregor as a +108 underdog.
Poirier is the No. 1 ranked fighter at 155 pounds in the UFC; McGregor is ranked at No. 5.
McGregor has won only one fight since 2016, a 40-second KO over the faded Donald Cerrone last year.
In the same stretch since 2016, Poirier is 7-1 with one no contest. The lone loss was to Khabib Nurmagomedov in 2019.
Tale of the tape: Conor McGregor vs. Dustin Poirier 
Conor McGregor
Hometown: Dublin, Ireland
Age: 32
Record: 22-5, 20 stoppages
Nickname: The Notorious
Height: 5-foot-9
Weight: 155
Arm reach: 75 inches
Leg reach: 40 inches
Stance: Southpaw
Average fight time: 8:16
Key stats: Former two-division champion and No. 5 ranked UFC lightweight who has 14 first-round finishes and wins over Nate Diaz, Eddie Alvarez, Jose Aldo, Donald Cerrone and Max Halloway.
Dustin Poirier
Hometown: Coconut Creek, Florida
Age: 32
Nickname: The Diamond
Record: 26-6, 19 stoppages, 1 no contest
Height: 5-foot-9
Weight: 155
Arm reach: 72 inches
Leg reach: 40.5 inches
Stance: Southpaw
Average fight time: 10:21
Key stats: Former UFC interim lightweight champion and No. 1 ranked contender who'll be fighting in the UFC for the 26th time and has wins over Max Holloway (twice), Conor McGregor, Anthony Pettis, Justin Gaethje and Dan Hooker.
Conor McGregor's drawing power has been bulletproof, but loss to Dustin Poirier could lead to end of thrilling ride
Conor McGregor is still the straw that stirs the UFC's drink, but for how long if the cup runneth dry for a fighter who has only one win since 2016?
The Irishman's notorious brash personality has translated straight to his fighting demeanor and resonated with a cult-like fan base, but the pixie dust that gave birth to "Mystic Mac" is one more loss away from losing its magical powers.
McGregor has also realized it.
After showing off a more mature, subdued and respectful version of himself in recent fights, McGregor (22-5) reached back into his bag of histrionics during a Thursday press conference promoting his UFC 264 lightweight trilogy bout against Dustin Poirier (27-6) with a foul-mouthed monologue and an attempted kick at his most recent conqueror.
"You're getting walked like a dog in that octagon on Saturday night!" shouted the sharply dressed McGregor while sitting in a purple suit at the T-Mobile Arena in Las Vegas. "You're only a little b—. Your wife is your husband. You're only a little b— of a thing, a silly little hillbilly. Jolie's wife! You little b— of a thing."
The Lafayette, Louisiana native Poirier punished McGregor with a series of calf kicks before a vicious attack to the head in just two rounds six months ago. The 32-year-old remained unbothered by the volatile rhetoric.
"You used to be a lot better than that," said Poirier. "The trash talk was a lot better than that. F— weak."
It's true. McGregor used to be a lot better, at least in the cage.
McGregor started his UFC career 7-0, which included a 106-second KO win over Poirier in 2014. He quickly evolved into a bona fide global star and sported the biggest bandwagon in combat sports. He became the UFC's first fighter to ever hold championships in multiple divisions simultaneously in 2016, an era that was arguably the peak of his powers.
Several retirements and serious run-ins with the law since then have been paired with losses to Floyd Mayweather Jr. in a highly lucrative boxing match in 2017 and defeats to Khabib Nurmagomedov in 2018, and, more recently, to Poirier in January.
McGregor's megaphone has to be dialed down a notch because he's not the prolific fighter he once was. His marque, however, has still remained at the mountaintop, at least when it comes to business and drawing power.
Since the Poirier loss, McGregor has been named Forbes' highest-earning athlete, raking in $180 million during a one-year span largely due to his diverse business portfolio led by his whisky label, Proper No. Twelve. McGregor has since cashed out by selling his majority stake of the brand to Proximo Spirits for $600 million.
Does the desire and dedication to fight at an elite level still remain for a man who once collected a $235 welfare check from the Irish government one week before making his UFC debut in 2013?
Amid all of the money, UFC president Dana White also wonders whether McGregor still has the hunger.
"It's hard to stay focused, mean, nasty — all the things you need to be to get back to where he was," UFC president Dana White told The Times. "It's tough to do when you have that kind of money. That's kind of the narrative of this fight. Will that [old version of] Conor McGregor be back?"
McGregor is somewhat of a modern-day Mike Tyson — when he fights, seemingly everyone gathers and everything stops. Most of the fans watching will be wondering whether the betting underdog still has the magic left in his hands at the age of 32.
McGregor holds seven of the top eight pay-per-view buy numbers in UFC history.
Saturday's showcase will be another box office bonanza, as White said the event already has the most PPV pre-buys in the company's history.
A convincing McGregor win will resuscitate his fighting brand and reputation. A revival act is one that Poirier himself has experienced. While McGregor has just one win in nearly five years, Poirier is 7-1 in that same stretch and is the favorite to beat McGregor again.
McGregor desperately tried to talk himself into a winning mindset.
"I'm going to go through [Poirier's ] head," said McGregor. "Put holes in him and take it off his shoulders. That's the goal here. He's done. This is it for him. This is the end of the road."
A McGregor loss may very well be the end of his fighting road as well.