Khabib Nurmagomedov defeats Conor McGregor, then starts all-out brawl at UFC 229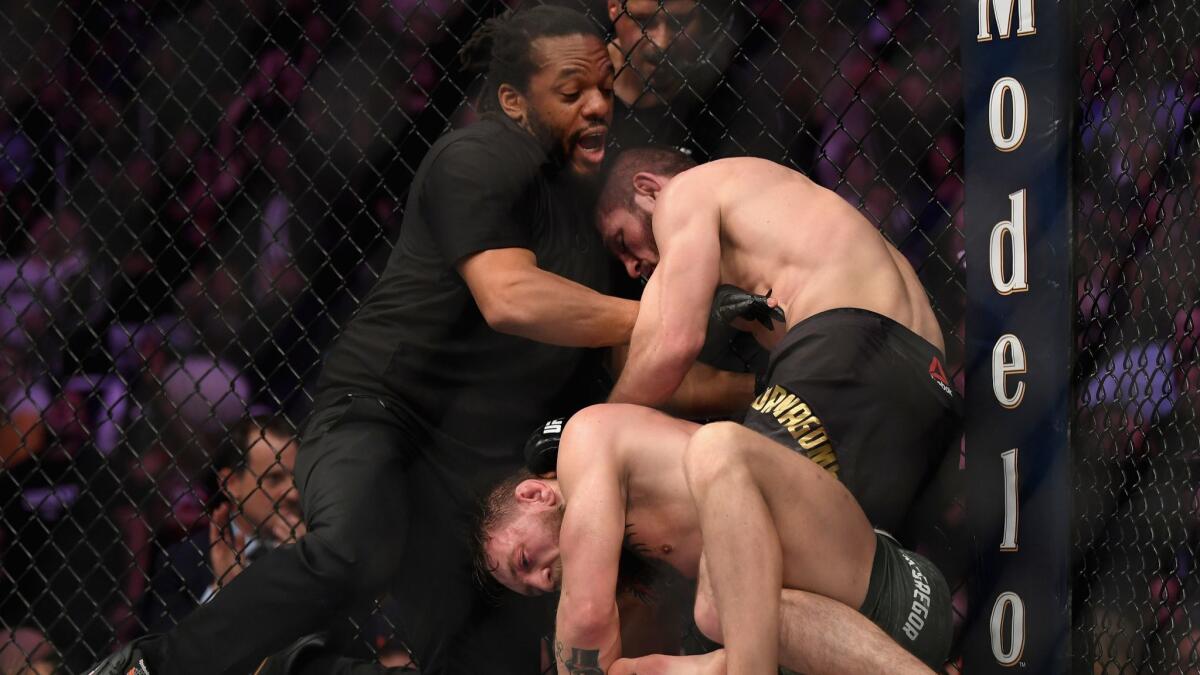 Reporting from Las Vegas —
The pent-up hostility that Khabib Nurmagomedov bottled for six months since Conor McGregor and friends attacked his bus in Brooklyn exploded Saturday with the Russian's dominant victory in the octagon and then bedlam outside it.
Nurmagomedov punctuated his vengeful attack on McGregor with a rear-naked chokehold applied 3 minutes 3 seconds into the fourth round of Saturday's main event at UFC 229, the crowning move to a fight in which the lightweight champion brushed off McGregor's punches while mostly keeping the former two-division champion glued to the canvas or cage with his intense wrestling pressure.
With victory sealed, Nurmagomedov (27-0) threw his mouthguard in the direction of McGregor's cornermen, barked threatening words, rushed forward and leaped over the cage to pursue Dillon Danis, a McGregor sparring partner who fights for Bellator MMA.
"They were taunting Khabib and Khabib just said, '... you,' and jumped over the cage and attacked him," UFC broadcaster Joe Rogan said.
Nurmagomedov and Danis briefly clashed as a rush of police and arena security surged to the spot, separating Nurmagomedov and escorting him away. McGregor remained in the octagon and was sucker-punched in the back of the head twice by someone who jumped over the cage and brought the chaos into the octagon.
UFC President Dana White said three members of Numagomedov's team were arrested but released because McGregor wouldn't press charges. However, the melee will result in the Nevada Athletic Commission punishing Nurmagomedov. McGregor was fined $150,000 two years ago by Nevada for throwing loaded beverage cans at opponent Nate Diaz at a news conference.
"I don't even know what to say now. We are disgusted and I'm just sick of it," White said.
"God knows what the Nevada Athletic Commission is going to do to Khabib," he added.
Nurmagomedov fought determined, bent to avenge what McGregor tried to do to him in April, when McGregor flew from Ireland to answer Nurmagomedov's brush with McGregor stablemate Artem Lobov and threw a hand at Nurmagomedov's bus, shattering a window.
As he left the octagon with officers restraining his arms, a red-eyed Nurmagomedov appeared to scream into the crowd, "Where's Artem?"
"We have to see what happens with the commission," White said. "Can these guys get visas and get back in the country? And I mean Khabib."
Nurmagomedov kept McGregor down through most of the first round, then knocked him down with a right hand to the head in the second and mauled him, as the champion promised to do, with hard punches and elbows that reddened McGregor near both eyes.
McGregor (21-4) kept the fight upright in the third, as he longed to do, and landed some clean but inconsequential blows. But Nurmagomedov returned to pressing McGregor to the cage and ended up mounting him, delivering more hurtful punches before continuing the wrestling maneuvering he's practiced since his youth, finding an opening to deliver the deciding choke and secure his 11th straight win since joining the UFC.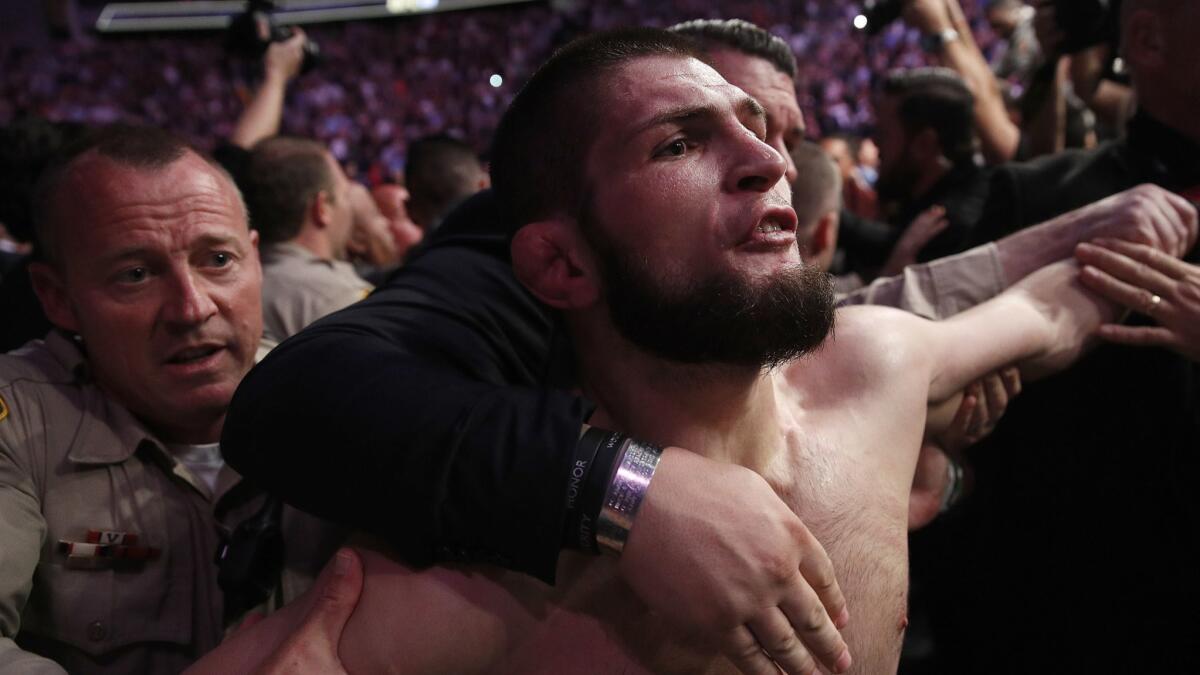 In the co-main event, Tony Ferguson came back six months removed from knee surgery and was in the gravest danger he's found himself early in the second round when Anthony Pettis dropped him with a punch.
In a revealing display of the drive that has won him 11 consecutive fights, Ferguson answered with a slew of punches that opened deep cuts on Pettis' nose, near his left eye and on the right side of his head by the end of the second.
And after examining Pettis' broken hand, his trainer had seen enough, stopping the fight as the corner tended to the wounded former lightweight champion.
"I tried to put him away … I tested that leg … that's a tough guy," Pettis (21-8) said.
Ferguson (24-3) jumped into a right-handed punch that backed Pettis in the first round. When Pettis opened the second by dropping Ferguson, the Orange County fighter somersaulted into two more punches before finding a way out of the trouble and letting his boxing shine in frenzied action that brought both men to smile at each other before clashing again.
Ferguson's damage with punches was extensive, though, and upon the victory he called out McGregor for a long-awaited fight.
"Nobody was going to take this from me," Ferguson said. "I'm back."
Earlier, Derrick Lewis dropped hints he was cagey during the first round of his fight against fellow top-10-rated heavyweight Alexander Volkov of Russia.
In the third round, having saved as much as energy as the full-bellied, 265-pound Lewis could keep in reserve, he dropped his hidden bomb. The thunderous right hand sent Volkov to the canvas and set up a finish with just 11 seconds remaining in the bout that came by Lewis pounding two final rights to an unresponsive Volkov.
"I told you boys I've got heart," said Lewis, who'd won a widely panned dull match against Francis Ngannou in his previous bout.
Volkov (29-7) relied on his reach and length to get the better of Lewis in the first two rounds, as Lewis (21-5) complained of getting poked in the eye to earn one break, then ducked as if more seriously hurt than he actually was in other moments. He was trying to sneak in a punch, but would either miss or Volkov would back up in time to reduce the sting.
Except for the last one.
"Donald Trump told me I've got to knock this big Russian out, so [Americans] can't talk anymore [stuff] about [Russian president Vladimir] Putin" manipulating Trump, Lewis joked.
Victorville light-heavyweight Dominick Reyes thought he'd pulled off a similar fantastic finish by landing a late-third-round left hand that knocked down No. 7-ranked Ovince Saint Preux just before the bell. But referee Dan Miragliotta never waved the fight off as time expired, and the result goes down as a unanimous-decision victory by three 30-27 scores.
"That's a knockout," Reyes (10-0) said.
The pay-per-view portion opened with Michelle Waterson convincingly defeating fellow top-10 strawweight Felice Herrig by scores of 30-26, 29-28, 30-27.
Waterson (16-6) took down Herrig in the second round and then delivered a snapping kick to Herrig's head in the third. The fighter said she dreams of being a "superstar" in the octagon, a film actress and the first UFC champion who's a mother.
"It disappoints me I'm not in that [title] talk," said the No. 8-rated Waterson, who fights in a division ruled by Rose Namajunas. "I've been in this game for a long time and it can be hard to stay up here [in the top 10] for so long without a chance."
Northern California women's bantamweight Aspen Ladd established herself as one of the sport's top prospects by pummeling former featherweight title challenger Tonya Evinger on the canvas and recording a technical-knockout finish just 3:26 into the first round.
Yana Kunitskaya, another recent victim of women's featherweight champion Cris Cyborg, also moved to bantamweight, but she had success, defeating No. 12-rated Lina Lansberg by unanimous decision.
Fontana welterweight Jalin Turner (6-4) had difficulty rising from his first-round knockout loss to Vicente Luque (14-6-1) after getting caught with blows to the head that sent him down and battered by a follow-up onslaught. Turner frighteningly slumped while trying to sit up, and his eyes were glassy before he regained his senses.
In a bout that bored with extended holds, flyweight Jussier Formiga (22-5) defeated Pettis' brother, Sergio, by unanimous decision. Formiga, who lost to current champion Henry Cejudo in 2015, called him out.
Get our high school sports newsletter
Prep Rally is devoted to the SoCal high school sports experience, bringing you scores, stories and a behind-the-scenes look at what makes prep sports so popular.
You may occasionally receive promotional content from the Los Angeles Times.