A week before the MLB trade deadline, Angels are playing it close to the vest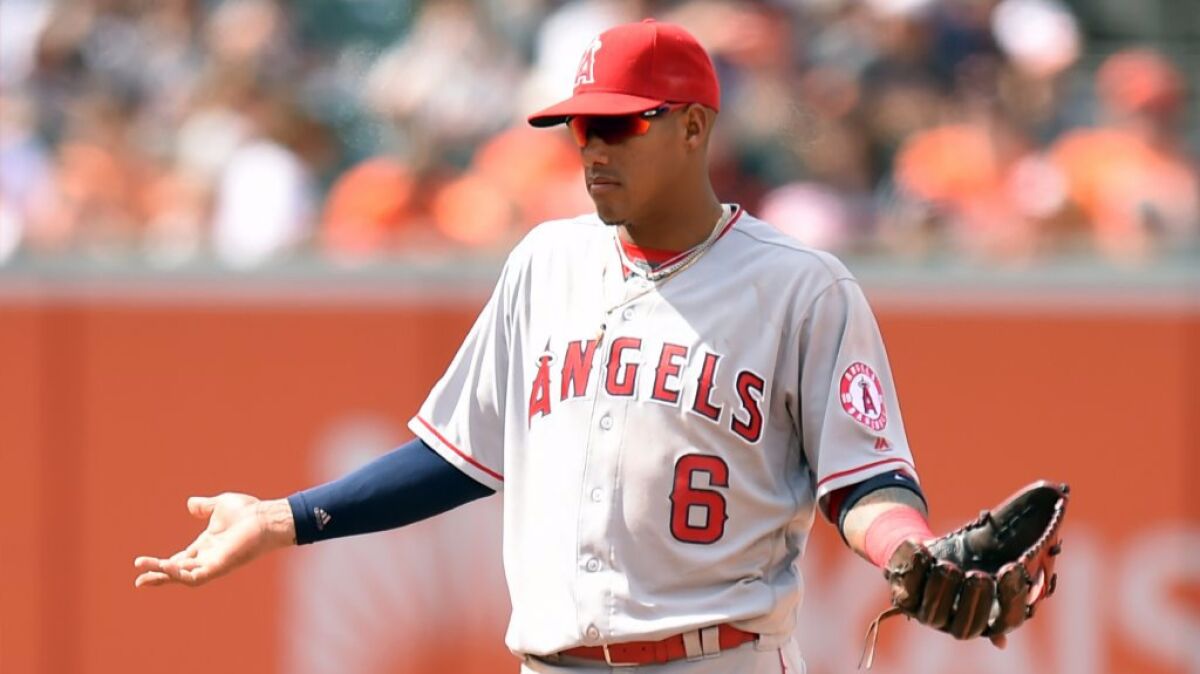 There are eight shopping days left before the Aug. 1 non-waiver trade deadline, plenty of time for the supposedly "big game-hunting" Dodgers to acquire a front-line starting pitcher and/or impact outfield bat, and for the Angels to . . . do just what, exactly?
The Angels were 32-48 and 19 1/2 games behind Texas in the American League West on July 1 and seemed destined for at least a partial rebuild, with third baseman Yunel Escobar, setup man Joe Smith and closer Huston Street headed for the trading block.
A more thorough renovation could have had the Angels exploring deals involving right fielder Kole Calhoun and pitchers Matt Shoemaker and Hector Santiago, young commodities that could fetch the kind of prospects needed to replenish one of baseball's worst farm systems.
Three and a half weeks later, the course is no longer clear. The Angels came alive offensively, even as they lost one of their hottest hitters, C.J. Cron, to injury, and won 10 of 12 games to shave eight games off the division deficit heading into the weekend series.
They haven't vaulted into the playoff picture — they were still 11 1/2 games behind the Rangers and 10 1/2 games back in the wild-card standings before Saturday — but they can kind of, almost, maybe through squinting eyes, see it from here.
And with two months left and 14 more games against the Rangers and second-place Houston Astros, there is a slim chance the Angels, despite losing pitchers Garrett Richards, Andrew Heaney, C.J. Wilson and, most recently, Nick Tropeano, to major injuries, could make a playoff run.
"A lot of things have come together at the exact same time," General Manager Billy Eppler said. "We felt that this club had a lot of positive elements to it. It wasn't all clicking like it is right now, but the character and the fight within those guys has never faded."
As much as the summer surge has boosted team morale and restored some faith among frustrated fans, it has muddled the Angels' trade-deadline approach.
The question isn't to sell or buy — the Angels can't afford to trade what few high-end prospects they have for a player to bolster this club — it's whether to sell or not sell.
Do the Angels trade current assets in an attempt to build for 2017 and beyond, or do they hold onto what they have, thinking it's the core of a potential contender, and look to upgrade next winter?
Eppler won't tip his hand.
"Three weeks ago, we were in a position of being opportunistic," he said, when asked whether the recent run has altered plans leading up to the trade deadline. "Today, we're in a position of being opportunistic. Our objective is to do whatever we can to improve the organization."
What Eppler does, or doesn't do, before Aug. 1 will depend on his frank assessment of the team. Are the Angels truly as good as they've been this month, during which they led the major leagues with 110 runs (6.9 a game) and batting with runners in scoring position (.356) through 16 games?
Or have the past three weeks been more of a mirage, a tease, with the Angels falling so far out of the race they simply relaxed, adopted a nothing-to-lose attitude and played better?
Santiago hinted at the latter after the Angels completed a three-game sweep of the reeling Rangers on Wednesday night, saying, "When you fall that far back, you go, 'Here we go; let's have some fun.' "
The offense — despite a gaping hole in left field, where the team has produced a major league-worst .578 on-base-plus-slugging percentage — has actually performed better than most expected.
The Angels entered Saturday ranked eighth in the AL in runs (444) and OPS (.740), but fourth in average (.267), and third in on-base percentage (.328) and batting with runners in scoring position (.279).
Center fielder Mike Trout is having another most valuable player-caliber season, hitting .317 with a .991 OPS, 19 homers and 62 runs batted in. Designated hitter Albert Pujols has 19 homers and 72 RBIs. Calhoun has been solid, with a .285 average, 10 homers and 49 RBIs.
Escobar, despite his sometimes shaky defense and occasional mental lapses, is hitting .316 with a .363 OBP and 21 doubles in the leadoff spot, and his contract — he signed for $7 million this season with a $7-million option for 2017 — makes the decision to trade him tricky.
San Francisco, the New York Mets and possibly Kansas City are shopping for a third baseman, and Escobar would return value in a deal. But with his relatively low salary, he could give great value to the Angels next season.
Cron was batting .278 with 11 homers and 50 RBIs before he broke a bone in his left hand on July 8. Slick-fielding shortstop Andrelton Simmons is on a 34-for-88 (.386) tear over 24 games that has raised his average from .204 to .276.
Johnny Giavotella (.262, six homers, 27 RBIs) has provided decent production at second base, and reserves Jefry Marte (six homers, 17 RBIs) and Gregorio Petit (..277) have contributed.
Smith is a free agent after this season, so the decision to trade the veteran reliever is not as complicated, and Street, with a 5.03 earned-run average in an injury plagued season, probably won't garner much trade interest.
Santiago, Shoemaker and Tyler Skaggs, who is recovering from elbow and shoulder injuries and hasn't pitched in the big leagues in almost two years, are attracting plenty of interest.
But with Heaney expected to miss most, if not all, of 2017 after elbow ligament reconstructive surgery and Richards and Tropeano possibly headed for the same procedure, Santiago, Shoemaker and Skaggs will be needed for the 2017 rotation, making it unlikely any of them is traded.
Eppler said the volume of inquiries on his players is about the same as the ones he is making on other players. He could make a flurry of moves in the next week or do nothing. A little more than a week before the deadline, no deals seemed imminent.
"From my end, it feels like 30 dogs in a yard all trying to figure each other out," Eppler said of the trade market. "Some teams are a little more aggressive than others, but I think there's a lot of positioning at this juncture."
Twitter: @MikeDiGiovanna
Get our high school sports newsletter
Prep Rally is devoted to the SoCal high school sports experience, bringing you scores, stories and a behind-the-scenes look at what makes prep sports so popular.
You may occasionally receive promotional content from the Los Angeles Times.