Dodgers mailbag: Who should pitch in the playoffs?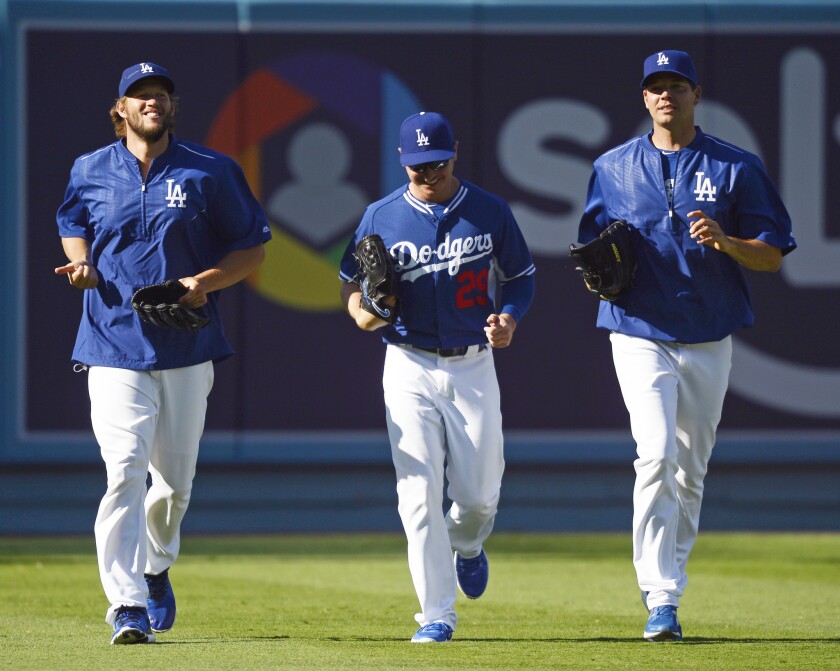 The Dodgers are 73-57. That translates to a 91-win pace. The team leads the National League West by two games, and is only two games behind the Washington Nationals in the race for home-field advantage in the National League Division Series. The group recovered from the departure of A.J. Ellis to swipe a series from the high-flying Cubs this past weekend at Dodger Stadium.
But, as always, there is plenty to discuss. You can send me questions on Twitter @McCulloughTimes. Let's do this.
I'm old enough to remember when all the questions I got for the mailbag were some version of "When are the Dodgers going to fire FRAUDMAN?"
The arc of a baseball season is long, but it bends toward depth.
So, I am going to make some assumptions here. The No. 1 assumption is that Clayton Kershaw will be healthy enough to pitch. If he is healthy, then the first three slots in the rotation are not difficult to figure out: Kershaw, Rich Hill and Kenta Maeda. Given the uncertainty with Kershaw's back -- even if he's healthy, he still had a herniated disk -- and Maeda's inexperience with the major-league schedule, it seems impossible to shorten the rotation and use this group on three days' rest. So the Dodgers will need a fourth starter.
And that puts the team in a bit of a bind. Based on the merits of August, the best choice of the pool of Scott Kazmir, Brett Anderson, Brandon McCarthy, Brock Stewart, Bud Norris and Julio Urias is, you guessed it, the 20-year-old rookie with the innings limit.
Here is another assumption. Well, it's not really an assumption, it's clear in the reported comments of team officials and the implied actions of the organization. The Dodgers do not want to run Urias into the ground. It would be quite surprising if he throws more than 130 innings this season. He has already thrown 108.
Urias does not have another start scheduled yet, but logic suggests that he will pitch again in September. The Dodgers may need him to make the playoffs in the first place. I am not sure he will have enough innings left to start on a regular basis once the team gets there.
I could be wrong, of course. The Dodgers have never revealed an exact number for Urias, and they say their decisions are based on a constantly shifting set of criteria: How is Urias responding? What is the team's need? And so on and so forth. If he is able to pitch, he's the fourth-best option right now.
If Urias is ineligible, let's see how Anderson, Kazmir and McCarthy perform as each man returns from the disabled list.
Hyun-Jin Ryu underwent major surgery in 2015 to repair a torn labrum in his left shoulder. Before he arrived in the States, he threw 1,269 innings in seven seasons in the Korean Baseball Organization. His arm has undergone a sizable amount of usage in the last decade. So though his inability to rebuild arm strength after shoulder surgery is frustrating for Ryu and the Dodgers, it is neither surprising nor unprecedented.
It is more likely the Dodgers trade Yasiel Puig this winter, when they can deal with the 29 other teams, and not solely the team that claims him on waivers. But who knows? Anything could happen.
Probably not. I explained Jose De Leon's place in non-roster purgatory earlier this week, due to the team's 40-man roster crunch.
Kenta Maeda has already earned $9.15 million this season. There is more money for him on the table. He can make $1.5 million if he makes 30 starts (he has made 25) and an additional $1.5 million if he makes 32. He has thrown 141 2/3 innings. He will make $250,000 each for 150 innings, 160, 170, 180, 190. If he can reach 200 innings, he will earn $750,000.
In order to sign Kenley Jansen right now, when he is basically two months away from free agency, the Dodgers would have to offer a contract that is well above Jansen's market value. The team would have to pay, in essence, to keep Jansen away from the 29 other clubs. Few teams do that this late in a season. Players view free agency as a privilege -- very few actually make it there -- and value it highly, after untold years spent earning minimal wages in the minors, three years of rookie-level salary and three years of arbitration-controlled salary.
So, in essence, the Dodgers would almost certainly have to pay Jansen more than he is worth. Because he is worth plenty, that would be a lot of money. And it wouldn't make sense for Jansen to accept a fair-market offer -- he doesn't even know what the market is yet. Some team could offer him a 10-year contract. The Royals gave Ian Kennedy a five-year deal last winter. Anything can happen.
And, for what it's worth, the Dodgers may prefer Aroldis Chapman, anyway.
This is a silly question. Farhan Zaidi has plenty of influence in the Dodgers' front office. Andrew Friedman is in charge of the department. Zaidi is second-in-command. This is not complicated. You can read his comments about Yasiel Puig in this article if you are yearning for some Zaidi in your life.
I picked them to win the division before the season started. So, sure.
Based on the initial reaction to the Ellis trade on social media and beyond, I would go with Eric Bischoff's entrance theme.
Man, it would crack me up if the company put the strap on Big Cass in some sort of schmozzy finish, then have him drop it to Roman Reigns a week later to turn Reigns into a full-blown heel. Or have him feud with Kevin Owens, with Owens insulting him for not actually being 7 feet tall.
Most likely, Seth Rollins will win. I've soured on Rollins a tad in the last few months, as I wasn't crazy about his match with Reigns at Money in The Bank, and I found it disconcerting that he hurt yet another wrestler (Finn Balor this time). But he's still one of the best workers in the company, he's way over with the crowd and Reigns still appears stuck in post-suspension purgatory.
So to avoid any controversy, let's just disqualify Chris Benoit. It's very difficult to discuss Benoit's career without thinking about how his life ended, and we don't have the time or space for that.
I'm also going to (mostly) ignore Japan. My knowledge of Japanese wrestling is too limited to be useful, so apologies to Kenta Kobashi, Mitsuhara Mishawa, Jushin Liger, Tiger Mask, Kota Ibushi and Kenny Omega.
And I think Ric Flair is the most overrated wrestler of all time. I never liked the flopping or the flailing, and his lack of pre-match planning that led to so many blown spots and awkward finishes.
So these are my five favorite wrestlers to watch, with further apologies to Eddie Guerrero, Daniel Bryan, Samoa Joe, Vader, Terry Funk, Ricky Steamboat, Steve Austin, Shane Douglas, Michael Elgin, Adam Cole and Roderick Strong:
Bret Hart
Randy Savage
Kurt Angle
Shawn Michaels
A.J. Styles
The first two picks feel obvious. The Hitman is the sharpest, cagiest, most precise performer in history. Savage opened up the heavyweight division to smaller, lighter men, which allowed better matches to flourish. Angle was the best wrestler of the 2000s. Michaels bumped better than anyone. And Styles is the best wrestler in the States today, and probably in the world.
A word on Styles: I never watched much TNA, so I missed a good chunk of Styles' career in the 2000s. But I started to follow him more closely when he went to New Japan Pro Wrestling and cross-booked shows with Ring of Honor. I'm still amazed by his arsenal, athleticism and creativity. Styles can sell, he can fly and he can handle strong style. He has no flaws, to my relatively trained eye. I hope he goes over at Backlash next month, and rids the Smackdown main event of its current sloppily bland champion.
---
Get our high school sports newsletter
Prep Rally is devoted to the SoCal high school sports experience, bringing you scores, stories and a behind-the-scenes look at what makes prep sports so popular.
You may occasionally receive promotional content from the Los Angeles Times.