MLB draft will be front-loaded with Los Angeles-area talent
The Cincinnati Reds have the second pick in this year's Major League Baseball draft, putting them within arm's reach of local phenom Hunter Greene, the Sherman Oaks Notre Dame High pitcher and shortstop who is expected to be among the top three picks on Monday.
Long and lean and just 17, the 6-foot-4, 205-pound Greene has drawn comparisons to Corey Seager of the Dodgers and Carlos Correa of the Houston Astros, jumbo-sized shortstops with soft hands, quick feet, strong arms, great body control and the raw power to mash baseballs 450 feet.
Rick Ingalls, a Southern California area scout for the Reds, has seen Greene play dozens of times and said he "compares favorably" to a pair of shortstops he evaluated as a national cross-checker for the Angels in 1992 and 1993: Derek Jeter and Alex Rodriguez.
"I can't say he'll be the next Jeter or A-Rod — those guys are Hall of Famers," said Ingalls, who is 65 and in his 37th year of scouting. "I'm just saying that at 17 this kid has some qualities that, if things go the right way, he could be an every-day, better-than-average shortstop, and maybe a star."
Or, he could be a Cy Young Award winner.
In addition to his fielding and hitting prowess, Greene, the subject of a May 1 Sports Illustrated cover story, throws a fastball that sits between 95-99 mph and has touched 102 mph.
No right-handed high-school pitcher has ever been the first overall selection in the draft. Greene would become the first if the Minnesota Twins use their top pick on him. He traveled to Minnesota to throw for team decision-makers on Friday.
As much as Ingalls covets Greene as a shortstop, he predicts Greene will be drafted as a pitcher.
"With his velocity, the mound is a faster track to the big leagues," Ingalls said. "And there's that age-old question with high school position players: Is he gonna hit? Who the heck knows? It's hard to hit in the big leagues."
Greene and Louisville first baseman/pitcher Brendan McKay, who hit four homers in a game against Eastern Kentucky on April 25, lead a talented crop of two-way stars who are good enough to be high draft picks as pitchers or position players.
Included in the group are Huntington Beach High standouts Nick Pratto, a crafty left-handed pitcher and slick-fielding first baseman who hits with power to all fields, and Hagen Danner, a hard-throwing right-hander with a sharp curve and a seasoned catcher with eye-popping power.
Greene (one), San Juan Capistrano JSerra shortstop Royce Lewis (five), Pratto (24), Santa Maria Righetti pitcher Matt Sauer (28), Dana Hills pitcher Hans Crouse (37), Danner (62) and Orange Lutheran outfielder Garrett Mitchell (63) are among the local high school players who are listed among the top 70 draft prospects in Baseball America's pre-draft rankings.
"It's a wonderful crop of young kids in Southern California, as solid as it's been in a while," said one longtime National League scout, who was among several evaluators who spoke anonymously because they lacked permission from their teams.
While most scouts believe Pratto is a better fit at first base than on the mound, there is more of a split on Greene and Danner. A game in early May showed the conundrum facing talent evaluators.
The 6-foot-1, 200-pound Danner, who starred with Pratto on the 2011 Little League World Series championship team from Huntington Beach, has excellent control of a fastball that sits between 90-93 mph and touches 95 mph, a tight overhand curve and a good changeup.
While noting Danner's pitching attributes, a national cross-checker for an American League team saw the catcher slug a pair of 400-foot home runs in a lopsided victory over Huntington Beach Marina on May 4.
"He got into those pretty good," the scout said. "That's the thing that gives him a chance as a position guy, that kind of power."
A National League special assignment scout in attendance was impressed with Danner's play behind the plate.
"I think there's some technique things he can work on, but that's what player-development is for," he said. "You can tell he has some pretty good arm strength. There's a lot to like."
Another National League scout described Danner as "a hit-and-miss guy for me," because Danner's swing can be long at times.
"When he hits it, he has power, no doubt," the scout said. "He also swings and misses. He has a live arm and a good breaking pitch. I'd go that route with him."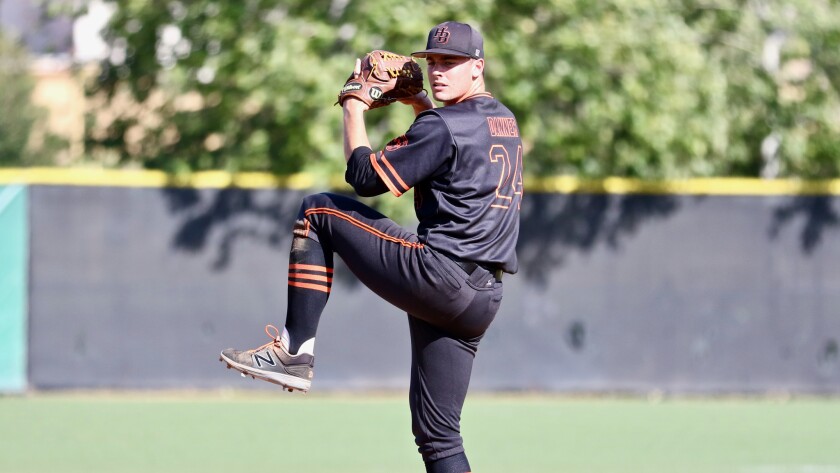 Danner, who has signed with UCLA, doesn't have a preference.
"I've been doing it for so long, I feel very comfortable at both positions," he said. "I just want to play baseball, keep working hard and pursue my dream."
The 6-2, 200-pound Pratto, a teammate of Danner's on the U.S. 18-and-under national team the past two summers, mixes excellent command of a fastball that touches 91 mph with a superb changeup.
"It's a pretty loose and easy delivery, but he's such a good bat, I don't think he's gonna pitch," said an NL player personnel director. "He has power and plays a really good first base. He struggles a little with left-handed pitching — it's one of his only weaknesses. If the bat didn't work, you could pitch him, definitely."
The AL cross-checker said if Pratto went to college, "he would have a chance to do both." But Pratto's advanced plate discipline from the left side, his bat-to-ball skills and what the NL special assignment scout called "an elite glove at first base" will probably steer him toward the field.
"I'm more comfortable on the field, playing every day," said Pratto, who has signed with USC. "I was a little more serious about pitching coming into high school, but I've always had a love for hitting, and that's where my talent fell."
Greene's talents are vast and go well beyond baseball. He's a high-achieving student who plays the violin, paints, does yoga three times a week and who last winter organized a sock drive for the homeless in downtown Los Angeles.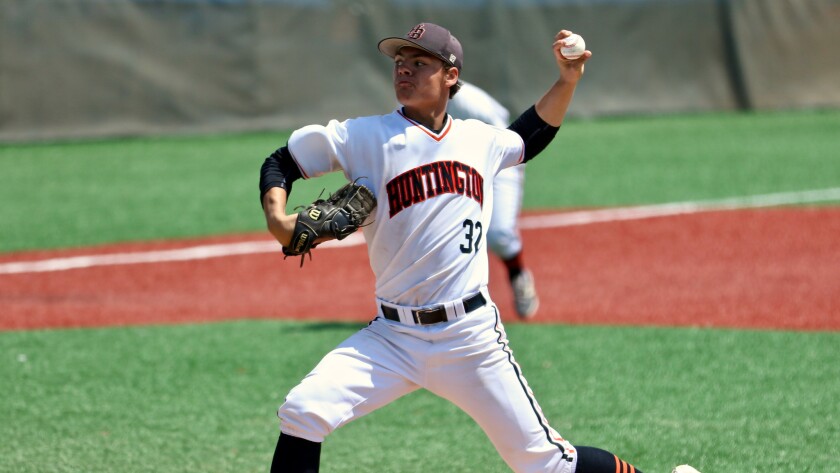 "There's an electricity about this kid," said a special assistant to an AL GM.
Greene's fastball is equally electric. "It's the best arm I've seen in 30 years of scouting the territory," one NL scout said.
That arm is so valuable — the signing-bonus slots for the top two picks are $7.77 million (Twins) and $7.19 million (Reds) — that Greene stopped pitching in late April to protect it.
"He's a great fielder with wonderful instincts, but he's not a masher day in and day out," the NL scout said. "I think his upside is too special on the mound. That being said, if he told me he wants to come out as a shortstop, I'd have no problem with that."
Greene is not a finished product on the mound or at the plate. He has an athletic delivery, huge hands and pin-point control of his fastball but hasn't developed a dominant secondary pitch between his slider, curve and changeup.
And while his raw power is off the charts, Greene's pure hitting ability lags behind his other tools. He has struggled to barrel up nasty breaking pitches, and he's a below-average runner.
"The question is going to be, is his bat enough?" the NL player personnel director said. "He has that phenomenal arm. You could try him at shortstop, and if that doesn't go the way you want, you can put him on the mound. I could also see somebody making him a pitcher right away. I don't know for sure."
Greene, through his high school coach, Tom Dill, declined to be interviewed for this story. When asked by Sports Illustrated which position he wanted to pursue as a professional, Greene said, "It would be sweet to do both."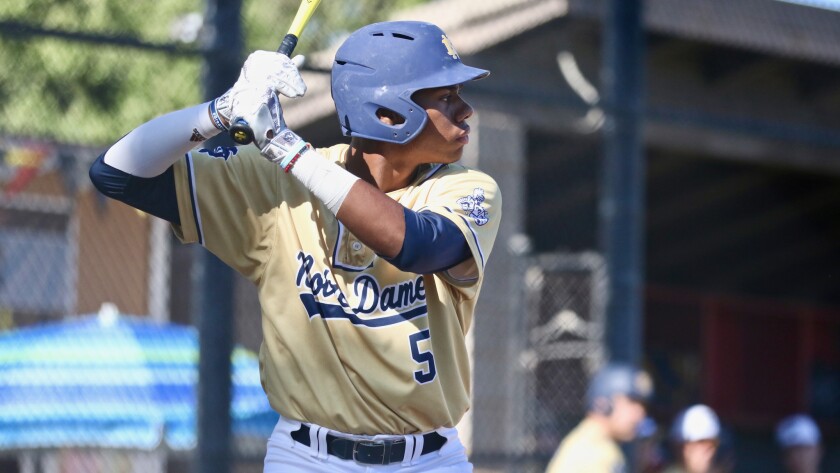 That would be a rare opportunity.
Japanese two-way star Shohei Ohtani, the 22-year-old who has been billed as the next Babe Ruth and may be headed for the U.S. next season, came up as a pitcher, outfielder and designated hitter for the Nippon Ham Fighters in 2012.
Ohtani pitched once a week and served as a DH two or three times a week last season, but hamstring and ankle injuries sidelined him early this season.
Angels shortstop Andrelton Simmons used to close games with a 98-mph fastball for Western Oklahoma State College, but that was almost a decade ago, before he started racking up mileage on his arm and body.
"When I was young, I wanted to do both, too," Simmons, 27, said. "I was like, 'I'm cool if they tell me to play shortstop for eight innings and close a game every now and then.' But the arm doesn't feel as fresh now as it did back then.
"Seeing how much work pitchers do, I don't know if there's a way to come up with a schedule, or a program, to play shortstop and to maintain the velocity and ability to throw strikes. I don't think it's impossible, but it would be hard."
Even the most feasible two-way combination of pitcher-DH would be challenging because of a big league pitcher's grueling between-starts routine, which usually consists of heavy weight-lifting, running, cardio work, long-toss and a bullpen session, and the 162-game schedule.
And it's not as if hitting is something a player can do in his spare time. Big leaguers spend countless hours in the batting cage, in the weight room and poring over video and scouting reports in preparation for each game.
"I knew guys who were starting pitchers or relievers and played a position or DH every other day in college, and they did it pretty well," Angels pitcher Matt Shoemaker said. "But it was for 50-60 games, not 100 more on top of that. The big leagues is a whole different animal. The mental grind of it would be tough.
"When you're 17, you can literally do anything in the world and feel good. Seriously. When you're 27? Yeah, it might change. I'm a firm believer that anything is possible, and [Greene] might be such a phenom that he's the first guy to do it. But would it be tough to do? Absolutely."
Follow Mike DiGiovanna on Twitter @MikeDiGiovanna
---
Get our high school sports newsletter
Prep Rally is devoted to the SoCal high school sports experience, bringing you scores, stories and a behind-the-scenes look at what makes prep sports so popular.
You may occasionally receive promotional content from the Los Angeles Times.