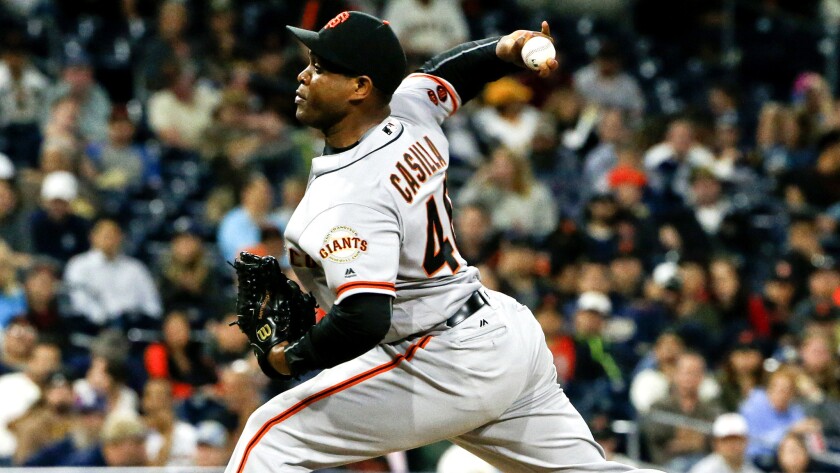 No hard feelings about leaving San Francisco for Santiago Casilla. He is focused on his second stint with Oakland, the place the hard-throwing reliever received his big league start.
"There is a big part of my heart with the Athletics because they believed in me in the first place when they signed me and they believed in me again when they re-signed me," he said Friday. "They taught discipline, they taught me how to play the game of baseball. There are so many things I have to thank the A's for getting my start in the major leagues."
Casilla is re-joining the A's with an $11-million, two-year contract after seven seasons with the Giants.
While the right-hander lost his job as closer in mid-September last season for the Giants' struggling bullpen, he provides A's Manager Bob Melvin with some options of when to use him. Casilla could be called upon to help handle ninth-inning duties along with regular closer Sean Doolittle, while Ryan Dull also could be in the mix.
"To be able to sign an experienced late-inning reliever who has performed in multiple World Series games makes our bullpen deeper and obviously better," Melvin said by text message. "Great sign for us."
Casilla has spent his entire big league career with the Bay Area teams; his initial six seasons were with Oakland.
He went 2-5 with a 3.57 ERA and 31 saves last season after posting a 4-2 mark record with a 2.79 ERA and a career-best 38 saves in 2015. Yet Casilla blew an NL-high nine saves and Manager Bruce Bochy didn't call on him in the ninth inning in Game 4 of the NL division series against the Cubs last fall. Five San Francisco relievers squandered a three-run lead by surrendering four runs as eventual champion Chicago celebrated a 6-5 win at AT&T Park.
"That is in the past for me now," said Casilla, who also drew interest from the Brewers this off-season but not the Giants. "I'm very happy with this new opportunity. There's an old saying that it's always good to return home."
Left-hander Ross Detwiler and outfielder Alejandro De Aza agreed to minor league contracts with invitations to A's big league spring training. Outfielder Brett Eibner was designated for assignment to clear roster room for Casilla.
Etc.
Mark Trumbo's $37.5-million, three-year contract with the Baltimore Orioles was finalized Friday, a day after the sides reached agreement subject to a successful physical. … Right-hander Trevor Cahill and the San Diego Padres have finalized a $1.75-million, one-year contract. Cahill went 4-4 with a 2.74 ERA in 50 games, including one start, for the Chicago Cubs in 2016. He was a AL All-Star in 2010 with the Oakland Athletics. To create room on the 40-man roster Friday, outfielder Jabari Blash was designated for assignment by the Padres.
---