Los Angeles Times columnist Chris Erskine tries the new offerings at Dodger Stadium for the 2019 season.
Spring has officially arrived, which means warmer weather, more sunlight and a start to another MLB season.
For foodies, opening day signals the debut of innovative and creative edibles that provide a whole other reason to visit the ballpark. And this season is no exception.
Here are some food items that will show up on ballpark menus across the country. Stare in awe:
Dodger Stadium
The Dodgers have unveiled a series of new food items for opening day, but the items sure to attract foodies will be the Going Yard Sausage and the Esquite.
The Going Yard Sausage actually made its debut during last season's NLCS, but it will make its official start on opening day.
This 16.5-inch jalapeño bacon cheddar sausage is topped with  roasted corn, avocado relish, grilled onions with crema on a hot dog bun.
The Esquite also first showed up during the NLCS. It's corn topped with mayo, cheese and spicy aioli served in a plastic Dodger cap you get keep and use for other things.
Target Field (Minneapolis)
The Minnesota Twins have put a spin on chicken and waffles with their new Chicken and Waffle Cone, and upgraded the traditional peanut butter and jelly sandwich to the Peanut Butter & Bacon Sandwich.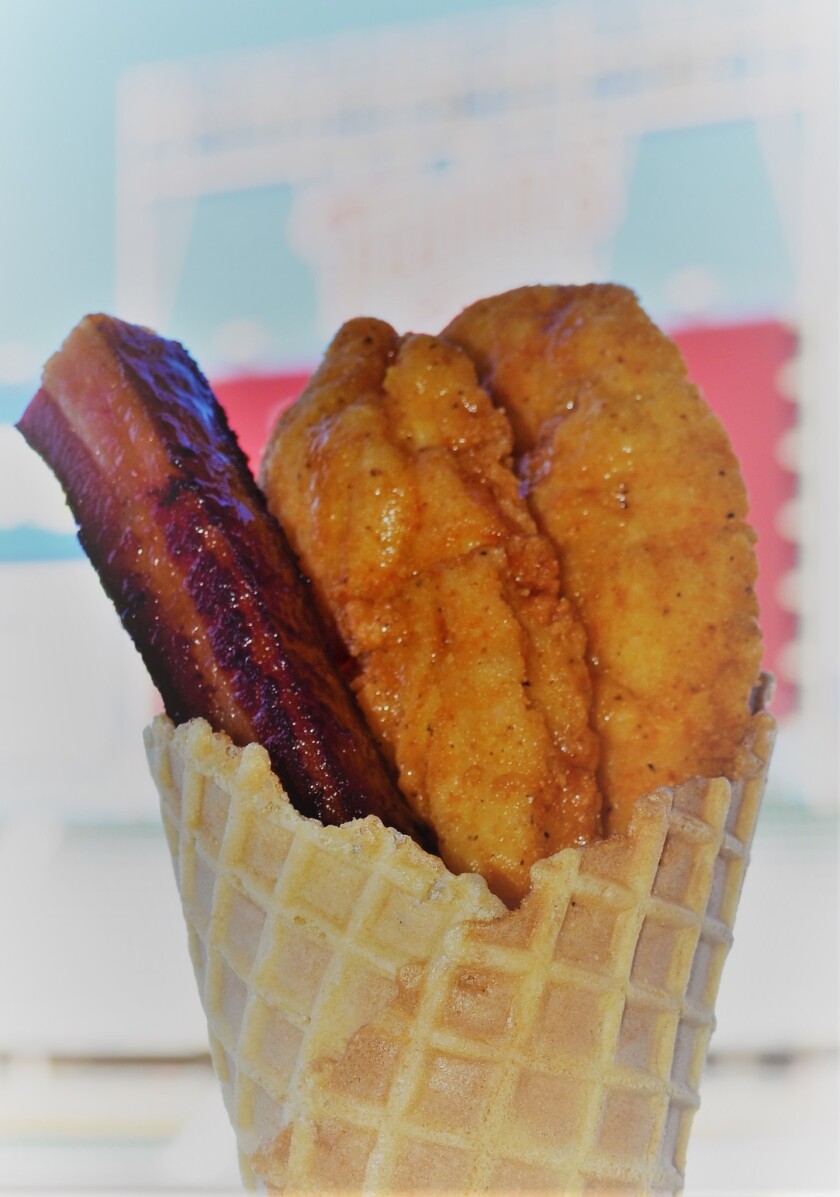 The Chicken and Waffle Cone includes chicken tenders and a fat slab of bacon sprinkled with maple syrup all in a waffle cone. The only ingredient missing is the ice cream, but that would probably get things messy.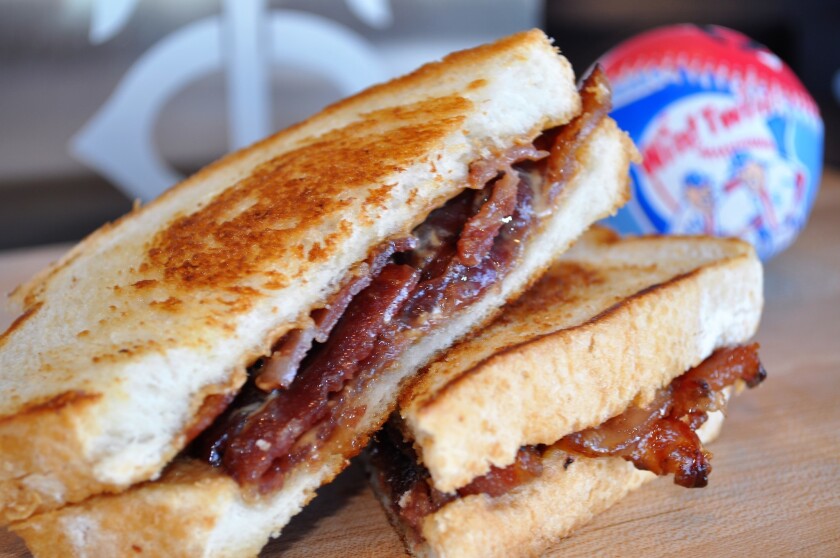 The Peanut Butter & Bacon Sandwich is stuffed with strawberry jelly-candied bacon and peanut butter between slices of grilled sourdough bread. Sweetness meets savory.
Nationals Park (Washington)
The Washington Nationals lost one of their best players during free agency, but the new Bone-In Smoked Beef Short Rib on the menu should take a little of the sting out of the loss.
Fans at a Nationals game will be able to enjoy an enormous piece of smoked beef short rib in their seats. Expect food comas by the seventh-inning stretch.
PNC Park (Pittsburgh)
The Pittsburgh Pirates are putting their own twist on the waffle cone with the Pittsburgh Cone.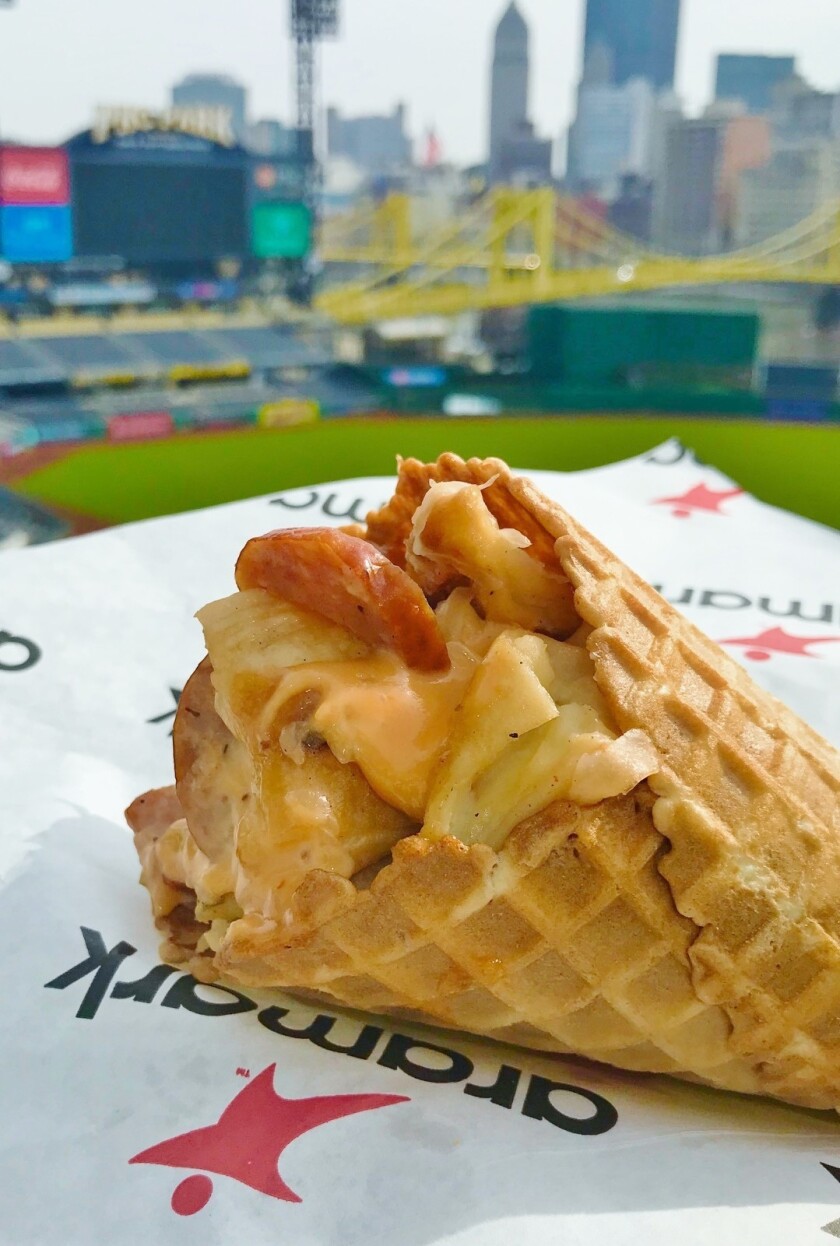 The cone is stuffed with kielbasa, pierogi, Swiss cheese, sauerkraut and Russian dressing. Whoever thought of the ingredients must love old-world ingredients with their waffles.
Citizens Bank Park (Philadelphia)
The Philadelphia Phillies apparently want their fans to be treated with dinner and dessert at the same time, so they're rolling out the Donut Burger.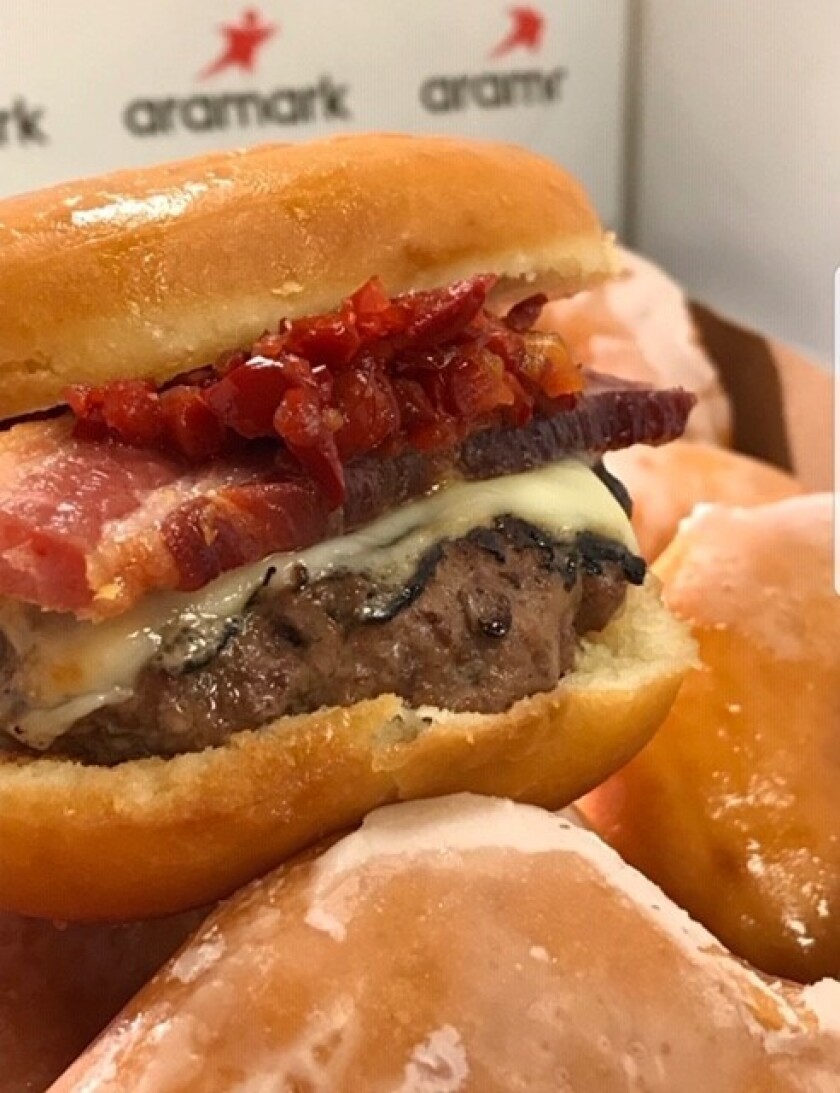 It's a fresh beef burger, cheese, bacon with spicy cherry pepper jam served on, you guessed it, a glazed doughnut. Fans who try the Donut Burger may want to go for a run afterward.
Globe Life Park in Arlington (Arlington, Texas)
They say everything is bigger in Texas, and the Texas Rangers sure want to make back up that statement with their new Fowl Pole.
It's a two-pound chicken tender — yeah, two pounds — served on a bed of waffle fries with dipping-sauce options. For $27.50, this hefty meal comes with a carrying case.
Honorable mentions:
Fritos Pie Corn Dog – Minute Maid Park (Houston Astros)
Chicken and Waffle Boat — SunTrust Park (Atlanta Braves)
Elote Topped Tots — Coors Field (Colorado Rockies)
After two games in Japan last week, the 2019 MLB season gets into full swing Thursday.
Twitter: @edmgonzalez
---