Bryce Harper says he signed with Phillies because they were in it for the long haul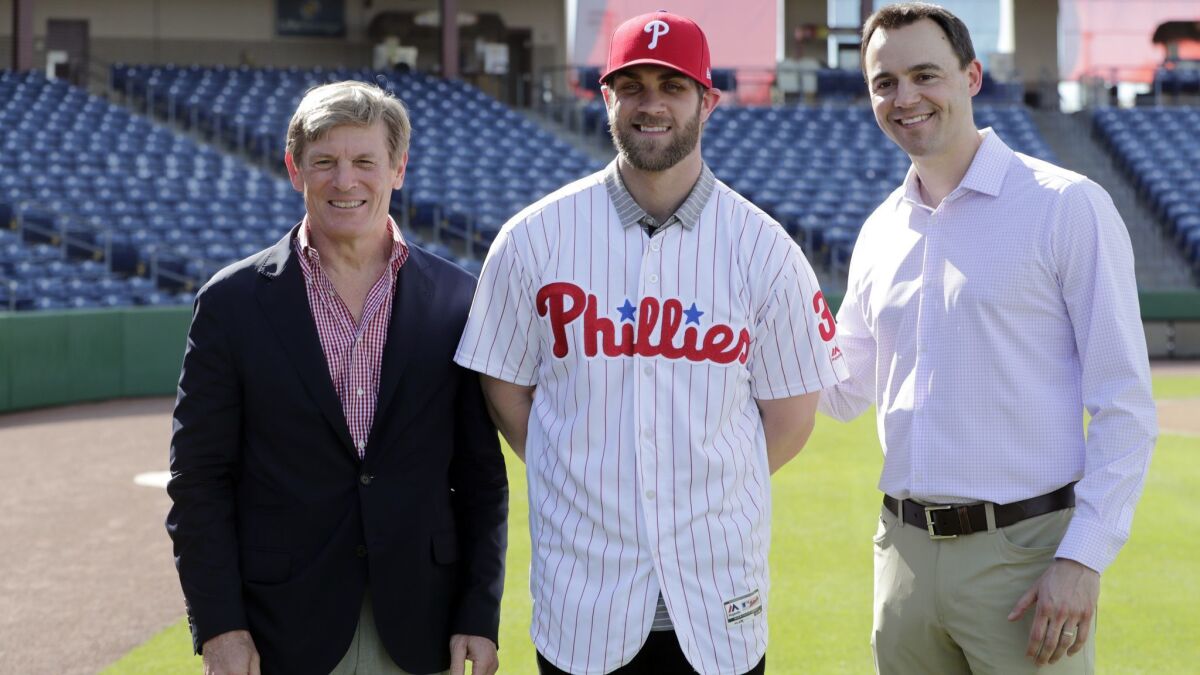 Reporting from clearwater, fla. —
Bryce Harper pressed his palms across his chest and let his fingertips linger on the logo of his jersey. For a moment, he held the pose for photos, for posterity, for the first act of his next 13 years with the Philadelphia Phillies. He had spent seven seasons with the Washington Nationals hearing questions about where he would play next. Now, he had the answer.
"From Day 1, when I got drafted," Harper said, "it was all about 'He's going to the Yankees. He's going to the Dodgers. He's going here. He's going there.' That's all everybody talked about. That's all anybody wanted to talk about. They wanted to talk about this moment."
Harper paused to gather his breath. He was near the end of his introduction to a select group of fans at Spectrum Field. The 117-day odyssey of his free agency had ended Thursday, when the Phillies lured him away from the Dodgers and San Francisco Giants with a 13-year, $330-million contract. Harper had a chance to explain why.
"For me, going through this process, it was, 'Where can I be with no opt-outs, with a no-trade [clause], where I can be for a long time?' And not have to worry about going anywhere else."
Harper won't. He turned 26 in October, but this contract will carry him to the cusp of his 40s. He will likely finish his career with the Phillies, who offered more money than the Giants and a much longer deal than the Dodgers.
Before this week, Harper had never publicly outlined his demands during free agency. He wanted a lengthy deal. He wanted security. He wanted to grow old, in baseball years, with the next organization.
Asked directly about the Dodgers, who were believed to have offered a contract that lasted only three or four seasons, Harper praised the Phillies and spoke about his eagerness to become a Philadelphian.
"For me, it was all about the long haul," Harper said. "It was about being able to dig my roots. Being able to be somewhere I could be for a long time."
He added, "I think you're always remembered for winning. And what better place to do it than in Philly?"
To welcome him to the organization, the Phillies staged a news conference atop the first-base dugout of their spring-training stadium. Affixed to the netting behind Harper were blown-up magazine covers from Sports Illustrated and ESPN the Magazine, plus a mockup for the latest edition of MLB: The Show for PS4. The Phillie Phanatic greeted the procession of Harper, agent Scott Boras, Phillies general manager Matt Klentak and owner John Middleton as they walked across the stage.
It was Middleton who telegraphed his team's plans in November when he suggested the Phillies might be "a little bit stupid" with their spending in free agency. Middleton beamed when asked about that comment Saturday.
"Does it look like stupid money to you?" Middleton said.
The signing of Harper ended the winter with a flourish for Klentak. Harper joined a cast of new Phillies that includes catcher J.T. Realmuto, outfielder Andrew McCutchen, shortstop Jean Segura and reliever David Robertson. The team's push to contend in 2019 follows six consecutive losing seasons.
If Klentak handled the majority of the offseason maneuvering, the final decision on Harper fell to Middleton. In this age of baseball austerity, owners do not parcel out nine-figure contracts without examining the players for themselves.
During talks this winter, Middleton informed Boras that he was not interested in the agent's research on how Harper might improve the franchise's marketing efforts. He insisted he did not care about the box office or the television ratings. His eyes were drawn to the standings in the National League East, which the Phillies have not won since 2011.
Sign up for our daily sports newsletter »
"I said, 'There's only one reason I'm talking to you,' " Middleton said. "And that's because I believe this guy can help us win. And that's all I care about. I've made enough money in my life; I don't need to make more. I think your guy can help me win."
Last month, Boras invited Middleton to meet with Harper without any other representatives from the Phillies. Middleton brought his wife, Leigh. They dined with Harper and his wife, Kayla, on Feb. 22. Scheduled to leave the next day, Middleton called Boras and asked for a lunch meeting with Harper that lasted several hours.
The negotiations took about four days from there, Middleton said. Boras credited Middleton for being aggressive during the end stages.
"The maestro wanted to build the championship symphony," Boras said. " 'I want the Harp.' The Philly Phil-Harp-monic symphony was built."
Boras found a way to extend this metaphor, assigning instruments to a few of the other players on the Phillies roster like Realmuto (bass), pitchers Aaron Nola and Jake Arrieta (trumpets) and first baseman Rhys Hoskins (tuba).
The revamped roster enticed Harper to consider the Phillies. So did the money. But the crucial factor, he insisted, was the length of the deal.
"I want to be part of this organization," Harper said. "I don't want to be anywhere else. I want to be part of this family."
Twitter: @McCulloughTimes
---
Get our Dodgers Dugout newsletter for insights, news and much more.
You may occasionally receive promotional content from the Los Angeles Times.