SEC's cupcakes didn't crumble quite the way they usually do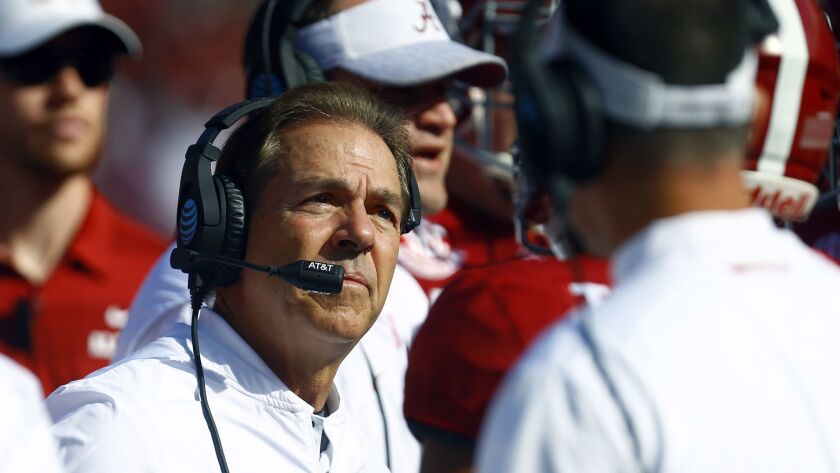 When the crumbs are Swiffer-ed up in the aftermath of college football's Week 12, the Saturday scoreboard fell this way: Southeastern Conference 398, Cupcakes 116.
Still, it wasn't that easy to wash down.

For the record:
8:35 AM, Nov. 18, 2018An earlier version of this article incorrectly spelled Yale junior JP Shohfi's last name as Shofi. It also said West Virginia could still claim the Big Eight title with back-to-back wins over Oklahoma in the next two weeks. The name of the conference is the Big 12, and West Virginia, if it defeats Oklahoma next, could play Texas in the conference title game.
The Great SEC Bakeoff of November 2018 overlooked some current Paleo Diet requirements. Amid the mash-up of gluten-free Rice and starch-heavy Idaho came The Citadel, Alabama-Birmingham, UMass, Middle Tennessee, Liberty and Chattanooga.
Lots of empty calories, y'all, but not a lot of empty promises as it turned out.
The 14-member SEC annually ends up with this nonconference cream-filled weekend since teams are required to play just eight conference games. The SEC and ACC are the two Power Five conferences that do so, even if Alabama coach Nick Saban has lobbied for a nine-game test to replicate the Pac-12, Big Ten and Big 12.
Saturday had just three less-than-compelling head-to-head SEC matchups. It left CBS to pick the lesser of 11 evils and showcase 5-5 Tennessee's problematic chance to become bowl eligible against 6-4 Missouri. The Vols lost by 33 points.
The other eight SEC teams left us with some of these nonconference samples that smell like leftovers from September but still had some starch left in them:
— No. 1 Alabama emboldened The Citadel's Twitter feed to declare "WE BEAT BAMA" after the opening coin toss went its way. The visiting Bulldogs then realized they spoiled the Crimson Tide's "No Score November" campaign with a second-quarter touchdown. Suddenly, it was a 10-10 halftime tie. They recovered a fumble on the second-half kickoff.
All thumbs on deck for the FCS South Carolina military college.
To wit, Alabama (11-0) woke up with a 40-point second half to disengage any upset ideas in a 50-17 triumph. Quarterback Tua Tagovailoa threw for three scores and broke AJ McCarron's single-season school record of 30 touchdown passes with his 31st.
Afterward, Saban remarked: "I don't care who we are playing. These guys have got everything to gain and nothing to lose, and we've got nothing but downside in the game."
Just by scoring, The Citadel (4-6) disrupted the 51-point spread. We salute you.
— No. 5 Georgia (10-1) didn't squirm much in a 66-27 win over visiting UMass (4-8) – 701 yards, no punts. But the Bulldogs, ninth in the nation in points allowed at 15.8 a game, nearly surrendered twice that average. Minutemen receiver Andy Isabella had second-half touchdown catches of 75 and 45 yards, capping his career with 15 receptions for 219 yards.
"Didn't play our best game defensively, and Isabella shows his talents," Georgia coach Kirby Smart said.
— No. 13 Florida (8-3) already exceeded the 39-point spread against FCS school Idaho by halftime, which allowed head coach Dan Mullen to get most all of his reserves playing time in an eventual 63-10 triumph over Idaho (4-8).
But Mullen's takeaway after the Gators only outscored the Vandals 14-10 in the second half: "I don't think we performed all that well when the young guys got in. There's a Gator standard that they have to live up to. When you step on the field here in the Swamp we expect you to play at a certain level."
— No. 17 Kentucky (8-3) ran off to a 17-0 lead against visiting Middle Tennessee (7-4). But the Wildcats needed linebacker Josh Allen's fourth-down sack of Blue Raiders quarterback Brent Stockstill, leading to a Kentucky field goal with four minutes left in the game to produce a 34-23 outcome against the Conference USA team.
MTSU (7-4) still had a better showing than when it absorbed SEC losses of 35-7 to Vanderbilt and 49-7 to Georgia.
"It got a little bit sloppy for me in the second half," said Kentucky coach Mark Stoops. "As a team, we gotta play a little bit better."
Poll vaulting
Seems logical that unbeaten and No. 11 Central Florida muscles its way into Top 10 material in the fourth iteration of the College Football Playoff poll coming Tuesday, in light of the late-game performances by No. 9 West Virginia in losing and even No. 10 Ohio State in winning.
West Virginia (8-2, 6-2) can still claim a Big 12 title with back-to-back wins the next two weeks despite a 45-41 loss at Oklahoma State. The Mountaineers led 31-14 at halftime and led by 10 early in the fourth quarter before the Cowboys (6-5, 3-5) scored three touchdowns in the final 11 minutes.
Will Grier couldn't complete another late comeback when he failed to find David Sills V in the end zone on the final play.
"They have been in a lot of these games, and you can tell they had a little bit better mindset down the stretch than we did," West Virginia coach Dana Holgorsen said. "It's disappointing that we had a chance to close them out and we didn't."
No in-and-out privileges
Colorado State was just steps away from registering an upset over No. 23 Utah State when officials correctly noted that Preston Williams went out of bounds and then came back in before catching what would have been a 34-yard game-winning touchdown pass from Collin Hill with no time left.
Williams made a leaping catch in the end zone between two defenders in the game played in snow and freezing rain. As Colorado State players celebrated, the officials announced the call, giving the Aggies the 29-24 win.
"I have never been a part of something like that," said linebacker Jontrell Rocquemore, who had one of Utah State's two interception returns for touchdowns. "I went from my all-time low, to, 'Oh, my gosh. I just won!' Sometimes, winning is ugly."
The visiting Aggies (10-1, 7-0 Mountain West) scored on a go-ahead 33-yard touchdown pass from Jordan Love to Aaren Vaughns with 43 seconds left, the first offensive touchdown of the day given up by the Rams (3-8, 2-5).
"Survive and advance, just like in the NCAA Tournament," Utah State coach Matt Wells said.
Penalties can snowball
As No. 19 Utah plowed its way to the Colorado 7-yard line in the second quarter of its game at Folsom Field in Boulder, Colo., the back judge whistled things dead.
The head referee then addressed the crowd: "We're going to ask fans on both sides not to throw snowballs onto the field. That's dangerous to players from both teams. Please, no snowballs down on the field. Thank you."
The Buffaloes led 7-0 at the time but things snowballed on them when the Utes scored the final 30 points. And the video of that referee's public plea went viral.
Making Fenway history
Fifty years after the famous "Harvard Beats Yale 29-29" contest, the Crimson and Bulldogs created another epic chapter in their 135th meeting by combining for the most points in the series.
Harvard's 45-27 win at Fenway Park came despite Devin Darrington's 27-yard touchdown run in the fourth quarter getting called back on a taunting penalty. He waggled his middle finger at defenders of Yale (5-5, 3-4) as he went into the end zone.
"The bottom line is: He was wrong," Harvard coach Tim Murphy said. "I'm just so grateful to our team he didn't have to learn that the absolute hard way of trying to live with that for a year or however many years."
Harvard (6-3, 4-3) had senior quarterback Tom Stewart throw for 312 yards and a touchdown in his final game before he was wheeled off on a stretcher with a right hip injury in the fourth quarter.
Yale quarterback Griffin O'Connor, a freshman out of Edison High in Huntington Beach, completed 23 of 48 passes for 328 yards and a 16-yard second-quarter touchdown to JP Shohfi, the Bulldogs' junior out of San Marino High. Shohfi had a game-high seven receptions and 127 yards.
By the numbers
In the 154th meeting of college football's most-played rivalry, Lehigh's Dominick Bragalone ran for three touchdowns to secure a 34-3 win over Lafayette in Eaton, Pa. Both teams finish the season 3-8 overall, 3-4 in the Patriot League. …
Stamford quarterback Devlin Hodges ended his career as the all-time passing leader in FCS history with 14,584 yards after throwing for 404 yards in a 38-27 win at East Tennessee State. The previous leader was Alcorn State's Steve McNair (14,496 in 42 games from 1991-94) …
Nebraska's 9-6 triumph at home in the snow against Michigan State was the first time the Cornhuskers won without scoring a touchdown since a 3-0 decision over Kansas State in 1937.
---
Get our high school sports newsletter
Prep Rally is devoted to the SoCal high school sports experience, bringing you scores, stories and a behind-the-scenes look at what makes prep sports so popular.
You may occasionally receive promotional content from the Los Angeles Times.