Gloria Nevarez delivers clear message as first Latina commissioner in Division I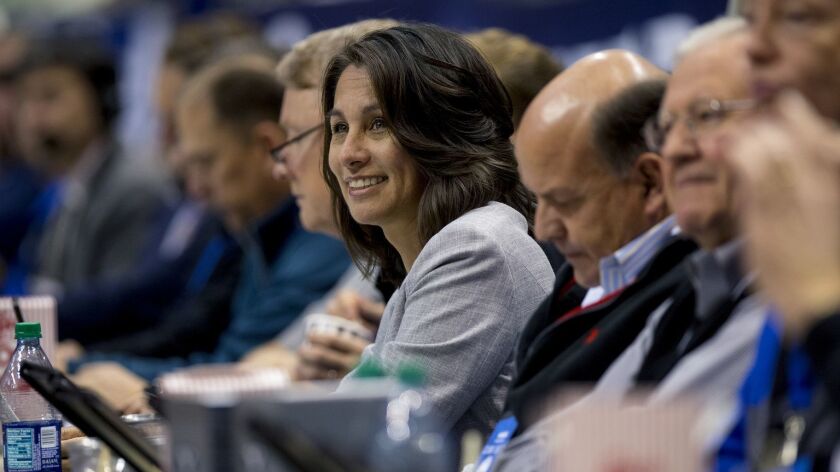 When the boss introduced Gloria Nevarez at a staff meeting, he made a point of remarking that she was "much better looking" than the man she replaced, which irked her.
"People laughed," she said. "I'm thinking, you know, I have a top-10 law degree."
It was the winter of 1999 and the University of California had hired Nevarez to oversee compliance, making sure coaches and athletes followed NCAA rules. Not long after that comment, she ran into trouble at an office party, as a male colleague stood beside her for a photo.
"He reached around and grabbed my butt," she recalled.
Twenty years later, Nevarez tells these stories to illustrate the issues she faced in becoming commissioner of the West Coast Conference, a collection of 10 private universities that include Pepperdine, Loyola Marymount and basketball power Gonzaga.
Still relatively new on the job, Nevarez has taken her place among a generation of women running Division I conferences across the nation. She is the first Latina to lead a major-college league.
"Half of the student-athletes are female and now they have something to aspire to," said Dan Coonan, a former coworker at Cal who heads the Eastern College Athletic Conference. "I can't think of a better role model than Gloria."
Nevarez never intended to be a trailblazer; the former basketball player simply wanted to make a career of sports. But her position demands that she play a leading role for women in a traditionally male realm.
The 47-year-old is trying to deliver, albeit on her own terms. It is a learning process that began after the office party at Cal, when she sought to file a complaint and was asked, "Do you really want to do that?"
"You don't want to be the crazy, over-sensitive woman in the athletic department because you'll get black-balled," she said. "But I needed to do something."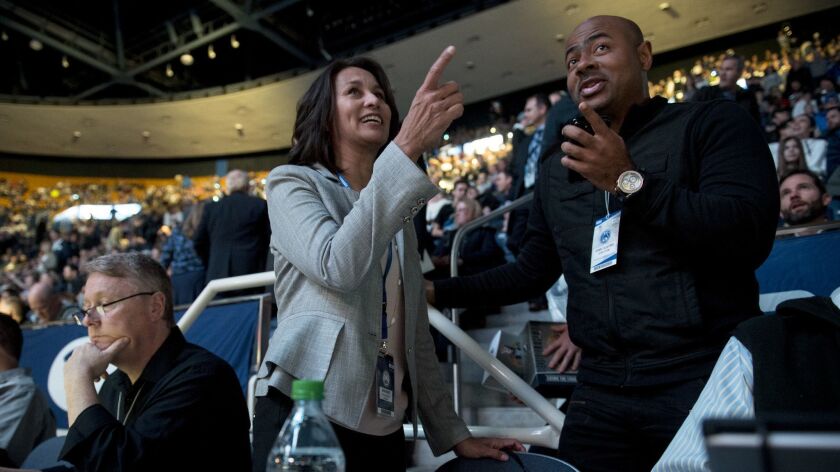 ::
Not everyone in her diverse family — "half Mexican, a fourth Irish, a fourth Filipino" — liked that Nevarez played sports as a girl. Some relatives worried about her spending so much time on the soccer field and the softball diamond.
"Grandma did not want me in the sun too much because the darker your skin got, the less attractive it was," she said. "It signified working outside."
But her father had run track in college and her mother had been a fencer, so they gladly drove her to games around the San Francisco Bay Area. Basketball became her specialty, an arena where she wasn't defined as Latino or female, merely as athletic.
Life grew a little more complicated when Nevarez accepted a scholarship to play for Massachusetts. Arriving on campus just before the 1989 fall semester, she remembers getting a letter that began: "Welcome student of color."
"I had missed freshman orientation and legitimately thought we had been assigned colors," she said. "I was thinking that I needed to find out what color I was."
A student in her dorm explained that the university wasn't organizing newcomers in groups of red, blue or green.
"I was a civil rights baby," Elena Silva said. "My parents came to Washington D.C. to work for the government and I grew up with a very strong sense of cultural, racial and ethnic identity. Gloria didn't have that yet."
They became lifelong friends, with Silva serving as the "burr in Gloria's butt," pressing her to become more conscious of racial and gender issues. Nevarez listened and learned while remaining nestled in a somewhat protective bubble.
Basketball still served as a buffer, her team more diverse than the rest of the student body in Amherst.
"I have tan skin and, if you look at me, you'd probably think I had some ethnic background," she said. "But, by nature, I wasn't the one who was going to get up on the soap box."
::
There was another consequence to showing up late her freshman year: The athletic department automatically listed her major as sports management. She ended up loving the classes.
Sports law seemed particularly interesting and, with strong grades, Nevarez got accepted to Cal's prestigious law school.
At the time, compliance officers were relatively new to athletic departments. Coonan held the job at Cal and recalls a young law student showing up at his door one day.
"Gloria popped her head in the office and introduced herself," he said. "I could just see the enthusiasm."
A recruiting scandal with the men's basketball program was consuming most of Coonan's time, so his unexpected intern assumed more and more responsibility. Nevarez said: "I was pretty much running the shop. It was crazy."
After graduating in 1997, she worked briefly in labor law, but yearned to get back to sports. San Jose State needed someone to run a compliance office that was starting from scratch and, just that quickly, Nevarez joined a relatively short list of female administrators in the NCAA.
"There were hardly any," said Richard Lapchick, director of the Institute for Diversity and Ethics in Sport at Central Florida. "Generally speaking, people had paid more attention to the racial issue and not as much to the gender issue."
Rather than see herself as a pioneer, Nevarez focused on "just trying to break into the business." In 1999, Cal hired her back.
::
It felt risky for the new compliance officer to file a complaint after the office party. Nevarez chose a more direct approach, summoning her colleague to a meeting, speaking face to face.
"I deserve more respect," she told him.
"Absolutely," she recalls him saying. "You're right."
Her actions might seem tame in this era of the #MeToo movement, but Nevarez believed that she had delivered a clear message, that she could walk the halls at work without feeling embarrassed whenever she ran into the man who groped her.
The incident embodies her approach to being a woman in college sports administration — rather than advocate by way of protest or confrontation, she has sought to lead by example.
In the years that followed, she worked as associate commissioner for the WCC and senior women's administrator at Oklahoma, where athletic director Joe Castiglione nicknamed her "G-force."
"An unforgettable personality," Castiglione said. "If the room didn't have any energy, it definitely did once she arrived."
The NCAA had begun calling upon Nevarez, inviting her to participate in various committees that addressed diversity. It felt like a mostly "black and white" issue to her, with women, Latinos, Asians and other minorities falling by the wayside.
Around this time, Lapchick met Nevarez at a conference and could see she was finding a voice. "She recognized that she had a special place, that she could be a role model," he said.
In 2010, what was then the Pac-10 Conference hired her as a senior associate commissioner assigned to league expansion and, later, the creation of an in-house television network. Commissioner Larry Scott said: "As the conference grew, her role and the complexity of that role grew."
When the WCC went looking for a new commissioner last year — the outgoing boss, Lynn Holzman, was a woman — it made sense to identify Nevarez as a candidate.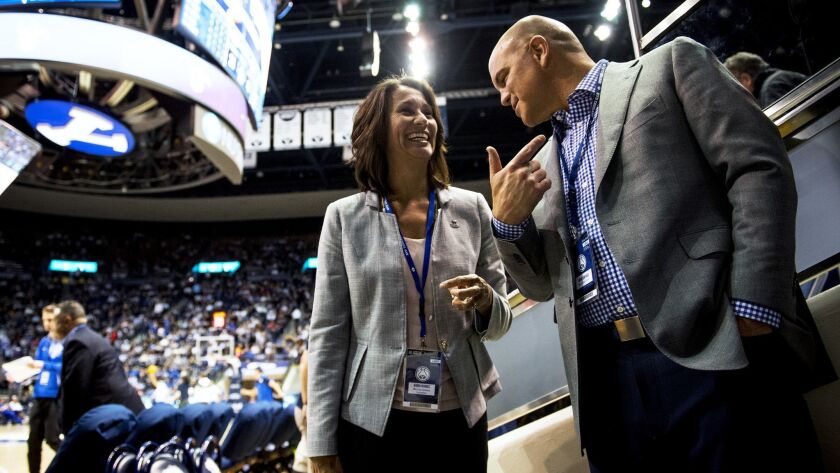 ::
On a recent weekend night, Nevarez sat courtside at San Diego's basketball arena, fidgeting through the final minutes of the Toreros' upset victory over San Francisco. Not that the commissioner plays favorites, but the loss damaged the Dons' hopes for an NCAA tournament invitation.
The WCC relies on men's basketball and the postseason revenue it generates from teams that make the bracket. Already, Nevarez was thinking about what to say when the NCAA selection committee makes its periodic, check-in call this month.
"How can we spin this?" she mused.
Nearly a year has passed since she took over, joining female commissioners such as Val Ackerman at the Big East, Robin Harris in the Ivy League and Bernadette McGlade at the Atlantic 10.
Her tenure began with a mini-crisis as Gonzaga considered jumping ship. She helped keep the Bulldogs on board with a deal that involved changes in scheduling and revenue distribution.
The recent visit to San Diego was far less dramatic. Nevarez mostly chatted with school administrators about an effort to remake the WCC's logo and catchphrase, anything to draw attention and media dollars to a league that can get lost in the mix.
As for the other part of the job — the trailblazer part — that remains a work in progress. Even the press release that announced her hiring was tricky, requiring the most-suitable descriptors.
Female? Latina? What about the Irish heritage?
The WCC settled on "first Latin American woman" to be commissioner in Division I. The resulting attention has been "a light bulb I cannot ignore," Nevarez said. "I do understand there is an obligation to advocate."
That means speaking at meetings and conventions whenever she has the opportunity. With relatively few employees at WCC headquarters, there aren't many chances to hire women or minorities, but she encourages her member schools to diversify.
So many years after that office party, the learning process continues.
"I'm hopeful the path becomes more clear to me," she said. "The role I can serve."
Sign up for our daily sports newsletter »
Follow @LAtimesWharton on Twitter
---
Get the latest on L.A.'s teams in the daily Sports Report newsletter.
You may occasionally receive promotional content from the Los Angeles Times.