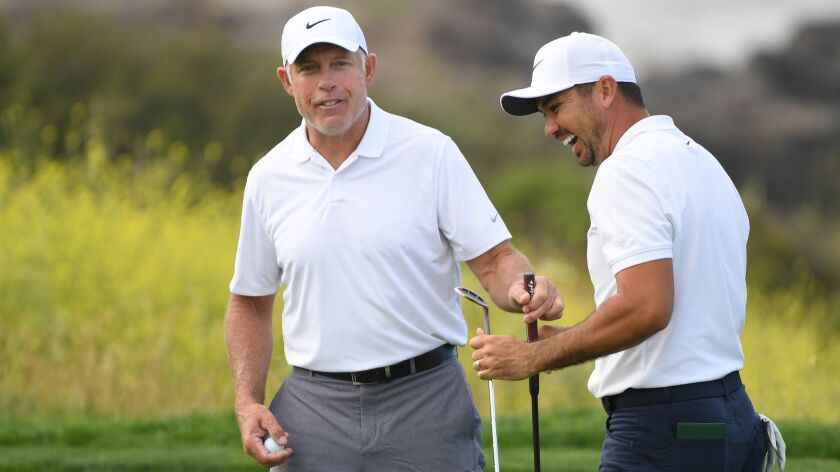 Reporting from pebble beach —
Jason Day admits the conversation that put Steve Williams on his bag this week for the U.S. Open at Pebble Beach involved the golfer making more of a sales pitch than the caddie.
"He says that I pulled him out of a hole. But the hole was probably about as flat as this bloody table here," Day said with a laugh. "Because he was enjoying retired life back at home, with his kid, Jett, and his wife. He's got his [auto] racing."
Ultimately, the pair wanted the same thing: to win more major championships.
Day, a former world No. 1, has one major title — the 2015 PGA Championship — among his 12 PGA Tour victories. Williams toted Tiger Woods' bag for 13 major wins before being fired in 2011.
Williams, 45, went on to caddie for Adam Scott and they won the 2013 Masters. He retired from Scott's bag in late 2017.
"It's nice to have someone with experience, that has unbelievable experience in major championships, and also has the experience of that winning pedigree with regards to the players he's been with," said Day.
After several months of deliberation, Day said his team made the decision to go after Williams. Day agreed with the assessment he simply wasn't working hard enough.
"I told Steve, 'Look, my goal is to get back to No. 1 in the world. I want to do everything I possibly can to get there. If I need to do whatever you need to tell me, I'll do it.' He said being No. 1, there's a lot of sacrifice that comes with that. We both understand what that means."
Day, 31, said he believes he has "severely underachieved" in his career.
Starting at Torrey in 2015, Day won eight times in two years. He has won twice since — the Farmers and Wells Fargo Championship in 2018.
"I feel like I've got a game that, when it's on, I can win most tournaments," Day said. "The big thing for me is to go ahead and believe that and have trust in my abilities that I can do that. Now that I have Steve on my bag, I think hopefully that will flourish and I can make winning more of a habit."
USGA answers criticism
Two of the U.S. Golf Assn.'s top executives said this U.S. Open at Pebble Beach is "critical," after criticism from players regarding unfair setups and situations that arose during recent national championships.
Chief Executive Mike Davis and Director of Championships John Bodenhamer acknowledged errors were made, but emphasized the USGA has reached out to players for input and taken measures to ensure the golf course remains in fair playing condition.
The latest controversy came last year in the U.S. Open at Shinnecock Hills, where winds on Saturday severely dried out the greens in the afternoon, when the leaders were playing.
"I think we've talked about it all year long," Bodenhamer said. "I think it's important not only for the USGA, but for the game and what we do for the game."
Bodenhamer said steps have been taken to ensure Pebble Beach's greens would receive water should they need them during the rounds.
Kevin O'Connell is questionable
Kevin O'Connell's practice round at Pebble Beach this week was unforgettable — for reasons both good and bad.
O'Connell, 30, the reigning U.S. Mid-Amateur champion, had a hole in one Tuesday on No. 7, the famous par-three overlooking Monterey Bay.
But he doubled over and got sick on his way to the No. 8 tee box. Tournament staff moved him to a folding chair to the left of the green and called for medical assistance.
According to Golf Digest, he received 20 minutes of medical attention from police officers and members of the fire and safety team. He was able to get into an emergency vehicle on his own power, and was taken off property.
The USGA does not release medical information on players, and it's unclear whether O'Connell will be ready to play by Thursday. He missed his scheduled practice round Wednesday.
It's a breeze
Rory McIlroy, who grew up in Northern Ireland and playing in less-than-ideal conditions, said he isn't particularly rattled by the winds coming off the water at Pebble Beach.
"It might gust a little bit, but it's very constant," McIlroy said of the winds at Pebble Beach. "It's coming out of the same direction. It's not swirling in trees. So I think it's a little easier to navigate your way around. ...
"I think it would be much easier to play in wind here at Pebble than it would to, say, play in wind at Spyglass, because you're in the trees and it's swirling and a ball that stays in the trees, and the low ball flight is going to do something completely different than a ball that gets up above the trees. … Sometimes when it's windy and the wind is swirling and it's gusting, it's all about hitting the shot at the right time."
---