Column: Durable Roger Federer says there are no great secrets to his longevity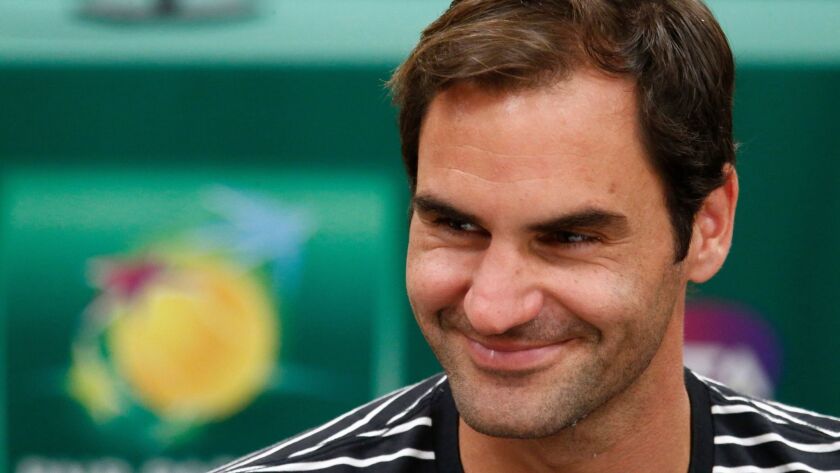 Reporting from indian wells —
Roger Federer insists there are no great secrets to his tennis longevity and his ability to avoid the ruinous injuries that have slowed many of his rivals.
He doesn't swear by any specially concocted potions, and he shuns elaborate exercise programs that would take away from his family time. His postmatch recovery leans heavily on stretches and massages and listening to his body, nothing more.
"The day has only so many hours," he said, "and at some point I'm just happy to sit on the couch and maybe watch TV or just play with my kids or go for a nice dinner with my friends and my wife instead of sitting in another ice bath."
In addition to his great talent and fluid style, he has benefited from good fortune and winning the genetic lottery, as he acknowledged during a news conference on Wednesday at the BNP Paribas Open. It helps, too, that he has surrounded himself with people who know what they're doing and have his best interests at heart.
All of those factors have carried the 37-year-old Switzerland native and 20-time Grand Slam winner to 100 tour-level singles titles, an achievement he checked off last week with a straight-sets triumph over 20-year-old Stefanos Tsitsipas of Greece in the final of the Dubai Duty Free championships. Only Jimmy Connors, who won 109 tour-level tournament titles, has more such wins than Federer, who will take to the court at the Indian Wells Tennis Garden on Sunday as the No. 4 seed.
One hundred is a nice, round number. It's also a source of astonishment to his peers. "I think that in every sport there's somebody that does something that's just absolutely outrageous, and obviously in our sport now he's someone who's done something insane. That just doesn't make any sense," women's No. 4 seed Sloane Stephens said. "But it's Roger Federer, so what do you expect? For him that's normal. For everyone else it's holy … but for him, it's just, keep going."
Federer managed to avoid surgery until three years ago, when he slipped on a wet floor as he prepared to give his daughters a bath and needed an arthroscopic procedure. He returned to win the Australian Open in 2017 with a memorable comeback against Rafael Nadal in the final; Federer also won Wimbledon that year and repeated in Australia in 2018 but hasn't won another Grand Slam title since then.
He is a five-time champion at Indian Wells but lost to Juan Martin del Potro in last year's final. Del Potro withdrew this year because of a knee injury.
Kei Nishikori, who has overcome a career-threatening wrist injury to be seeded No. 6 here and has battled hip and knee problems, attributed Federer's durability to his smooth technique.
"It's something incredible to see, how much he plays with a high level and he doesn't have many injuries," Nishikori said. "For sure that he works so much harder than everybody. We don't see much but I'm sure that he works really hard but also I think the way he plays is very smooth. You can tell. It doesn't look like he puts any stress to his body when he plays any shots, I think, to me."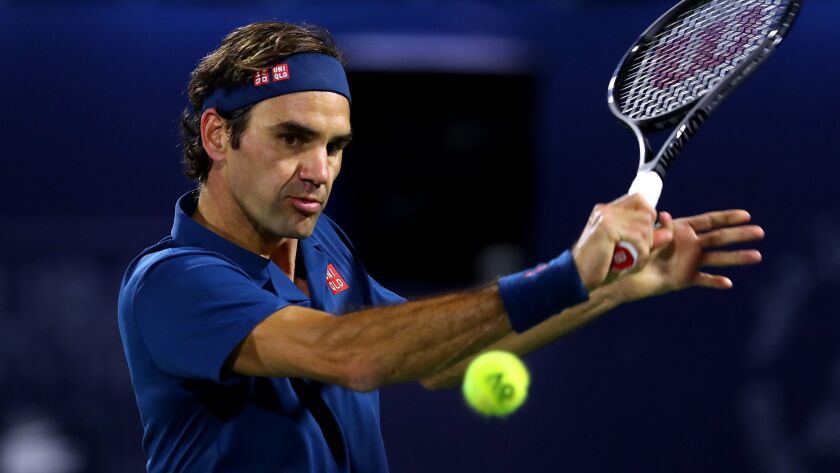 Federer was happy to reminisce about his path to 100 and recalled when he got his first Assn. of Tennis Professional points at a satellite-tour event in Switzerland on clay. "I thought that was really quite an exciting time and it was a time also when a lot of people were saying, 'He might be the next best thing in Swiss tennis,'" he said. "At the regional and national level, all of a sudden you're making little waves and it was exciting. I enjoyed it."
His most significant victory, he said, was probably his first Wimbledon crown, in 2003. His favorite victory was that 2017 decision over Nadal after Federer had gone down a break in the fifth set. "It was just the fairy-tale ending to the great comeback and it had everything," Federer said.
Not that he's finished. Federer plans to play on clay this year and will play in the French Open after skipping it the past three years. He's still writing the ending to the story of his career. "What I like about it is that it's maybe also a little time to reflect on all these great moments and great titles that I've had that for me were all very important. And of course, some were more important than others. Some were nicer than others but at the end, every one has a special meaning for me," he said. "Especially, it's an achievement that I never thought I was going to make and one I only started really thinking about maybe in the last, I don't know, nine months or year or so, ever since maybe I'd gotten to 96, 97.
"I don't remember where I even won those titles. But that's when you start to think, 'Ninety-eight, 99. You're that close. It would be a pity to retire before that.' It's not what kept me on the road, to be honest, but then first attempt, in the finals, it's nice to pass the hurdle and get to 100 rather than going to every single event from now on and going, 'Is this going to be the week where you're going to reach 100?' 'Yeah, I hope so,' and then I think all the players would have gotten fed up with that, too, so I'm happy I got it out of the way."
Here's to the 101st title, and the one after that and the one after that.
Follow Helene Elliott on Twitter @helenenothelen
---
Get our high school sports newsletter
Prep Rally is devoted to the SoCal high school sports experience, bringing you scores, stories and a behind-the-scenes look at what makes prep sports so popular.
You may occasionally receive promotional content from the Los Angeles Times.