It's not the playoff, but it's still the Rose Bowl for Ohio State and Washington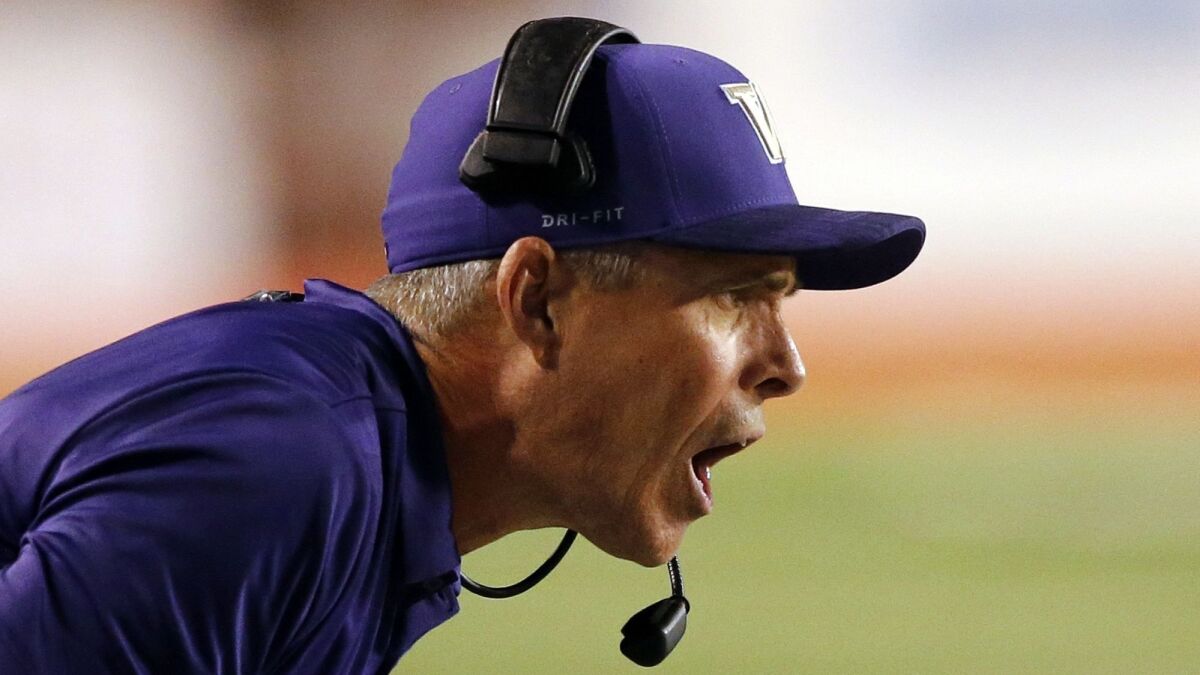 Out of respect for the place, for the bowl game he grew up watching and for his players who put everything into their 12-1 record and Big Ten championship, Urban Meyer was hesitant to use a particular phrase to describe the Buckeyes' season and their slotting in Tuesday's 105th Rose Bowl game.
"I don't want to say we failed," Meyer said, "because that's a really, really tough word. But we have."
A few days ago, Ohio State quarterback Dwayne Haskins could not bring himself to watch much of the College Football Playoff semifinal games won by Clemson over Notre Dame and Alabama over Oklahoma. Oklahoma had the same record as Ohio State but was chosen as the playoff's fourth team by the CFP selection committee. Haskins' takeaway from what he saw Saturday?
"I thought we should have been in it," the sophomore said, "but, take it out on Washington."
Woody Hayes would be throwing a headset in his grave if he heard an Ohio State football player viewing a trip to the Rose Bowl as a glorified consolation prize, a chance to prove the Buckeyes should have spent their holiday at another bowl game. But Meyer could not deny the way the introduction of the College Football Playoff in 2014 has altered the sport's priorities and the role of the bowl season's "Granddaddy of Them All," as legendary broadcaster Keith Jackson first called it.
Alabama and Clemson have taken over the sport's hierarchy and Monday in Santa Clara will meet in the championship game for the third time in five seasons. The 2014 national champion Buckeyes, the only team other than the Crimson Tide and Tigers to win a national title in the playoff era, have won consecutive Big Ten titles but have been left out of the party each time.
"Devastating," Meyer said.
Meyer, coaching Ohio State for the last time Tuesday before handing over the program to offensive coordinator and coach-in-waiting Ryan Day, sees his program on the same level as Alabama and Clemson and has had to work on accepting that his team's fate is out of its hands once it loses a game — particularly a shocking blowout such as the one it suffered at Purdue this season, and at Iowa last year, the 2017 team's second loss.
"Any time I see someone like, 'Man, this is' — no, no it's not. You made a choice to come here," Meyer said. "This is a place of excellence. Well, we had a great year, 12-1. Yeah, but we missed the ultimate prize. That doesn't mean we make everything so miserable around there."
Ohio State, despite its dominion over the Big Ten the last 15 years, has only played in only one Rose Bowl game since 1997, defeating Oregon 26-17 in 2010. Given that and the Rose Bowl's changing place in college football in the Bowl Championship Series and CFP eras, Meyer assumed he would have to motivate his players and share some history with them about what the game means to their elders.
He did not.
"I was pleasantly surprised that our players knew about it too," Meyer said. "I was thinking guys would sit out, maybe this, maybe that, but the minute we were in the Rose Bowl — I mean, there was disappointment we weren't in the playoff, but it quickly shifted to respect to the Rose Bowl."
Generationally, for the players, this is the Rose Bowl of the USC-Texas 2006 class, of Vince Young and Reggie Bush. For their coaches, it is still all Big Ten and the old Pac-8 and Pac-10, Hayes and Bo Schembechler battling for the right to play John McKay's USC Trojans.
"Both these programs grew up with this being the pinnacle of the season," Washington coach Chris Petersen said. "And it's changed a little bit, a little bit with the playoff system now. But if you're not going to be in that, what other bowl is there to be at? This is it. This is the history, the tradition, this is what college football is about."
For Washington, the 10-3 Pac-12 champion, the trip to Pasadena felt like much more of a gift than something to which the Huskies had to adjust their minds. Part of it was that they lost two more games than the Buckeyes, and part of it was that this game was the key to their rise to national prominence decades ago and to return for the first time in 18 years served as a symbol of the program's comeback under Petersen.
"I can't speak for their fans," Washington senior linebacker Ben Burr-Kirven said, "but the Rose Bowl is the game that made our program when Don James was here, and all that stuff. You can just tell around Seattle, before we came down here, how excited people are. It means so much to everyone to be back in this game and to hopefully bring back a win, because the Rose Bowl really has been kind of the pillar that our program first kind of grew up on.
"It's obviously different now with the playoffs, but it's the Rose Bowl, and it will always be that game, for Washington football and especially for Pac-12 teams, it's hard not to get excited about going to the Rose Bowl."
Still, one reporter at media day Sunday kept posing the same question to players from both sides: Why should someone watch this year's Rose Bowl?
If college football fans aren't intrigued by Haskins and Ohio State's bevy of speedy wide receivers going against Washington's top-notch secondary or seeing Meyer and Petersen match wits for 60 minutes, there's the fact that Ohio State and Washington have never met in the Rose Bowl.
They have each made 15 appearances, tied for third all-time with Stanford, behind USC (34) and Michigan (20).
It will be scarlet and gray and purple and gold for the first time, and that is special, playoff game or not.
"That seems pretty impossible," Burr-Kirven said, "and hopefully we can make this first matchup really fun."
Twitter: @BradyMcCollough
Get our high school sports newsletter
Prep Rally is devoted to the SoCal high school sports experience, bringing you scores, stories and a behind-the-scenes look at what makes prep sports so popular.
You may occasionally receive promotional content from the Los Angeles Times.