Column: Serena Williams plays her best match since becoming a mom, and, unfortunately, it comes against her best friend
Reporting from new york —
There is no other way to frame this than to marvel, not for the first time and surely not the last, at Serena Williams' resilience and unparalleled talent. One day short of a year since she gave birth to her daughter by cesarean section and subsequently endured life-threatening complications, barely five months since she returned to competitive tennis with more hope than agility, she gave a masterful performance that obliterated any doubts over whether she can regain her tennis supremacy.
She can. She will.
In her 30th professional match against her older sister Venus, whom she followed around on the courts of Compton and Inglewood when they were kids, Serena Williams dominated from the buzz-filled start at Arthur Ashe Stadium to an impressive finish 72 minutes later. Serena's 6-2, 6-1 victory in the third round of the U.S. Open equaled the best result she has ever compiled against her sister and was the most lopsided win she has earned over Venus in a Grand Slam event.
"Untouchable tennis," Venus called it, an evaluation that had everything to do with truth and nothing to do with sibling bias.
Serena served well. Despite rolling her right ankle in the second game of the first set and requiring tape from the trainer, she moved well. She hit 34 winners and won 88% of her first serve points. She broke Venus' serve twice in each set and fended off the lone break point Venus had. The crowd, which had roared for both women at the start — and later saved a loud cheer for the sighting of quarterback Colin Kaepernick — adopted Venus as the underdog.
"I think it's the best match she's ever played against me," Venus said. "I don't think I did a lot wrong. But she just did everything right. Obviously that level is definitely where she's going to want to stay during this whole tournament.
"I mean, she played so well, I never got to really even touch any balls. When your opponent plays like that, it's not really anything to be upset about."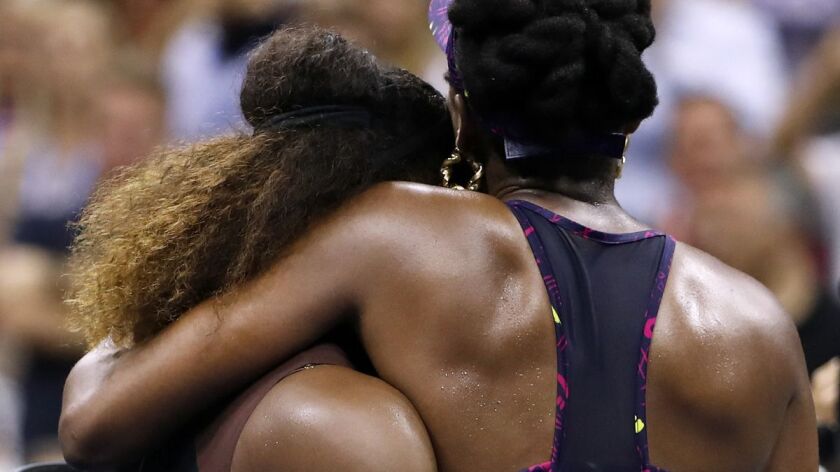 The first time they faced each other as professionals, in the second round of the 1998 Australian Open, Serena was 16 and Venus was 17 and both said it was difficult to look across the net and see a beloved face. Twenty years and a combined 30 Grand Slam singles titles later — 23 of those titles belonging to Serena and seven for Venus — it still isn't easy for either woman to face the other.
Serena, dressed in a black, one-sleeved, tutu-style dress, and Venus, wearing a pink-and-blue dress and matching visor, avoided eye contact before and during the match, as they've learned to do. Their hug at the net at the end was brief, and Serena took care not to exult too much because she didn't want to hurt her sister.
"For me it takes more mental energy than physical," Serena said of playing against Venus. "It feels good for the match to be over with. Win or lose, it just feels good that that's done."
Serena, ranked 26th in the world and seeded 17th here, didn't let 16th-seeded Venus into the match. Serena rolled her ankle, which she said is a common occurrence, and took a medical timeout after she held serve for a 2-1 lead. Any thoughts that she might be vulnerable vanished when she broke Venus' serve for a 3-1 lead and again for a 5-1 margin with a forehand passing shot. She finished off the set with an ace and began the second set with another service break. "I hope she doesn't play that well against me every time because I don't think anyone has a chance," Venus said.
Serena lost to Venus in their last match, in the third round at Indian Wells in March, but Serena has since made considerable progress toward regaining her fitness and a prime rankings spot.
She has had some fits and starts: She withdrew from her fourth-round match at the French Open because of an injured pectoral muscle but reached the Wimbledon final; she also lost in the second round of the most recent tournament she played, at Cincinnati. She lost only eight games in her first two matches here but facing her sister figured to be a tougher test. It wasn't, at least competitively. "I played much better tonight than I have since I started this journey on my way back," Serena said.
She has refused to call her return a comeback, reasoning that she never really left. She certainly played like that Friday despite any emotional conflicts. "It's just about focusing on each point. It's not necessarily Venus, and it is my sibling, but it's one of the greatest players of all time, by far the greatest player I've ever played against," Serena said.
Her fourth-round opponent will be Kaia Kanepi of Estonia, who upset No. 1 Simona Halep in the first round. Serena hasn't lost a set to Kanepi in four previous matchups, but she found kind words for Kanepi. "We've had some close matches. Each match is new," Serena said. "She knows how to play very good tennis."
Serena, as she showed again Friday, knows how to play great tennis, and that made all the difference again.
Follow Helene Elliott on Twitter @helenenothelen
---
Get the latest on L.A.'s teams in the daily Sports Report newsletter.
You may occasionally receive promotional content from the Los Angeles Times.