Flying Queens' success was a game changer for women's basketball
The trip from Kingfisher County took five hours by car, across Oklahoma and down the Texas panhandle.
A basketball star in high school, Kaye Garms had heard about a Baptist college near Lubbock that had a women's team. She and another player wanted to try out.
"The local banker's wife drove us," Garms recalls. "She had a nice car."
It was the mid-1950s, well before Title IX, and girls were still being told that basketball was too rough and tumble, that it might prevent them from having babies later in life.
The sport was limited to some high schools — mainly in farming communities — and even fewer colleges. Beyond that, older players could join company teams such as Hanes Hosiery and Denver Chevrolet in the Amateur Athletic Union.
So when Wayland Baptist University established a program with a real coach, satin uniforms and scholarships, it took only a few years for word to get around.
In the spring of 1954, scores of young women made the pilgrimage to the town of Plainview, traveling from as far away as Kansas and Mississippi. They endured four days of tryouts inside an old gym, competing for one open spot on the roster.
"We went as hard as we could," Garms says. "It was our only chance to keep playing basketball."
The Flying Queens had embarked on something historic, a stretch of 131 consecutive victories over five seasons, better than the NCAA men's record set by UCLA and the women's mark belonging to Connecticut.
The streak put their obscure school on a short list of finalists for the Basketball Hall of Fame, with Wayland Baptist just missing the cut when the class of 2018 was announced at the Final Four on Saturday.
But wins and losses are only part of the story. Even if none of the players knew it at the time, they were setting the stage for a transformation of the women's game.
::
Maybe it took a visionary — or a madman — to imagine something so preposterous: A women's team traveling the country in search of the toughest competition, flying in private planes, staying in expensive hotels, putting on pregame shows worthy of the Harlem Globetrotters.
J.W. Marshall assumed the presidency at Wayland Baptist in the spring of 1947, full of missionary passion and lots of big ideas.
Not that everyone was thrilled — when he banned smoking, drinking, dancing and playing cards on campus, some feared enrollment would plummet. It did not.
Wayland Baptist began recruiting international students and, a few years later, voluntarily integrated by admitting four black students.
In the modest athletic department, Harley Redin was building a men's basketball program with all the discipline and intensity befitting a former World War II bomber pilot. He was handsome and charismatic, with a shock of dark hair. Marshall soon expanded his job title.
"I started coaching women on the side," Redin says. "To give them a chance to play."
Just as the university president had envisioned, top schoolgirl athletes from throughout Texas and the surrounding states heard about the program and flocked to Wayland Baptist. Redin had other coaches handle the team at first but soon devoted more time to the women.
"It was kind of unusual for me," he says. "We were lucky that we got a lot of good players."
There weren't many opponents, mostly just high school teams, to choose from in the early days. Marshall arranged for games against an international squad in Mexico City, then went looking for a way to get his players down there.
Everyone in Plainview knew of a generous man, a local entrepreneur named Claude Hutcherson who had made his money in ranching, banking and a small charter air service. He offered the use of his Beechcraft Bonanzas, agreeing to fly one of the four-seaters.
It was supposed to be a temporary arrangement but Hutcherson, a former boxer, had a good time on the trip, so Marshall made a proposal.
"Would you like to help us get a schedule of AAU teams?" Redin recalls his president asking Hutcherson. "And you fly us around?"
::
The Beechcraft always traveled in a pack, landing one after another, lining up on the airport tarmac. A dozen or so young women spilled out, wearing blue skirts, blouses and white sweaters emblazoned with the school logo.
A black-and-white photograph from that era shows Garms and Cookie Barron, a guard on the Wayland Baptist team, dressed in those matching travel outfits, their smiles at a confident tilt.
"People kind of knew we were coming," Barron says.
With no rules to limit benefits, Hutcherson and his wife, Wilda, could lavish the renamed Flying Queens with clothing, gifts and cash. It felt like a dream to athletes who came from modest backgrounds, if not poverty.
You have to think about the context of what was going on at the time. For a team and a college to put all that effort into allowing women to play was huge.
— Josh Sullivan, Women's Basketball Hall of Fame
The Hutchersons hosted team dinners and weekend pool parties at their home. If they happened upon a player walking around town, they might slip her a $20 bill. If word got around that someone needed a coat, one soon appeared.
"Claude also paid for us to get our hair fixed at the beauty shop from time to time," Barron says.
Garms recalls: "Those hairdos didn't last too long — it was hard to keep them when you're running up and down the court, sweating."
The perks were nice but it was air travel that made the biggest difference. Wayland Baptist could go anywhere to schedule the best AAU opponents.
"You have to think about the context of what was going on at the time," says Josh Sullivan of the Women's Basketball Hall of Fame, a separate organization from the overall hall of fame. "For a team and a college to put all that effort into allowing women to play was huge."
Hardly anyone on the roster had flown before; some were terrified as they ducked into the cabin, keeping their eyes shut, especially in turbulence.
On a trip to Omaha, one of the Beechcraft had to swerve around a radio tower in poor visibility, Garms says. Another time, the contingent was forced to land when the windshields iced over.
It helped to have Redin — the Marines Corps veteran — flying one of the planes. Players trusted Hutcherson, too.
Their benefactor often wore a fedora tugged down over dark-rimmed glasses, a business-like appearance that belied his penchant for teasing.
"Claude was a great pilot," Barron says. "But he was a terrible driver — very impatient — so when we got there, we didn't want to get in the car with him."
The program got an unexpected boost when a snowstorm grounded the Flying Queens in Nashville. Players remember being stuck in the same hotel as the Globetrotters, who taught them a few tricks.
Back in Plainview, the Flying Queens worked up a routine.
During warmups, they formed a circle, spinning basketballs on their fingertips, dribbling between their legs and whipping passes behind their backs.
"The fans loved it and they played 'Sweet Georgia Brown' in the gym," Barron says, referring to the Globetrotters' theme song. "It was OK to do something like that … as long as you won."
::
Every incoming freshman was handed a card — a contract of sorts — listing the rules of behavior at Wayland Baptist. Barron tossed it aside and was soon called to the dean's office.
"Do you want to play basketball?" she remembers him saying. "Well then, you have to sign the card."
There weren't many entertainment options on campus or in Plainview, a town of about 15,000 then. Players devoted themselves to basketball.
"The gym was always open," Barron says. "We went and practiced on our own."
That pleased Redin, who eventually switched to coaching the women full-time. He says he recruited "good students, good citizens" and drilled them endlessly on the fundamentals.
At the same time, the coach tinkered with new strategies.
The rules were different for women, who played six-on-six with players restricted to certain parts of the court, through the 1950s. Later, two "rovers" were allowed to run the entire floor.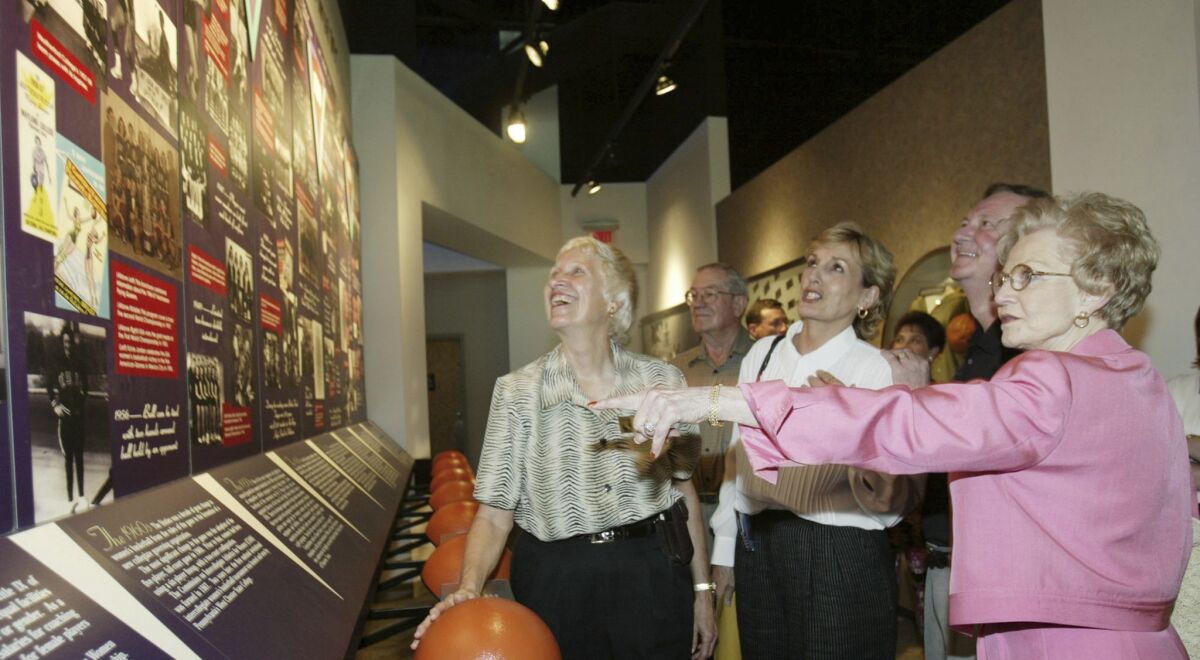 When 5-foot-11 Cherri Rapp showed surprising quickness for a player that tall, Redin switched her to a rover spot so she could post-up against smaller guards.
"He was really smart and really calm," says Rapp, who played in the late 1960s. "He never yelled at the players, never got mad at the refs."
A few other universities fielded women's teams but the schedule was composed mainly of veteran AAU squads that could maintain the same roster year after year.
The 1953-54 season began with victories over Dowell's Dolls and the Woodward Motorettes, the Flying Queens on their way to a 29-0 record and an AAU championship.
By then, Marshall had resigned as president. One account had him leaving for evangelical-missionary work, another suggested the board of directors wanted someone "more practical." Either way, he wasn't there to see his creation keep rolling.
Through the next four seasons, Wayland Baptist captured three more AAU titles, amassing dozens of blowout victories and surviving a few close calls against the likes of Midland Jewelry and the Kansas City Dons.
"We never talked about losing," Garms says. "Even if we were behind, we always thought we were going to win somehow."
::
There was probably no good way for the streak to end.
The Flying Queens finally lost in a 1958 AAU semifinal, coming up four points shy against Nashville Business College. Players say Redin called a timeout in the final seconds, reminding them to lose with "the same class you've won."
That day remains an unhappy memory for Garms. Sullivan can take a longer view.
"It was quite a feat," the women's hall of fame executive says of Wayland Baptist's 131-game stretch. "I don't care what sport you're playing or who you're playing against, that's hard to do."
The ensuing years brought other battles to fight, especially for Redin, who never understood why women should have to play by different rules than men.
At the start of the 1970s, he and other coaches persuaded officials to adopt the full-court, five-player game with a 30-second clock. An era of change had begun.
The fledgling Assn. for Intercollegiate Athletics for Women gave schools a chance to play for a national championship and Title IX, as part of the Education Amendments of 1972, promoted gender equity in sport. A decade later, the NCAA added women's basketball.
Sullivan sees the Flying Queens as essential to this evolution, saying: "They were definitely blazing the trail."
But their dominance waned as the game blossomed through the 1980s, with larger schools able to spend more on recruiting. They could no longer compete with the likes of UCLA, North Carolina State and Texas A&M, teams they had defeated in the past.
"It's sort of ironic that we helped get it started," says Linda Pickens Price, a player from the late 1960s. "But it really was the demise of Wayland basketball."
Now a solid if unspectacular team that competes in the low-level National Assn. of Intercollegiate Athletics, the Flying Queens had one more shot at the national spotlight with the Hall of Fame nominations Saturday.
But maybe the Flying Queens have left a mark in other ways.
After college, Barron became a coach and administrator, championing girls' sports in Colorado public schools. Garms forged a career among early women referees.
It all goes back to that long drive to Texas, Garms says. She wonders what might have happened if coaches had chosen someone else from the gym full of players at the tryout.
"I probably just would have gotten a job at some local store," she says. "That was the special thing … Wayland gave us a chance."
Follow @LAtimesWharton on Twitter
Get our high school sports newsletter
Prep Rally is devoted to the SoCal high school sports experience, bringing you scores, stories and a behind-the-scenes look at what makes prep sports so popular.
You may occasionally receive promotional content from the Los Angeles Times.