Cavaliers vs. Warriors: They meet in the NBA Finals for a record fourth consecutive season
Reporting from Oakland —
Kevin Durant smiled sheepishly when asked if it's good for the NBA to have the same two teams returning to the NBA Finals year after year.
"Yeah, I think it's great, I think it's great," he said, before pausing. "You want me to elaborate?
"I mean, it may not be as suspenseful as a lot of people want it to be or as drama-filled, but that's what you've got movies and music for."
The Boston Celtics and Lakers met seven times in the 1950s and '60s and three times during a four-year span in the 1980s. Theirs is the greatest NBA Finals rivalry the league has ever seen. The Golden State Warriors and Cleveland Cavaliers aren't there yet. But they are starting to create history of their own.
When the Finals begin Thursday, it will be the fourth consecutive year in which the Warriors have played the Cavaliers. It's the first time in the history of the NFL, NBA, Major League Baseball or NHL that the same teams have met for a championship in four consecutive years. It is also LeBron James' eighth consecutive Finals appearance, making him the sixth player in NBA history, and the first in more than 50 years, to accomplish that feat.
Some of the faces have changed. The storylines have shifted. But no one's been able to stop the Cavaliers or the Warriors from reaching each season's inevitable conclusion.
"Teams have had their opportunities to beat the Cavs over the last four years, and teams have had the opportunities to beat the Warriors over the last four years," James said. "If you want to see somebody else in the [Finals], then you got to beat them."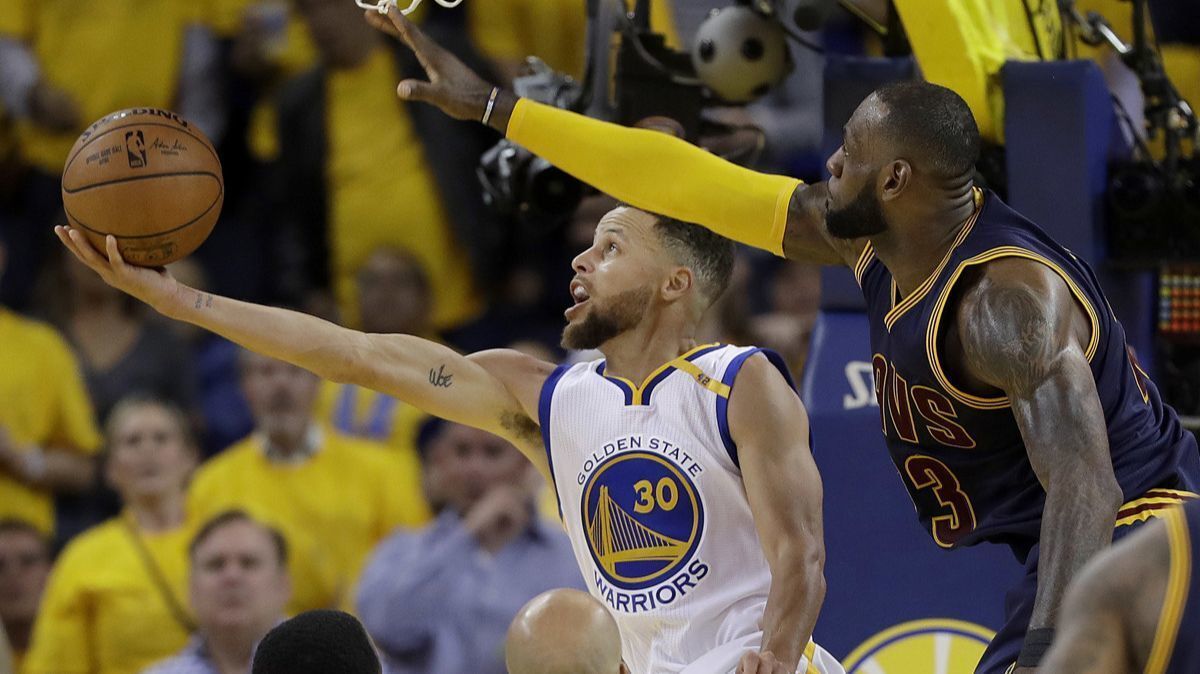 Both teams enter Thursday's game with some uncertainty. For at least Game 1, the Warriors won't have Andre Iguodala, who missed the last four games of the Western Conference finals with a leg contusion. That leaves some doubt as to how successfully the Warriors will be able to guard James, on whom Iguodala has had success.
"LeBron's a very cerebral player so he does a very good job of always being a threat whether he's on the ball or off the ball," Iguodala said. "He does a very good job of making teammates threats. Gotta stay locked in."
The Cavaliers might be without Kevin Love, who suffered a concussion in Game 6 of the Eastern Conference finals against the Celtics. Cavaliers coach Tyronn Lue said if Love is cleared through the league's concussion protocol, he will start. And where Kyrie Irving has been an integral part of any success Cleveland has had against the Warriors, he was traded last summer to the Celtics.
The Warriors remained mostly unchanged. They brought back all their principals from last season's championship team — Durant, Stephen Curry, Klay Thompson, Draymond Green and Iguodala. The Cavaliers traded Irving for Isaiah Thomas in the summer, then turned over nearly half their roster at the trade deadline in an effort to turn themselves into a championship contender.
It hasn't worked exactly as Cleveland hoped. The Cavaliers are still significant underdogs in this series, and few expect them to truly challenge the Warriors, who have won two of the previous three Finals with Cleveland. In fact, during Finals media day Wednesday, Curry was asked if the Warriors even fear any player other than James on the Cavaliers roster.
"That we fear?" Curry said.
A clarification followed from the reporter, who removed the offending word, but the point remained.
"I mean, it's a weird kind of dynamic thinking about this is the fourth time in a row we've played Cleveland in the Finals," Curry said. "…There's guys all around there that can do things and make plays and are threats. But obviously, everything starts with LeBron and trying to put up as much resistance as you can."
About an hour later, James was asked a question in the inverse. He went through the list of great Warriors players and the fact that many of them come off the bench. To add to Thompson, Green, Curry and Durant, James noted, they have a Finals MVP (Iguodala), a fourth overall pick (Shaun Livingston) and an All-Star (David West) coming off their bench.
"It's truly fun to know when I'm done playing the game of basketball to know that I played against some of the greatest teams that ever played, ever been assembled — and this is one of them," James said. "You know, it's just like whoever they kind of suit up or whoever they decide to be a part of what they've got going on over here is just a really, really high IQ basketball player and knows how to play the game of basketball. At what chapter will the LeBron versus Warriors fit into my book? I have no idea."
Wherever it is, his teams and these Warriors will be inextricably linked with each other.
Follow Tania Ganguli on Twitter @taniaganguli
Get our high school sports newsletter
Prep Rally is devoted to the SoCal high school sports experience, bringing you scores, stories and a behind-the-scenes look at what makes prep sports so popular.
You may occasionally receive promotional content from the Los Angeles Times.