LeBron James leaving Cleveland was the first step in the demise of the now woeful Cavaliers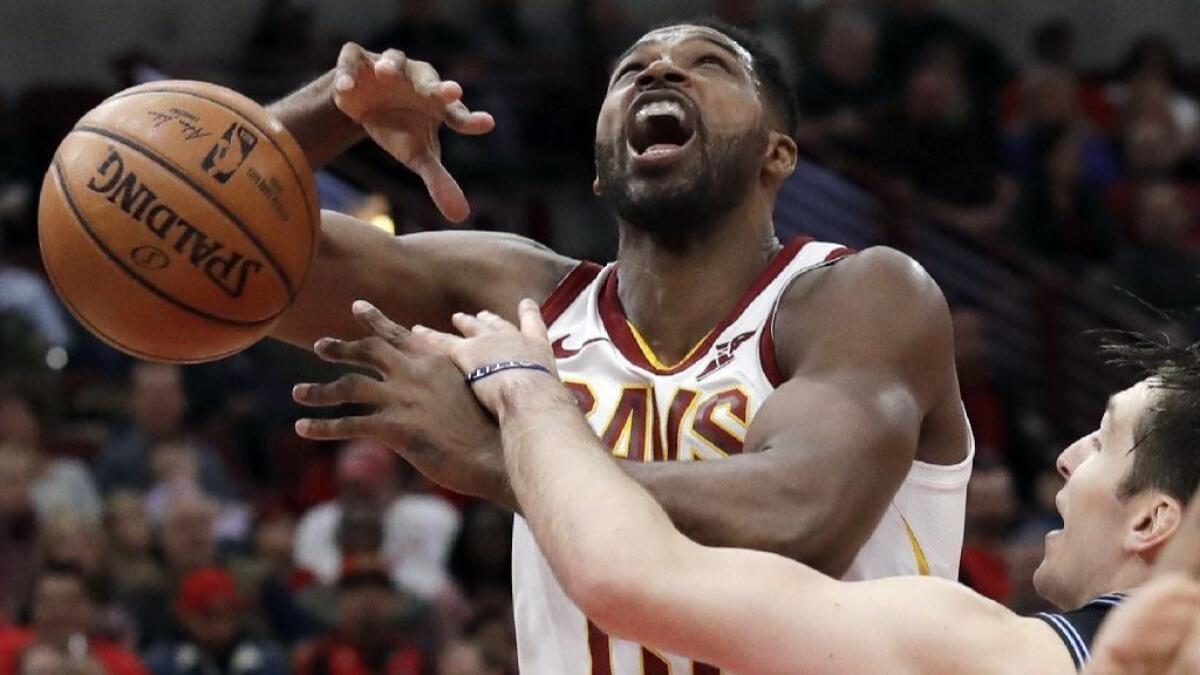 Reporting from DETROIT —
Larry Drew stood outside the visiting locker room early Monday night and tried to articulate exactly what the Cleveland Cavaliers have been through since the start of the season.
"For whatever reason," the Cavaliers coach said, "they had to go in a different mode."
His reference was to a 6-foot-8 basketball-playing maestro who left the team last summer, setting in motion a string of events that has pushed the Cavaliers from the top of the Eastern Conference into the basement.
Without LeBron James, the Cavaliers have been fully pushed into rebuilding mode, whether they wanted to be or not.
An injury to Kevin Love and ownership's decision to fire former coach Tyronn Lue quickly pushed the Cavaliers out of the notion that contending for a playoff spot this season was realistic.
But amid the losing there is not a sense of bitterness that might be expected. Nor is there an overwhelming sense of disappointment.
When James left the Cavaliers in 2010, forward Tristan Thompson said it was like a bad breakup for the city, Cleveland getting dumped for Miami. This time? It feels like everyone is comfortable with the knowledge that it's better to have loved and lost than to have never loved at all.
"You get spoiled being with LeBron," Thompson said. "…We had it good."
Thompson is one of the Cavaliers veterans most at peace with the team's new reality. Guard J.R. Smith publicly asked to be traded this month. And Kyle Korver reportedly had hoped to be dealt after James signed with the Lakers as a free agent.
And for some of the team's veterans, there has been frustration with the mistakes being made by the team's younger players who are suddenly playing major minutes.
But Thompson, who spent his first three seasons in Cleveland when James was playing with the Miami Heat, said he knows what life is like without the game's greatest player on your side.
"I'll never forget where I was before that," Thompson said. "Obviously, it's a great honor playing with him, developing those memories and making a name for yourself on the biggest stage. I think it was huge for myself and my career. And, now, this is a different opportunity. It's a chance to showcase a little more and get to lead these young guys. It's another chapter in being a NBA player.
"You have some great years — I had four great years with LeBron that most pros will never get to experience — you can't take it for granted. Obviously, I don't. But this is another part of my career."
Larry Nance Jr., who started for the Cavaliers at power forward in Monday night's 113-102 loss to the Detroit Pistons, said before the game that life without James means more playing time for him, which means more chances for him to prove himself.
He experienced highs with James and the Cavaliers last season after being traded from the Lakers. And now he's experiencing other things without him.
"I'm still grateful for the trade," Nance said. "I enjoyed my time in L.A. but Cleveland's home for me. … I got to play in the Finals with one of the greatest players ever. I have no regrets about it. I'm happy as hell. Obviously, you want to win every game. You don't get to the NBA without having that kind of a competitive nature. But I think for me as a player, the growth, the mistakes I'm allowed to make, the growth I'm allowed to be in the middle of, it's super beneficial.
"I'm playing 30 minutes a night and getting to mess up and shoot threes and expand my game. I don't think I'd be getting to do that if we weren't in that situation."
Love had toe surgery in early November and will be reevaluated in about a month. People seem to think he'll be back at some point this season, but there's little rush. Korver and Smith could be traded before season's end. So could Channing Frye.
And that means it'll be about finding ways to make sure rookie point guard Collin Sexton grows, to make sure second-year forward Cedi Osman grows, to make sure Nance gets better.
It doesn't mean returning to the NBA Finals. The Cavaliers are 2-13.
"You have to be realistic," Thompson said. "The stage isn't the same anymore. You're no longer the Beatles. You've got to be the opening act sometimes."
Twitter: @DanWoikeSports
Get our high school sports newsletter
Prep Rally is devoted to the SoCal high school sports experience, bringing you scores, stories and a behind-the-scenes look at what makes prep sports so popular.
You may occasionally receive promotional content from the Los Angeles Times.