James Harden was just another freshman at Artesia High, until he hit a game-winning shot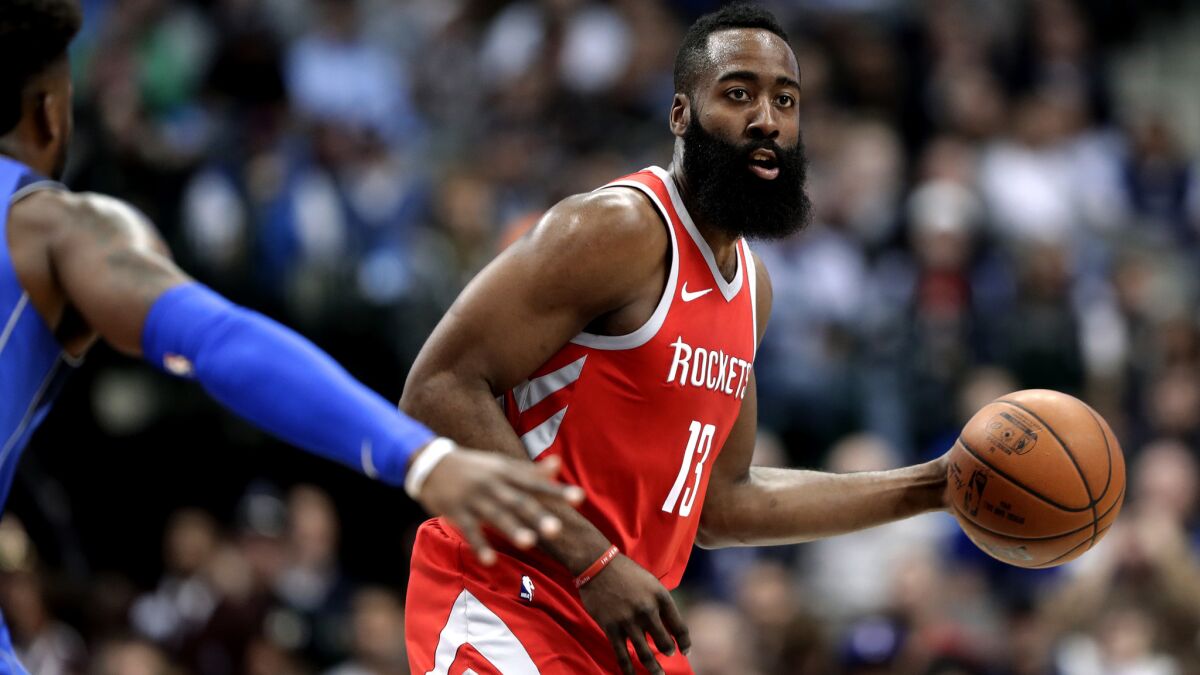 Before he developed his nearly unstoppable step-back three-point shot, James Harden was just trying to find his way as a basketball player in Southern California.
Before he perfected his Euro-step drive, Harden was a kid from Compton who decided to hone his skills 15 minutes away at Artesia High in Lakewood. Before he became this prolific scorer in the NBA with the Houston Rockets, Harden was globetrotting across the Los Angeles basketball landscape in search of games.
Now Harden is a six-time NBA All-Star and his playground for the annual game on Sunday will be in his backyard at Staples Center.
"It's an honor," Harden told Houston reporters on Jan. 18, the night he was named an All-Star starter for the fourth time. "You never want to take those things for granted. Credit to the fans who voted me in. Obviously it's something you've been dreaming of since you were a kid. Never take it for granted. Go out there, have fun and just put on a show."
His old high school coach, Scott Pera, said he had "no idea at the time" that Harden would become a transcendent offensive weapon in the NBA.
Harden had attended one of Pera's camps and didn't even stand out.
"James was a kid from Compton that I had never heard of and he came to my camp and maybe played and then enrolled with a very good freshman class and I didn't even think he was the best one at the time," said Pera, who is now the head coach at Rice. "We knew he could shoot and he had good passing skills and a good IQ, but he wasn't like, 'I'll build my whole program around him and he's the next coming.' No way. Not even close. That was the summer of 2003. He didn't start until maybe halfway through his freshman year."
It has become a rite of passage for hoopsters from the Southland to take their game to the famed Drew League in South Los Angeles.
Harden first showed up to the Drew League as a 10th-grader, said Dino Smiley, the Drew League director and commissioner, but didn't leave any sort of imprint.
"He didn't stand out then," Smiley said. "He didn't have the handles like he has now. He didn't have the Euro-step and the step-back like he has now. Now he's put all that together. James was never really in shape when he played in the Drew League. He didn't have that chiseled physique he has now. He was strong. Now he is an amazing player."
Pera reminisced about when the turning point came for Harden and he developed into a force.
Of course, Pera never imagined that moment would lead to Harden raising his game to such a high level in the NBA that the 6-5 guard is considered the front-runner for the NBA's most-valuable-player award.
"He hit a buzzer-beater at Redondo Union. That was a big turning point for him," Pera recalled. "I think that really boosted my confidence in him, saw he wasn't afraid of the big stage by taking the game-winning shot as a freshmen. That turned our season around."
From that point forward, Harden became a tower of strength for Artesia. He averaged 13.2 points as a sophomore. He raised that to 18.8 points and 7.7 rebounds as a junior in leading his school to the state championship.
He stayed on course as a senior, averaging 18.8 points and 7.9 rebounds in leading Artesia to back-to-back state titles.
"I'm beyond proud of James," Pera said. "Not only am I proud of what he is as a player and how he's become the face of the franchise, I'm just proud of the man he's become and how he's handled all this."
Twitter: @BA_Turner
---
Get our high school sports newsletter
Prep Rally is devoted to the SoCal high school sports experience, bringing you scores, stories and a behind-the-scenes look at what makes prep sports so popular.
You may occasionally receive promotional content from the Los Angeles Times.