Column: Lakers center Ivica Zubac is possible piece in a trade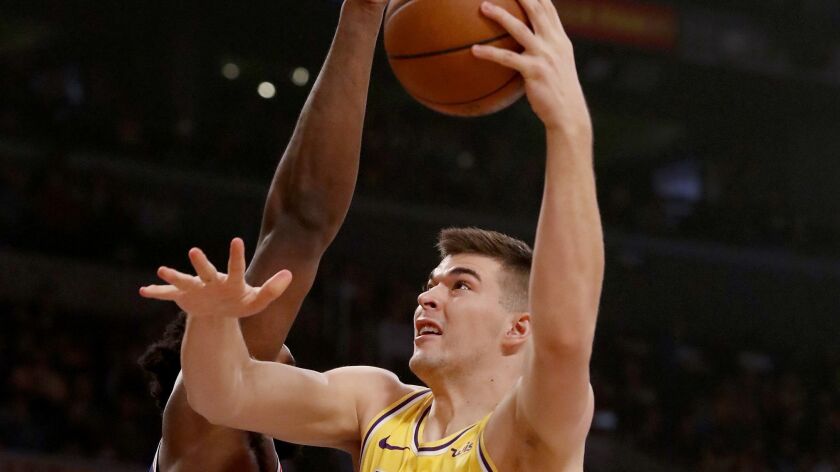 A year ago, it would've been impossible. Two months ago, it would've certainly been improbable.
But here, in the final days of January, it's true. Lakers center Ivica Zubac could be an important piece in a trade.
"I used to hate him," an NBA scout said. "But he can really play."
Zubac, a 7-foot-1, 21-year-old center, has put together his best string of basketball, a 10-game stretch before Tuesday when he averaged 13.2 points and 6.8 rebounds in less than 20 minutes per game.
There've been clunkers in there — five points against Cleveland and only eight minutes against Chicago — but Zubac has managed to stay level and regain his footing.
"He's been great. That's more of the norm in this league, you kind of develop your habits, you play, you get frustrated. ... Consistency is a challenge for a young player," Lakers coach Luke Walton said. "You fall out of the rotation. You get hungry and you keep working and you come back in. With him, he's always had a great attitude and he's worked hard."
It's why Zubac, suddenly, is an actual asset that could help the Lakers land Anthony Davis. He's certainly not the main attraction in a deal — he probably wouldn't even be billed in the top three of any offer the New Orleans Pelicans would take seriously — but he's the kind of extra piece that could nudge a deal closer to a finish line.
Tuesday against Philadelphia, Zubac was overwhelmed. Maybe it was seeing his name in trade rumors for the first time. More likely it was Joel Embiid, who is one of the best centers in the NBA, on the other side of the court.
Still, Zubac recovered and scored seven points in the third quarter, helping keep the game against Philadelphia from becoming a laugher.
There are reasons the Lakers wouldn't be thrilled to see Zubac go. Although there is a line of thinking that small lineups, like those with forwards like LeBron James and Draymond Green playing center, bulk still matters in the NBA.
You need bodies to bang with DeMarcus Cousins, to battle with Deandre Ayton, to scrap with Jusuf Nurkic and to wrestle with Embiid. It doesn't have to be the focal point of a roster but it needs to be there somewhere.
And, if you listen to people around the Lakers, and increasingly those around the league, Zubac is more than just a big body.
Scouts love his feel for the game, particularly on offense. He's a whiz in pick-and-roll plays because of his soft hands. Guards Rajon Rondo and Lonzo Ball have raved about how easy it is to get the ball to Zubac because he can catch passes even if they're off target.
He's also the team's top free-throw shooter, which might signal a future from beyond the three-point line as his game evolves with more time in the league.
"When we picked him, we had high hopes for what he could do. He had great touch, a big body, strong and skilled. You never know how players are going to turn [out]. But I say it all the time, players with good work ethics, things normally work out for them," Walton said.
"At the moment, he's playing the way we hoped he'd play."
And, somehow, that hope on a young center with the 32nd pick in 2016, a player with 18 trips to the NBA's G League and back, could end up playing a role in the Lakers making their biggest trade since they dealt for Kareem-Abdul Jabbar.
A year ago, it would've been impossible. Two months ago, it would've certainly been improbable.
But here, in the final days of January, it's true.
Sign up for our daily sports newsletter »
Twitter: @DanWoikeSports
---
Get our high school sports newsletter
Prep Rally is devoted to the SoCal high school sports experience, bringing you scores, stories and a behind-the-scenes look at what makes prep sports so popular.
You may occasionally receive promotional content from the Los Angeles Times.