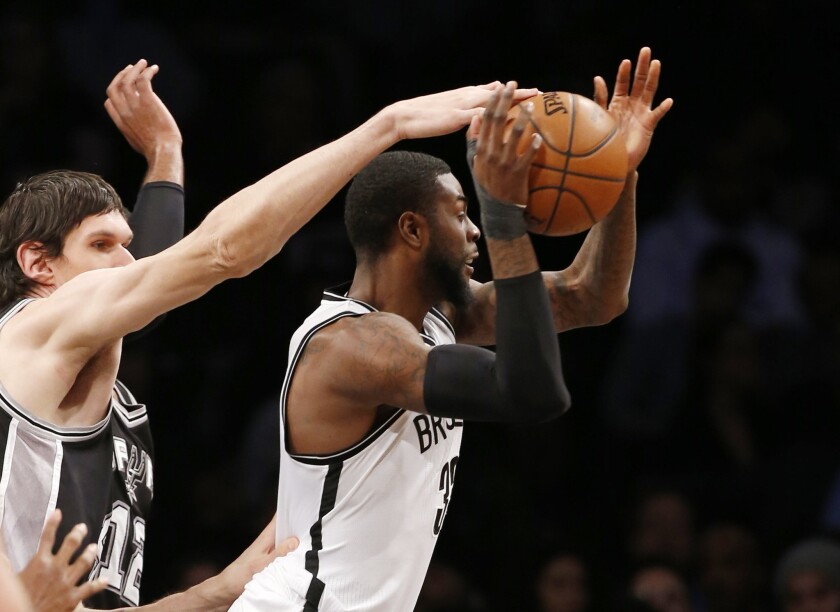 The San Antonio Spurs are the NBA's pillar of consistency and stability, an organization that the Brooklyn Nets could only hope to emulate — on the court and in the front office.
"San Antonio is the gold standard for the NBA," Nets interim Coach Tony Brown said.
The Golden State Warriors might have something to say about that, but the Spurs are hot. LaMarcus Aldridge had 25 points and 11 rebounds Monday night as the Spurs extended their winning streak to eight games with a 106-79 victory at Brooklyn in the Nets' first game since an organizational shake-up.
A day after coach Lionel Hollins was fired and general manager Billy King reassigned, the Nets lost their 10th in a row at home and fifth in a row overall.
"We ran into a sledgehammer of a team," Brown said. "They definitely know how to play together and that's something we're going to strive and try to do here."
Kawhi Leonard added 17 points for the Spurs, who play at Detroit on Tuesday before putting their 31-game home winning streak on the line Thursday in a showdown against the Cleveland Cavaliers.
The Spurs (33-6) led by seven points at halftime before dominating the second half, just as they did in a 102-75 victory over the Nets on Oct. 30. Those are two of their 14 wins by 20 or more points this season, and their leadership under Coach Gregg Popovich and General Manager R.C. Buford matters just as much as the contributions of the players.
"It's consistency," Aldridge said. "There's no surprises. You know what you're going to get day in and day out, game in game out, so it just makes it easier to do your job for sure."
At Golden State 111, Miami 103: Stephen Curry scored 31 points and Draymond Green added 22 points and 12 rebounds to lead the Warriors to their 36th consecutive regular-season home victory.
Klay Thompson added 17 points to help the Warriors (36-2) get halfway to the Chicago Bulls' record win total of 72, set in 1996-97, three games before the midpoint of their season.
Dwyane Wade scored 20 points and Chris Bosh and Gerald Green added 15 apiece for the Heat, which had won eight of its previous 11 games at Oakland.
Washington 114, at Chicago 100: John Wall had 17 points and 10 assists for the banged-up Wizards, who have won two in a row after losing five of six.
The Wizards had seven players score in double figures. Ramon Sessions scored 16 points, and Garrett Temple, Otto Porter Jr. and Nene each scored 14.
The Wizards led by as many as 18 points despite playing without injured key contributors Marcin Gortat, Kris Humphries and Bradley Beal.
Derrick Rose scored 23 points for the Bulls, who were playing the first of four games in five nights. Jimmy Butler had 19 points and seven assists, Pau Gasol 15 points and 10 rebounds.
Bulls center Joakim Noah had no points and nine rebounds in a little less than 19 minutes in his return from a left shoulder sprain. It was Noah's first game since Dec. 21, when he was injured in the third quarter of a 105-102 loss to the Nets.
---