Trusting the process is about the 76ers riding the talent of Joel Embiid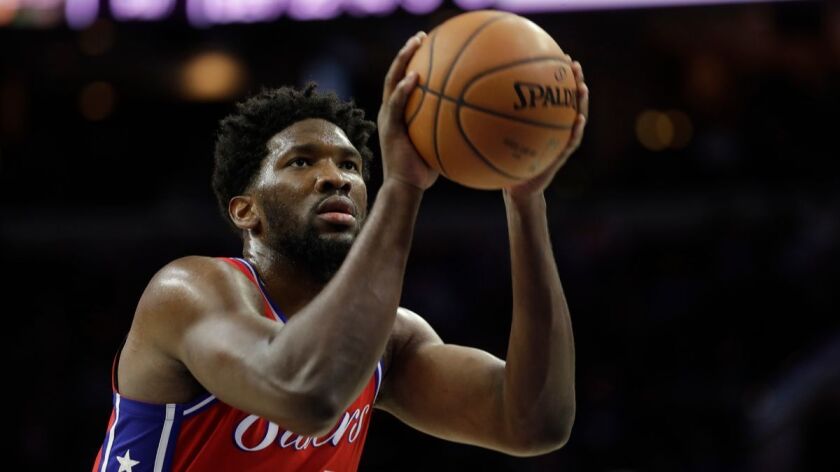 Just last month, there was a stretch in which the Philadelphia 76ers went 1-9 and the optimism faded faster than the Sixers in transition.
A team relying on a 23-year-old with 53 career games was getting an early epitaph for winning once in 10 games. Two years ago, the 76ers won once in their first 31 games.
They're fine. And they swiftly have proven so, climbing back to .500 with a four-game winning streak that could not be missed when they embarrassed Detroit 114-78 on Thursday.
Sixers fans can still "Trust the Process" as they track the progress.
Former general manager Sam Hinkie's blatant tanking approach to acquire young talent had Philadelphia averaging 18.8 wins over the previous four seasons. The 76ers already have 19 wins this season and look like a playoff team if center Joel Embiid can stay upright and in one piece.
Philadelphia's future is more predicated on how youngsters Ben Simmons, Dario Saric and Markelle Fultz develop as co-stars. The key to this season's playoff prospects is Embiid.
The 76ers are 2-7 when Embiid does not play and 17-12 with him on the court. They are 18 points better per 100 possessions with him on the court — an even split between his plus-nine impact on the team's offensive rating and minus-nine effect on the defensive rating.
Embiid already has played nearly as many games this season (28) as last season (31) and is advancing his skills despite not practicing for health precautions. He showed enough post moves, footwork, shooting touch and defense as a time-restricted rookie that Philadelphia gave the 23-year-old a five-year, $146.5-million contract extension despite foot, knee and back injuries that sidelined him for his first two years and 51 of last season's games.
But Embiid does not exhibit concern for his body when he attacks both ends with the exuberance and flair that he also shows off the court.
When it appeared Philadelphia's worst fear was playing out last Sunday with Embiid holding an injured hand, he did not leave the court and helped the 76ers pull away from the Suns in Phoenix. He was a jarring plus-32 for the game.
"I'm a warrior," Embiid said. "I want to push this stuff. I want to play. I wanted to be on the court to win the game."
The 76ers are expectedly young for a franchise that went all-in on a draft rebuild, although misses like Jahlil Okafor, Nerlens Noel and Michael Carter-Williams were nearly as frequent.
The inexperience often shows but fifth-year coach Brett Brown's unrelenting optimism and encouragement has helped players develop on the fly.
"You see the spirit in the locker room and they're excited to jump into January and continue their good form," Brown said.
"The goal of trying to grow our program and make the playoffs is always there and we understand what really has to be done if we are going to achieve that. I use it all the time as a way to say, 'That is not of playoff standard; this is not going to get it done,' or, 'That is going to get it done.' "
Philadelphia general manager Bryan Colangelo, who is also the president of basketball operations, added veteran free agents for this season's thrust. The 76ers are getting career-high scoring from J.J. Redick and a key reserve role from big man Amir Johnson, who had started the previous seven seasons.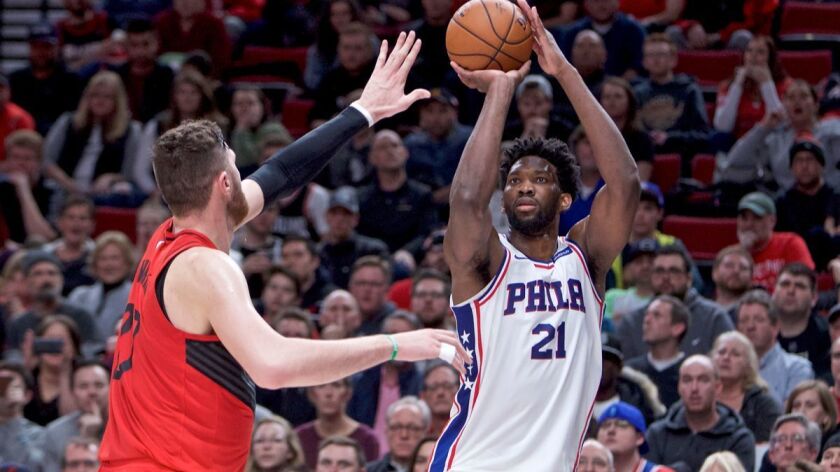 I'm a warrior. I want to push this stuff. I want to play. I wanted to be on the court to win the game.
Philadelphia 76ers center Joel Embiid
The team that has blown leads of 16, 18 and 22 points already this season is learning to close out games with a rookie at the controls. Simmons is averaging 16.9 points, 8.5 rebounds, 7.4 assists and 1.9 steals to be the rookie of the year front-runner.
Simmons' three-point and free-throw shooting have been as poor as advertised. His turnovers also are high, but the 76ers play a high-possession game because of a tempo that is second only to Golden State's.
He pushes the pace despite being the largest point guard in the league at 6-feet-0 and 230 pounds. His ability to attack, pass and post up continues to evolve.
"I just know he needs me to be more aggressive so I'm just trying to take it in my own hands," Simmons said of his coach. "I know when I put my mind to it, I can get to whatever shot I want on the floor."
Saric also is showing unique big man skills in his second season, passing the ball better and making more three-pointers than his rookie season. He has connected on 16 of 26 three-pointers in the last five games, much to the joy of teammates who respect his work ethic and smile at the 6-10 Croatian's expanding English.
"I've been working hard in my first year," Saric said. "I've been working hard in my second year. I need to stay focused and believing in myself, believing in what I am doing on the court."
The next sign of progress would be a return from this year's No. 1 pick, Fultz, who had a curious career start with a shoulder injury that was shrouded in mystery while obviously affecting his shooting mechanics.
Colangelo traded to the top of the draft to snag Fultz's dynamic combo guard abilities. The one-and-done Washington product showed shooting range and the creativity that the 76ers need for shooters like Redick and Robert Covington.
The optimal impacts of Simmons, Saric and Fultz are essential for the progress. More essential is "The Process," the nickname Embiid adopted and 76ers fans chant for him.
He confidently handles the role, delivering upticks in points per game (23.8), rebounds per game (10.9) and field-goal percentage (48.6) over last season and making plays at both ends to close out wins.
He is the heart of why Philadelphia is the NBA's No. 1 rebounding team and the reason why the offense can click. The 76ers' offensive rating with Embiid would rank sixth in NBA team rankings.
"It's all about sharing the ball," Embiid said. "It doesn't matter who gets the credit. One night, it's going to be Dario. Another night, it's going to be J.J. One other night, Ben. We just got to keep doing what we do — move the ball and play tough defense."
---
Get our high school sports newsletter
Prep Rally is devoted to the SoCal high school sports experience, bringing you scores, stories and a behind-the-scenes look at what makes prep sports so popular.
You may occasionally receive promotional content from the Los Angeles Times.