Column: Luka Doncic shows idol LeBron James and the rest of the NBA that stardom awaits
At 6 feet 7 and 220 pounds, Dallas' Luka Doncic looked like a grown man in a league full of some of the biggest and strongest athletes in the world. He wasn't the slightest bit out of place. Not every rookie can pull that off.
The smile, though? That told on him a little bit.
As LeBron James walked toward Doncic, the 19-year-old guard from Slovenia couldn't contain himself. The two men slapped hands, with James giving him a quick hug before moving on to do the same with the rest of the Mavericks' starting lineup.
While James bear-hugged DeAndre Jordan and shared laughs with Dennis Smith Jr., Doncic shook his head. James, his idol, was about to be his opponent, his peer.
"It'll be amazing. LeBron James is an idol for me," the teenager told the Times earlier last week. "I've looked at him a lot, watching his videos, his games. It's going to be just a special game for me. … He can do everything. He can score, he can pass, he can rebound. His IQ is amazing. He's the best thing."
And when it comes to rookies in the NBA, it's looking clear that Doncic too might be the best thing.
Through his first nine games, Doncic has looked like a star, averaging 19.6 points, 6.6 rebounds and 4.6 assists. Push that out to an entire season, and only Oscar Robertson had better numbers as a rookie.
The list of rookies who have averaged 19 points, six rebounds and four assists is full of Hall of Famers: Michael Jordan, Kareem Abdul-Jabbar, Larry Bird, Elgin Baylor, Grant Hill and Robertson. Only Sidney Wicks managed a 19-6-4 season as a rookie and didn't end up in the Hall.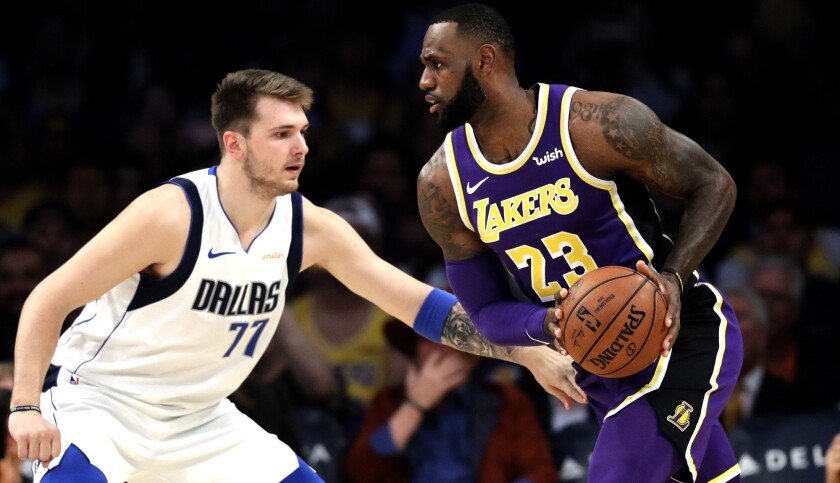 That might be too high of a standard for the typical rookie. But that's not Doncic.
"He's not a really rookie," teammate DeAndre Jordan said. "He's so far advanced. He's still a kid; like, he plays video games all day. But he's a killer out there."
Doncic has a major advantage over the rest of the rookie class — while Trae Young, Deandre Ayton and Marvin Bagley III spent last season in college, Doncic was establishing himself as the top player in European basketball for Real Madrid, winning most valuable player honors in the Euroleague championships.
The Mavericks traded a future first-rounder to move up to draft Doncic with the third pick, confident that his experience as a pro for three-plus seasons overseas provided a solid base for his growth into a star. Doncic averaged 14.5 points, 5.2 rebounds and 4.6 assists over 61 games in Spanish league and Euroleague play last season.
"We made a pretty significant deal to move up and get him, so we felt he was pretty good and certainly capable of significant impact, even early in the season," Dallas coach Rick Carlisle said. "There's no shock from our standpoint. He's a good player and getting better all the time as he learns more about the league."
Against James and the Lakers on Wednesday, it took some time for Doncic to get going. Remember that big smile, handshake and hug? As soon as James saw him on the court once the game began, he took the rookie into the post and hit a turnaround jumper in his face.
As the game went on, Doncic began to get his footing. He drained his high-arching three-point shots, used expert footwork to freeze the defense and muscled his way to the basket to tie the score.
He finished with 14 points on five-of-11 shooting, including three of six from three-points range, seven assists and five rebounds in a 114-113 loss. And he did all of this against his idol, starting his day at shootaround wearing shoes with James' logo on them.
After the game — which ended with James beating Doncic's team with a free throw — the wide-shouldered teenager waited just outside the Lakers' locker room. On the court, he had made a request, asking for the jersey off James' back.
In the hallway, sweat still visible on his undershirt, Doncic got his hands on the purple top.
"Strive for greatness," James wrote on the jersey.
The Lakers' best player saw with his own eyes that the guy with the young face and the man's body will get to greatness sooner rather than later.
Twitter: @DanWoikeSports
---
Get our high school sports newsletter
Prep Rally is devoted to the SoCal high school sports experience, bringing you scores, stories and a behind-the-scenes look at what makes prep sports so popular.
You may occasionally receive promotional content from the Los Angeles Times.