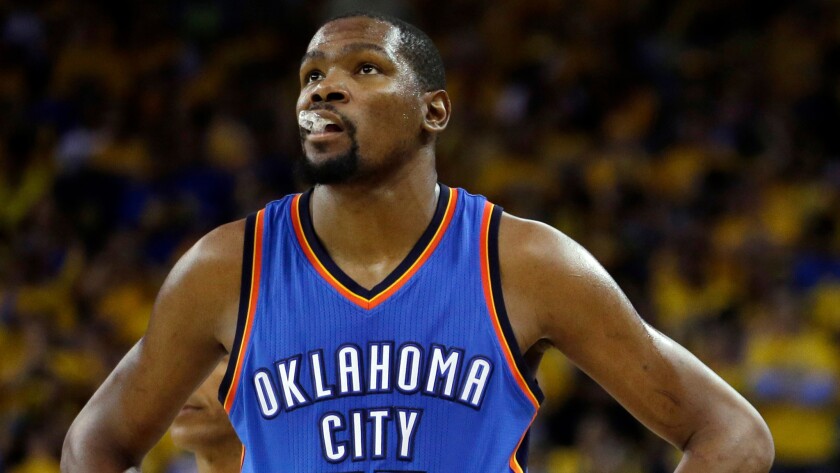 When Kevin Durant strode onto a stage to accept the NBA's most valuable player award two years ago wearing a blue suit matching the Oklahoma City Thunder's uniforms, he held his adopted city in a tight embrace and seemingly never wanted to let go.
He thanked fans and detailed the contributions of each teammate during one of the most heartfelt acceptance speeches in sports history. A short film showed locals gushing over what Durant's presence had meant to a city that had received more than $1 million in donations from the superstar forward for tornado relief and a school for the homeless.
Outside the Thunder's old practice facility, where the event was held, thousands of fans waited for Durant to appear, many clutching cutout likenesses of his head near a massive sign reading "OKC'S MVP."
Durant won almost every conceivable accolade during his nine seasons with the Thunder, except a championship. That one failure was presumably among the factors that prompted Durant on Monday to walk away from the only NBA team he had known and one that appeared to have won his loyalty as a perfect cultural fit.
The highly coveted free agent announced he was joining the Golden State Warriors, forming the NBA's latest super team featuring four All-Stars and the two players who combined to win the league's last three most valuable player awards in Durant and Stephen Curry.
I'm from Washington, D.C., originally, but Oklahoma City truly raised me.
Kevin Durant
The move, which Durant trumpeted on The Players' Tribune website, came as a jolt to the entire league because he had widely been expected to stay with the Thunder.
Instead, he joined the team that vanquished the Thunder in the Western Conference finals with a breathless comeback from a 3-1 deficit. His contract was reported to be for two years and $54.3 million, with a player option in the second year. He cannot officially sign with the Warriors until the free agency moratorium ends Thursday.
Durant, a seven-time All-Star and four-time scoring champion, wrote in his article on The Players' Tribune that the primary factor in his decision was his potential growth as a player with the Warriors.
"I am also at a point in my life," Durant wrote, "where it is of equal importance to find an opportunity that encourages my evolution as a man: moving out of my comfort zone to a new city and community which offers the greatest potential for my contribution and personal growth."
Durant, who turns 28 in September, met with six teams — including the Thunder twice — over the weekend and received what may have been a pivotal call from Warriors executive Jerry West after Golden State had made its pitch. The Clippers were informed Saturday that they were no longer in the running, allowing them to start the process of re-signing as many of their own free agents as possible.
One immediate impact of Durant's decision is that the Warriors will part ways with forward Harrison Barnes, who has agreed to a four-year, $95-million contract with the Dallas Mavericks. Golden State also was on the verge of trading center Andrew Bogut to the Mavericks, meaning the Warriors would bid farewell to two members of the team that won the 2015 NBA title and was one victory away from a repeat last month before losing three consecutive games to the Cleveland Cavaliers.
But pairing Durant with Curry, the reigning two-time MVP, as well as All-Stars Klay Thompson and Draymond Green should easily offset any corresponding moves the Warriors make to clear the necessary salary cap space for Durant. Now the biggest question is how much better a team that won a record 73 games last season has become.
"KD in GSW????" Washington Wizards center Marcin Gortat tweeted. "R they gonna score 200 points a game?"
Meanwhile, Oklahoma City will be left to merely fight for a playoff spot with Russell Westbrook remaining as the team's lone All-Star unless he is traded. Durant's departure rocked not only the Thunder franchise but a city and a region that had considered him one of their own.
Former Thunder teammate Enes Kanter tweeted emojis of a turkey, a heart and a thunder bolt. Oklahoma City General Manager Sam Presti took a more measured approach, releasing a statement calling Durant's decision "clearly disappointing" while also describing him as "a founding father of this franchise" and thanking him for his impact on the team.
Durant had been with the Thunder every season since the franchise arrived in Oklahoma City. He was drafted No. 2 overall in 2007 by the Seattle SuperSonics and played one season in the Pacific Northwest before the team relocated.
See the most-read stories in Sports this hour »
Durant acknowledged the difficulties that his decision might create in Oklahoma City, where the burning of his jersey had already commenced and angry fans reportedly were gathering outside his home.
"It really pains me to know that I will disappoint so many people with this choice," wrote Durant, who owns an eponymous restaurant in the city he's leaving, "but I believe I am doing what I feel is the right thing at this point in my life and my playing career."
Super teams don't always work out, as Lakers fans painfully remember. Dwight Howard and Steve Nash joined Kobe Bryant and Pau Gasol in the summer of 2012, prompting some to project the Lakers as title favorites.
It didn't happen. Not even close. Nash was repeatedly injured and barely played in his two seasons before retirement and Howard was nowhere near the force he had been with the Orlando Magic. Bryant also ruptured his left Achilles' tendon near the end of the 2012-13 regular season. The Lakers squeezed into the playoffs and were swept by the San Antonio Spurs, a prelude to Howard's departure in free agency and Bryant's final seasons tormented by injuries.
The Lakers also brought in future Hall of Famers Karl Malone and Gary Payton to form a Big Four with Bryant and Shaquille O'Neal in 2003-04. They reached the Finals after a tumultuous season but were upset by the Detroit Pistons.
Durant was among those who once frowned upon talent hoarding in the NBA, a fact he was reminded of Monday. He was ripped on social media for a tweet he had composed in 2010 critical of LeBron James' decision to join the Miami Heat that summer alongside Dwyane Wade and Chris Bosh.
"Now everybody wanna play for the heat and the Lakers?" Durant tweeted. "Let's go back to being competitive and going at these peoples!"
Durant's latest decision is history repeating itself once more, making his new team one to envy and the target of the rest of the NBA.
Twitter: @latbbolch
ALSO
Rajon Rondo set to become Chicago's point guard
Clippers up the ante; Jamal Crawford is all in
---