Thunder rout Warriors, 118-94, to take 3-1 Western Conference finals series lead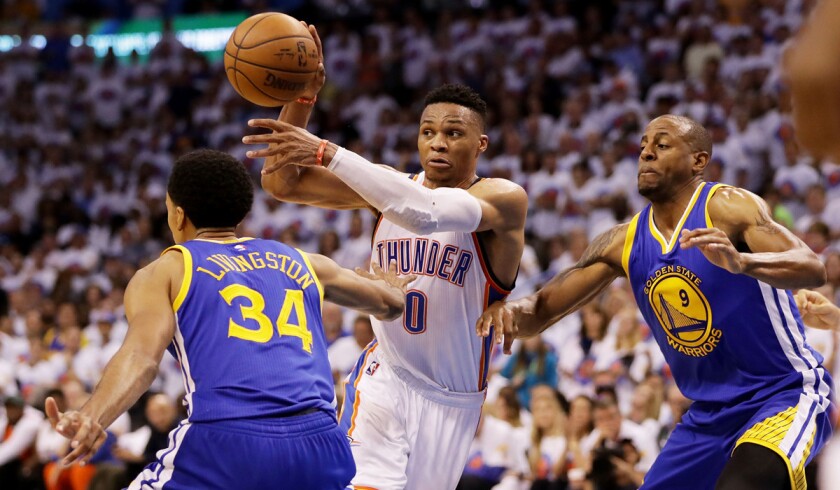 Reporting from OKLAHOMA CITY —
Those 73 wins don't look so imposing anymore.
The Golden State Warriors' regular season may go down as little more than a history-making prelude to massive disappointment given the way the Oklahoma City Thunder are quickly brushing them aside.
Russell Westbrook headlined his triple-double with 36 points Tuesday night at Chesapeake Energy Arena, nudging the Thunder to the precipice of their first NBA Finals appearance since 2012 with a 118-94 smackdown of the Warriors in Game 4 of the Western Conference finals.
Oklahoma City has won two consecutive games over the defending champions in blowout fashion and holds a 3-1 lead in a best-of-seven series that is serving as a referendum on size, speed and athleticism in the NBA. The Thunder have it all.
Kevin Durant rolled up 26 points, 11 rebounds and four steals for Oklahoma City, his outstretched arm capping Thunder villain Draymond Green's forgettable night with a blocked shot with 31/2 minutes left in the game.
"That's where we try to use our advantage," said Durant, who excitedly pumped his arm after getting the last of his three blocks. "We're big for our positions from point guard to center."
Westbrook came up huge in every category, finishing with 11 assists, 11 rebounds and four steals on a night the Thunder harassed the Warriors into 21 turnovers and forced Stephen Curry to miss a handful of layups with their superior length and active hands.
"This is probably the longest team in the league that we're facing, and we are continuing to try to throw passes over the top of their outstretched arms," Warriors Coach Steve Kerr said. "It's probably not a great idea."
Curry looked pedestrian for a two-time most valuable player, finishing with 19 points on six-for-20 shooting to go with six turnovers. Green was mostly the object of fan scorn two days after his kick to the groin of Oklahoma City's Steven Adams but triggered cheers with his shaky play, collecting as many turnovers (six) as points.
Golden State lost consecutive games for the first time this season and did so with plenty of parallels, surrendering 72 points in the first half for a second consecutive game.
The Warriors will have to win three straight games to keep playing, starting with Game 5 on Thursday night at Oracle Arena. The sobering reality facing Golden State: Teams that have taken a 3-1 lead in the NBA playoffs have won 223 of 232 series (96.1%).
"In our locker room, it's obviously frustration trying to figure out how we can get back to being ourselves," Curry said.
The Warriors also will have to find a new defensive strategy after sagging off Oklahoma City's Andre Roberson allowed him to roam freely around the basket. His stat line of a career-high 17 points, 12 rebounds and five steals couldn't be ignored.
Klay Thompson (26 points) briefly made things intriguing in the third quarter by scoring 19 consecutive points for the Warriors before Kerr removed him not long after he picked up his fourth foul. But Roberson's dunk midway through the fourth quarter gave the Thunder an 18-point lead and full control of the series.
Even the game operations staff poked fun at Green, playing Twisted Sister's "We're Not Gonna Take It" while showing replays of Green's leg sweep on Enes Kanter that knocked the Oklahoma City center to the court in the first half but did not result in a foul.
Far more troubling for the Warriors than the decibel level was their alleged defense. Oklahoma City became the first team to score at least 72 points in a half in two straight playoff games since the 1986-87 Lakers.
Green has provided some symmetry for a 73-win team by compiling a minus-73 in the box score over his last two games, a staggering statistic for one of the game's most dynamic players.
"It's the first time in my life I didn't respond to critics," Green said, alluding to his ability to bounce back from subpar performances. "That's what's kind of been my story and I haven't done that, so I've got to do that."
He'll need to Thursday, or the Warriors' expected epic run in this series will end up being a short story.
Twitter: @latbbolch
---
Get our high school sports newsletter
Prep Rally is devoted to the SoCal high school sports experience, bringing you scores, stories and a behind-the-scenes look at what makes prep sports so popular.
You may occasionally receive promotional content from the Los Angeles Times.