If Chargers bolt, fans will have bittersweet memories of perhaps the last game in San Diego
Reporting From San Diego —
In the final row of Qualcomm Stadium's sprawling parking lot, Johnathan Case considered the end.
Music thumped, smoke rose from charcoal grills and tailgaters sipped cans of light beer. But an uncomfortable question lurked beneath the pregame rituals. Was Sunday's game against the Dolphins the final time the Chargers would play in the city they've called home for 55 years? The anxiety seemed to cast a pall over the acres of asphalt.
"It's like a bad, bad divorce," said Case, a 30-year-old with a large lightning bolt tattoo on his biceps.
A "Save Our Bolts" banner hung nearby. So did another poster that warned: "Don't be the grinch who stole our Bolts from San Diego."
Amid wind-whipped "Charger Country" flags and the aroma of cooked meat in the parking lot, the day felt like a wake. A red-jacketed security staffer wondered aloud if he'd get to keep his job. Hawkers offered copies of the "final edition" of the "Tailgate Times" newsletter. Fans asked each other what they'll do if the team isn't here.
Behind all of it was a lingering sense of surprise that the quest to replace the hulking concrete stadium, opened in 1967 and considered one of the NFL's worst facilities, reached this point.
"I don't even want to think about it," said Chris Campos, a 35-year-old with a plastic lightning bolt dangling from a long necklace. "Hopefully they'll come to their senses."
Ten months ago, the Chargers announced plans to partner with the Raiders to build a privately financed stadium for $1.7 billion on an old landfill in Carson. Rams owner Stan Kroenke is also pursuing a $1.8-billion stadium in Inglewood. NFL owners could vote on the plans as early as next month during a special meeting in Houston, though a consensus doesn't appear to have emerged on which project will move forward.
Kenny Baker of La Mesa is not a happy fan as he watches the Chargers defeat the Dolphins on Sunday.
(Robert Gauthier / Los Angeles Times)
Chargers quarterback Philip Rivers waves to fans as he leaves the field after a 30-14 win over the Dolphins at Qualcomm Stadium on Sunday.
(Robert Gauthier / Los Angeles Times)
Mitchell Pellegrin (center) hugs son Justin as the final seconds tick off the clock in the Chargers' victory over the Dolphins on Sunday.
(Robert Gauthier / Los Angeles Times)
Fans let Chargers management know how they feel during Sunday's game against the Dolphins.
(Robert Gauthier / Los Angeles Times)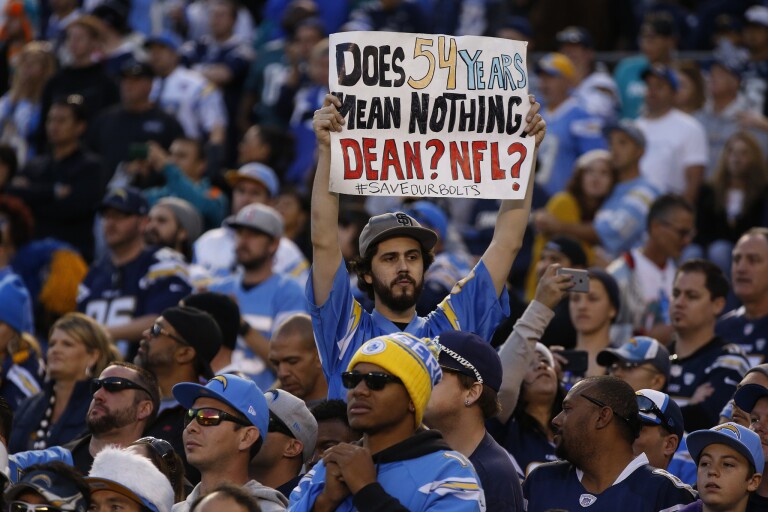 A fan shares his feelings from the stands as the Chargers play the Miami Dolphins in what could be the team's final game in San Diego, on Dec. 20.
(Robert Gauthier / Los Angeles Times)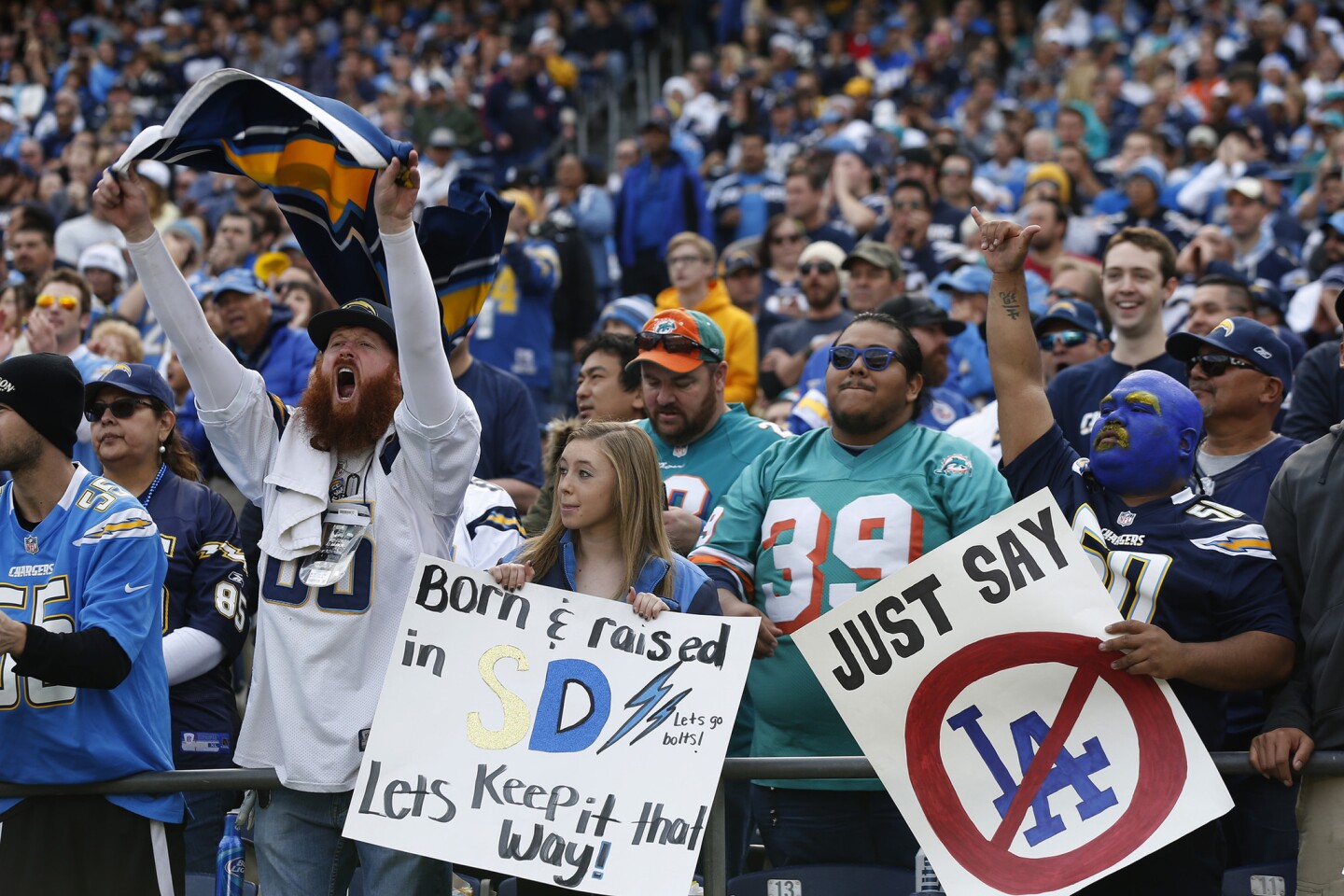 Some Chargers fans have followed the team since childhood and let management know they are against a move to L.A.
(Robert Gauthier / Los Angeles Times)
Michelle Gable from Cardiff cheers from her field-level seats Sunday during what could be the Chargers' final game in San Diego.
(Robert Gauthier / Los Angeles Times)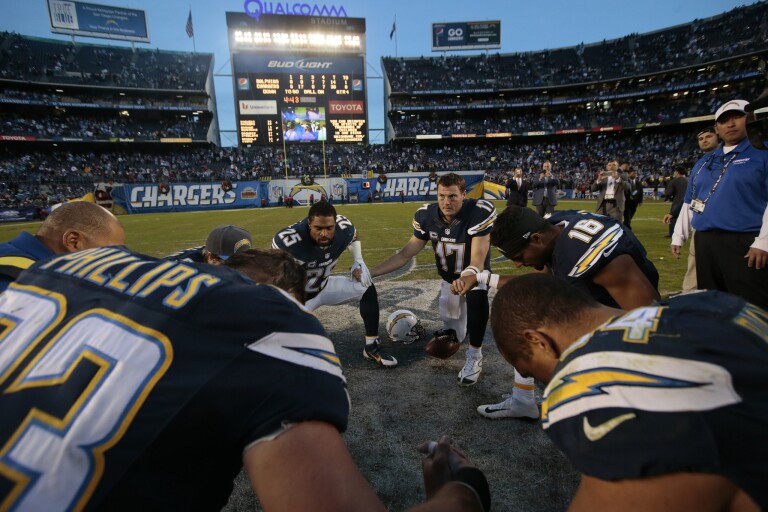 Chargers quarterback Philip Rivers leads a prayer with teammates and coaches at the 50-yard line after a 30-14 victory over the Dolphins on Sunday.
(Robert Gauthier / Los Angeles Times)
That's little consolation to San Diego. After searching for a stadium solution in the city for more than a decade, the Chargers have gone all-in on the potential move to Carson. They broke off negotiations with San Diego in June. Chargers owner Dean Spanos and San Diego Mayor Kevin Faulconer met last month — Kroenke did the same with Missouri Gov. Jay Nixon — but the team's push to L.A. hasn't slowed.
The frustration among Chargers supporters hasn't been helped by the team's dismal performance on the field this season. Neither did inflammatory comments last week by Houston Texans owner Bob McNair. A member of the NFL's influential Committee on L.A. Opportunities, McNair told the Houston Chronicle that the efforts to build a stadium in San Diego had been hampered because of legal problems involving the city council.
"It's hard to negotiate when you've got to go to jail to negotiate," McNair said.
That wasn't true — one San Diego councilman served time after being convicted in a 2003 scandal, but none has been jailed since.
"The last six weeks have gotten really weird," said Jim Steeg, the Chargers' chief operating officer from 2004 to 2010 and a member of Faulconer's stadium advisory committee. "It stripped away all the goodwill and it really got to the core of people looking for other people to blame. I was kind of shocked at how deeply it went."
The city and county have proposed a $1.1-billion stadium for the Chargers at the current site in Mission Valley. The Chargers believe that the project, which calls for the city and county to contribute $350 million, forces the team to assume the project's risks. Among the Chargers' concerns are a fast-tracked environmental impact report that they believe is vulnerable to litigation.
The city wants to put the stadium funding measure on the ballot in June if the Chargers agree to a term sheet by early next year; the team says two polls it conducted in August show that about 65% of voters won't support the plan.
"We have reiterated throughout the past year that we believe Mission Valley is the best location for the new stadium given the timelines set by the NFL and for a variety of other reasons — including that it is much further along in terms of process," said Craig Gustafson, press secretary for Faulconer.
Gary Plummer, who played linebacker for the Chargers from 1986 to 1993 and still resides in the area, understands the team's frustrations over the years of failed efforts to secure a new stadium . . . to a point.
"[The city] seems to be doing everything humanly possible, including doing back flips, to try to get them to stay," Plummer said. "It seems as if the Chargers have flipped them the middle finger on both hands. . . . The Chargers' arrogance throughout the process this year has been disgusting, really. It's just sad. There's such a lack of foresight."
When NFL owners met in August, Carmen Policy, representing the Chargers and Raiders in their push for the Carson stadium, outlined a so-called "mega-market" the teams would control from Santa Barbara to the border. Policy later noted during a presentation to the Carson City Council that 23% of Chargers fans live in the L.A. area, though he didn't provide further detail about the number.
Mark Fabiani, the point man on stadium issues for the Chargers, declined to provide specifics about the team's market penetration in L.A.
But there's little sign Chargers supporters plan to follow the team up Interstate 5.
"It's not going to happen," said Donney Cummins, a 38-year-old who is doubtful NFL owners will allow the Chargers to move. "Maybe, maybe you might get 2% of fans going to L.A."
"It's going to take at least three generations for them to have a solid L.A. fan base," Campos said. "This generation is not going to accept them."
In the Qualcomm Stadium parking lot, Johnny Abundez and a couple of other fans held up a large anti-Carson sign. They have no intention of following the Chargers to Carson, either.
Abundez wore a hard hat with lightning bolts on the sides, a No. 55 jersey to honor Chargers great Junior Seau and blue and yellow camouflage cargo shorts. He hands out business cards introducing himself as "Johnny Bolt Pride." Even his shoelaces are emblazoned with Chargers logos.
"They think if you can make the people in your town and your city hate you, then it's easier to say goodbye," Abundez said. "We'll see. There's still a lot that can happen."
In the waning moments of Sunday's game — a rare victory for the Chargers, 30-14 over Miami — chants of "Spanos sucks" and "San Diego" drifted around the half-empty stadium. The chants turned into a roar as quarterback Philip Rivers jogged off the field and thrust his left arm in the air. The early 1960s hit "Stay" floated through the stadium speakers, asking everyone to stay just a little bit longer.
Thousands of fans lined the railings. They didn't want to leave.
Twitter: @nathanfenno
ALSO
Puig's escape fromp Cuba lays out the dangers of defecting as baseball looks for a fix
High school football title game features hard play and sportsmanship
Clippers know they are underachieving, but can they fix it?
---
Get our high school sports newsletter
Prep Rally is devoted to the SoCal high school sports experience, bringing you scores, stories and a behind-the-scenes look at what makes prep sports so popular.
You may occasionally receive promotional content from the Los Angeles Times.