Rams owner Stan Kroenke tells L.A. fans: 'It's been a long road. But we made it.'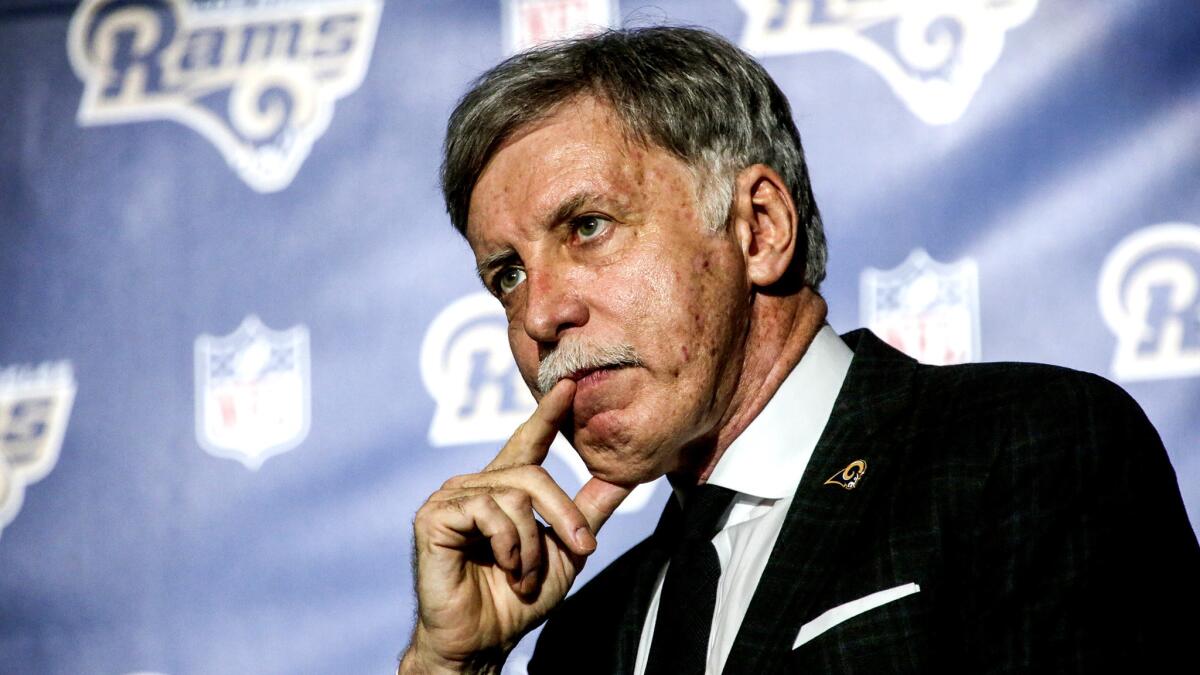 A few minutes into Stan Kroenke's first news conference as owner of the Los Angeles Rams, he cleared his throat and gripped the lectern inside the Forum with both hands.
"It's been a long road back," Kroenke said. "It's been a long road. But we made it."
His chin trembled. Tears welled in his eyes.
The 68-year-old billionaire stood in front of a fabric background featuring the familiar Rams logo ... except that the text read "Los Angeles" instead of "St. Louis."
Kroenke paused. He let cheers from approximately 200 Rams supporters, many wearing blue and yellow throwback jerseys, wash over him.
"Love you, Stan!" someone shouted.
Other fans chanted "L.A. Rams!" and "Thank you Kroenke!"
The news conference, announced early Friday morning by the Rams, lasted 40 minutes and reintroduced the team to the region it departed following the 1994 season. Earlier this week, NFL owners approved the relocation at a special meeting in Houston.
"But this is all about football, really," Kroenke said to loud cheers. "This is [about] a great history of the Los Angeles Rams."
He put extra emphasis on "Los Angeles" to roars of approval.
Rams Coach Jeff Fisher and General Manager Les Snead sat in the front row. A slew of former Rams players attended too, including Hall of Fame linemen Tom Mack and Jackie Slater, quarterback Jim Everett and running back Wendell Tyler.
James T. Butts Jr., mayor of Inglewood, where the Rams plan to build a multibillion-dollar stadium on the site of the old Hollywood Park racetrack, beamed. He mentioned a letter he had written to NFL Commissioner Roger Goodell eight months ago — long before owners approved the stadium project — asking that Inglewood play host to the Super Bowl in 2020.
"Every time you guys see me I'm going to remind you that we're in the city of Inglewood, California," Butts said.
The man overseeing construction on the 298-acre site, Hollywood Park Land Co. development manager Chris Meany, noted that "Los Angeles will have a new landmark."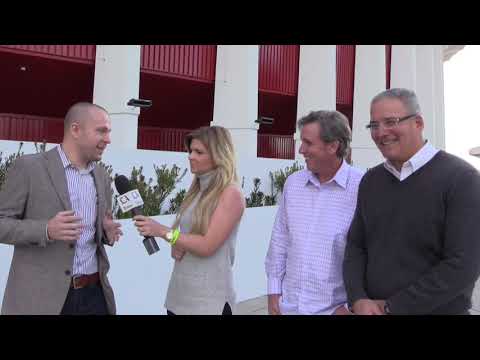 Sam Farmer, Nathan Fenno, Gary Klein and Lindsey Thiry discuss the Rams' first news conference since returning to Los Angeles.
And Kevin Demoff, the Rams top executive who owned an Everett jersey and poster while growing up in the L.A. area, called the move "an opportunity of a lifetime" and received robust cheers.
"It's been a long process and a dream come true, especially for someone who grew up right here in L.A.," he said. "And when I look at the [Rams] alumni sitting there today … it is a pleasure to bring their team back home and to begin the process of representing Los Angeles with pride."
The Rams showed a minute-long video showcasing the planned stadium and its connection to the L.A. community — the same video they showed NFL owners during a meeting in August.
The feel-good event took an unexpected turn when Demoff mentioned the likelihood of sharing the stadium with another team. The San Diego Chargers have a year to decide whether to join the Rams in L.A. If they pass, the Oakland Raiders will have an identical option for one year.
"We can't wait for the day to welcome a second team into our building to help have a true AFC-NFC rivalry which will be special," Demoff said.
That possibility didn't sit well with the crowd. Boos and catcalls echoed through the arena and caused Demoff to briefly stop until his words could be heard.
The murmurs of discontent resurfaced a few minutes later when Kroenke was asked about the Chargers moving to L.A. More boos almost drowned out the question.
"We don't want them!" several fans shouted.
Kroenke noted that the willingness to host a second team was part of the deal approved by NFL owners.
"We're immediately engaged [with the Chargers] talking about what some kind of deal might look like," Kroenke said. "We've offered several iterations of that, so we'll see where that goes."
After the answer, a shout broke the silence.
"Stay in San Diego!" a fan said.
The Rams can't start selling suites or personal seat licenses until February 2017 unless a second team joins them earlier in L.A. But they can sell season tickets for their temporary site, which is expected to be the Coliseum until the new stadium opens for the 2019 season.
At 10 a.m. Monday, the Rams will launch WelcomeHomeRams.com. The site will allow fans to pay a $100 refundable deposit to add their names to a temporary stadium ticket wait list. Although that will not guarantee the right to buy season tickets, members of the wait list will have priority over the general public and will be assigned a priority group based on when the deposit was received. Each account holder can purchase eight season tickets.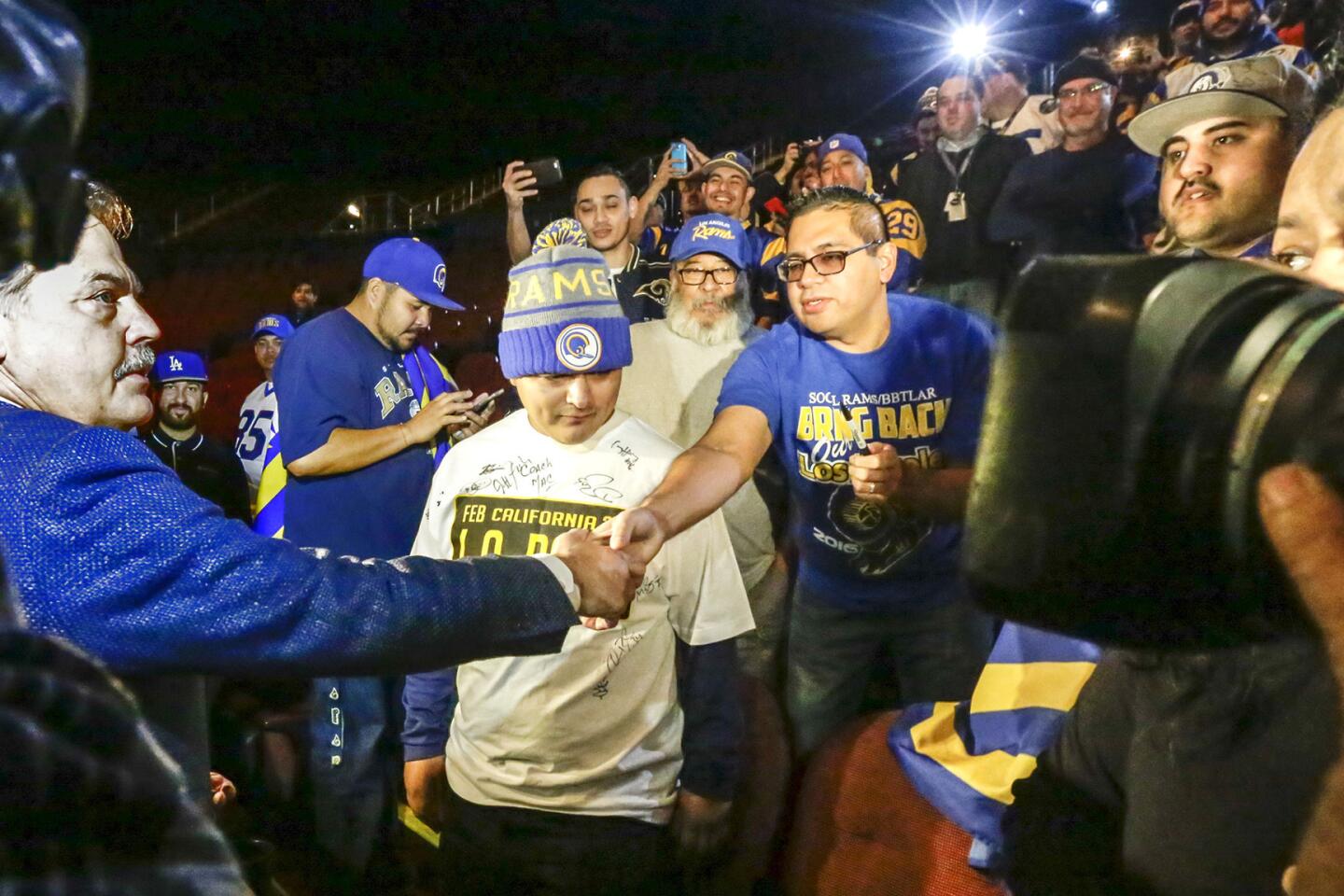 Rams Coach Jeff Fisher, left, greets fans before a news conference at the Forum in Inglewood on Jan. 15.
(Irfan Khan / Los Angeles Times)
Inglewood Mayor James T. Butts Jr. addresses a news conference Friday at the Forum to re-introduce the Rams to Los Angeles.
(Irfan Khan / Los Angeles Times)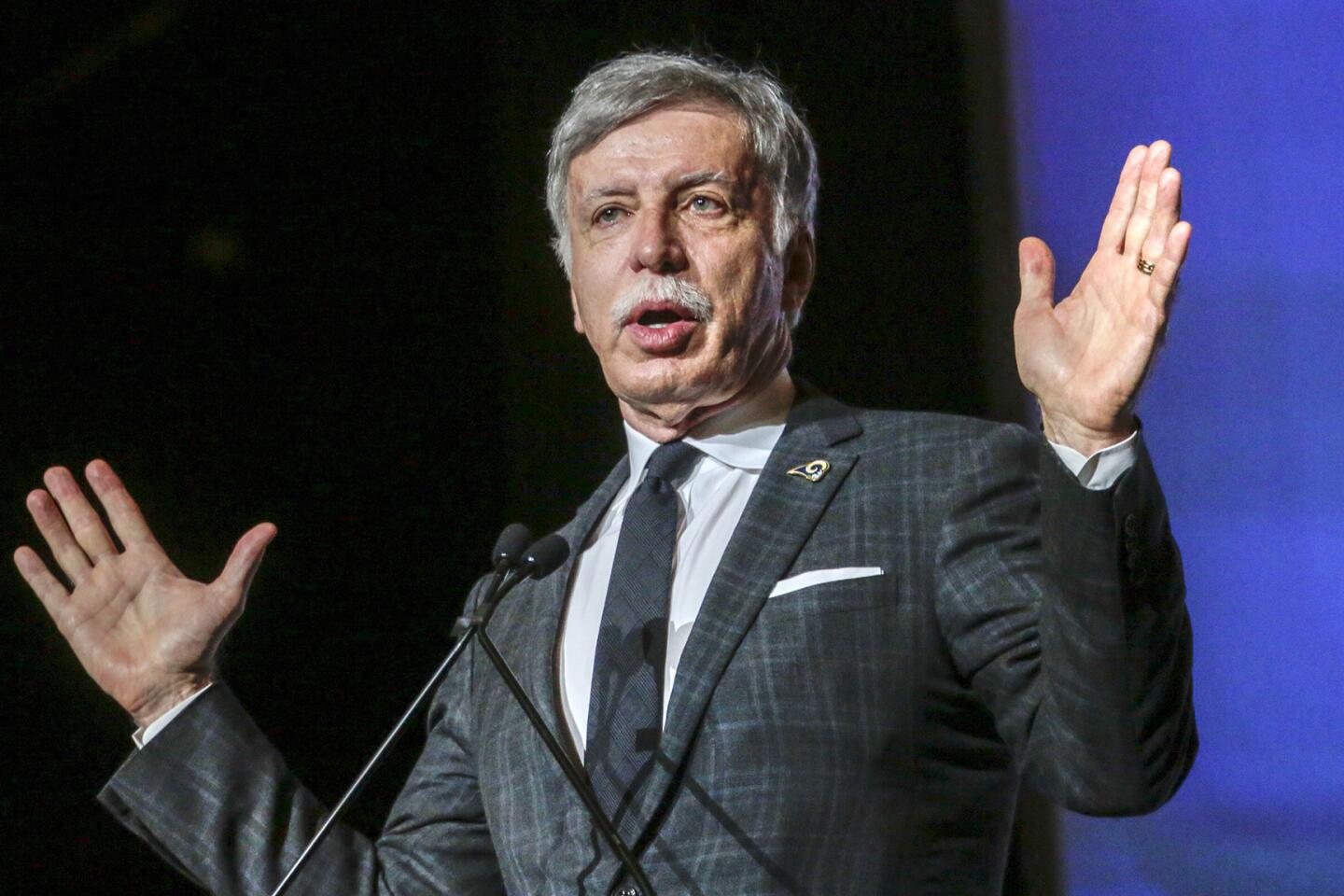 Rams owner Stan Kroenke, a 68-year-old billionaire who rarely makes public appearances, speaks during a news conference on Friday at the Forum.
(Irfan Khan / Los Angeles Times)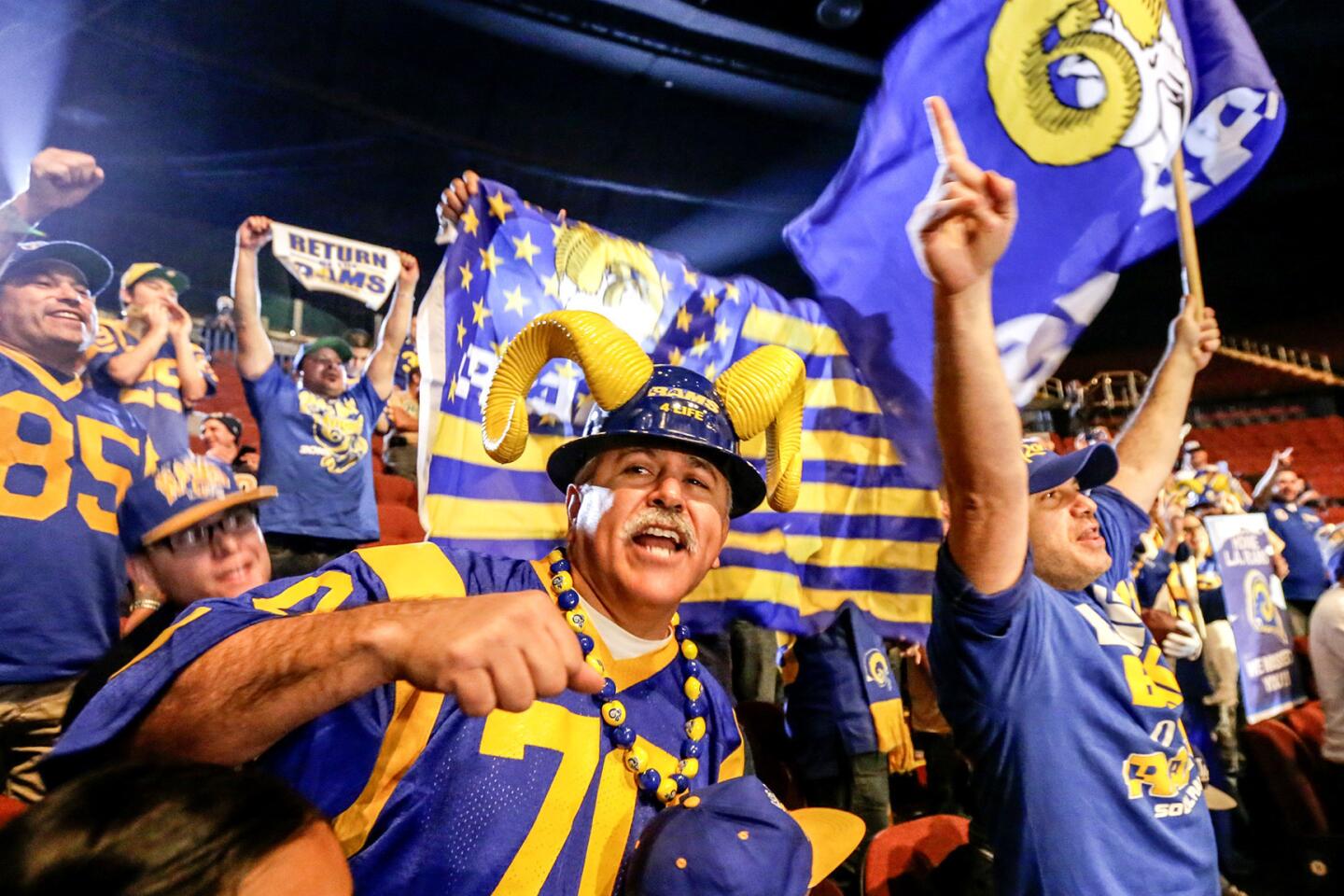 Rams fans cheer as team representatives hold a news conference at the Forum in Inglewood last Friday.
(Irfan Khan / Los Angeles Times)
Rams fans celebrate the return of the team to Los Angeles during a news conference at the Forum in Inglewood on Friday.
(Irfan Khan / Los Angeles Times)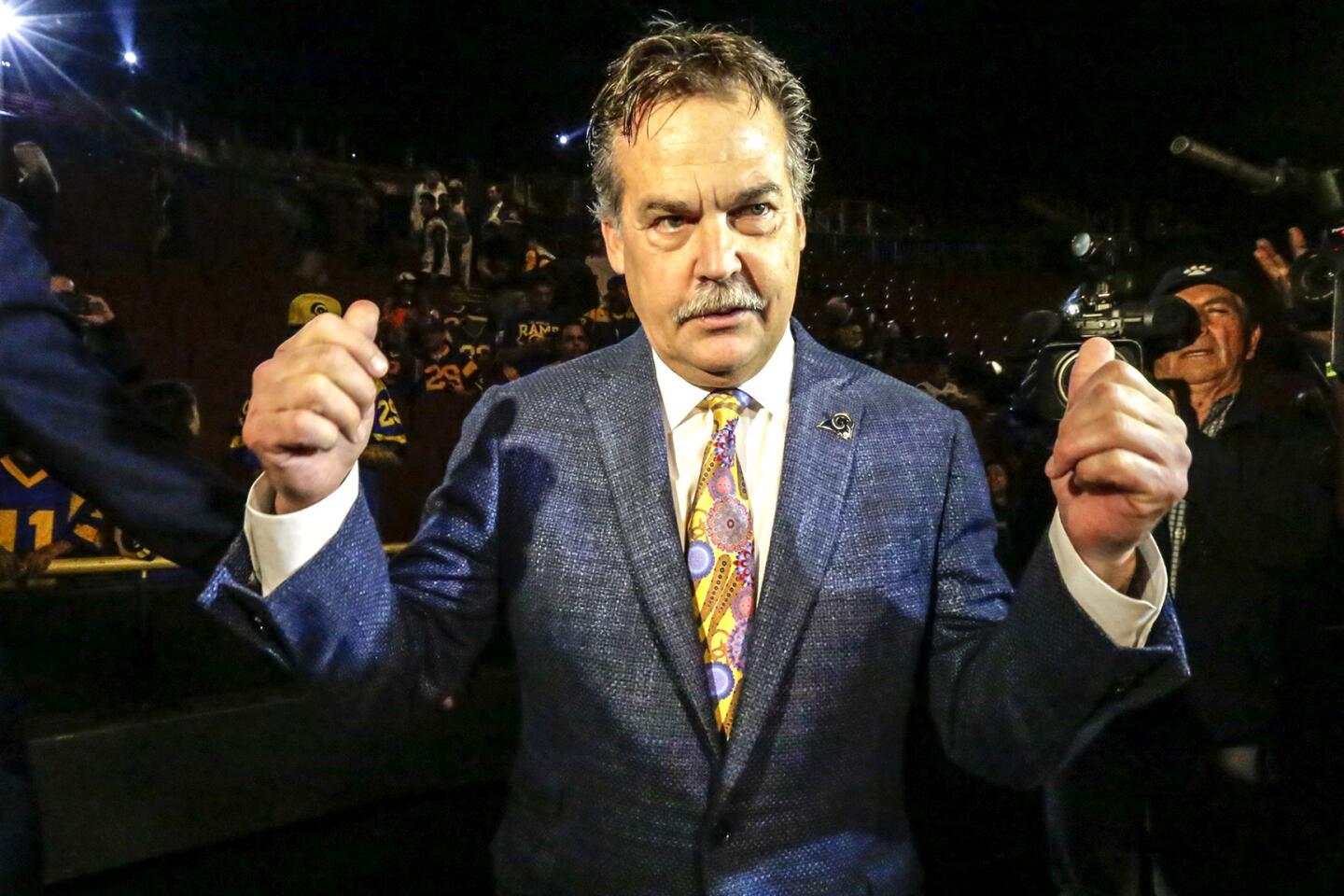 Rams Coach Jeff Fisher takes part in the news conference at the Forum in Inglewood on Friday.
(Irfan Khan / Los Angeles Times)
Rams owner Stan Kroenke, left, is joined by chief executive Kevin Demoff, center, and Chris Meany of Hollywood Park Land Co. after the news conference to formally announce the team's return to L.A.
(Irfan Khan / Los Angeles Times)
Sales are scheduled to start in the spring. Ticket pricing has yet to be determined.
"The ticket prices starting off this year will be very comparable to what we had in St. Louis," Demoff said. Season ticket prices per seat in St. Louis ranged from $300 to $1,750 for the 2015 season.
People who purchase season tickets in the temporary stadium will be given priority to evaluate seat options in the new Inglewood stadium before the general public.
After the cheers faded and the news conference ended, guests munched on cake with a rendering of the stadium imprinted on the frosting.
"While it is great the 10 Sundays a year we will be playing in Inglewood, we will be part of this community 365 days a year," Demoff said. "We can't wait to bring the power and passion of the NFL to this community to make sure that we activate great fans."
Get our high school sports newsletter
Prep Rally is devoted to the SoCal high school sports experience, bringing you scores, stories and a behind-the-scenes look at what makes prep sports so popular.
You may occasionally receive promotional content from the Los Angeles Times.