Column: Fans get first look at Chargers' interim home field at StubHub Center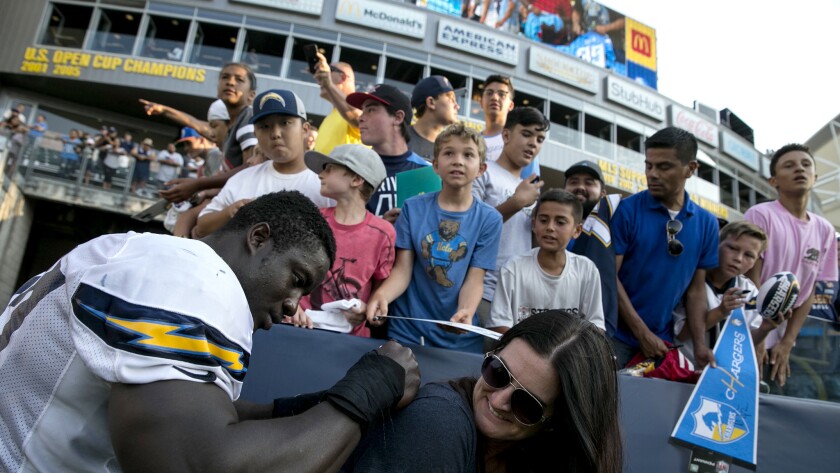 Cory Petroll has some explaining to do to his buddies back home.
He's a Chargers fan from San Diego who had his heart ripped out when the team packed its bags for Los Angeles, but he showed up Saturday for his team's joint practice against the Rams at StubHub Center.
"I tell everybody I'm a fan for life," said Petroll, 30, wearing the No. 17 jersey of his favorite player. "I'm not happy about it, but I love the Chargers and I love Philip Rivers probably more than anybody on this planet."
Petroll might be in the minority — droves of San Diegans have sworn off the franchise — but the Chargers had a pretty robust turnout for the debut of their cozy new home. The Chargers, who opened only the lower level of the stadium, extended invitations to fans who have either bought season tickets or are on the waiting list. The team estimated attendance at 8,000.
"I walked out and saw the place and said, `This is pretty cool,' " Chargers coach Anthony Lynn said. "It was good energy today. I can only imagine when it's packed."
It is a bizarre experiment, NFL games in a 27,000-seat venue, one less than half the size of every other stadium in the league. The Chargers will play here for three seasons while Rams owner Stan Kroenke is constructing his $2.6-billion palace in Inglewood.
With the nation's No. 1 sports league competing against the couch — fans are increasingly fond of staying home to watch games on TV — it will be fascinating to see whether the intimate feel of StubHub causes a ripple effect around the NFL.
"This feels more like a college stadium," said former NFL linebacker Kirk Morrison, now an ESPN analyst. "It feels like the fans are really holding your hand if you're the home team. You're going to be able to feel that. At the same time, if you're playing poorly, you're going to be able to feel that as well."
The Chargers took a test run in the 30,000-seat soccer stadium they will now call home with a scrimmage against the Rams. Hear from Philip Rivers (and others) on the experience.
Some sights were familiar — the $5 waters, $14 beers and $15 fancy grilled cheese sandwiches — while others were only-at-StubHub scenes. There were, for instance, some unique seats simply not available in other stadiums around the league. There's a club behind the south end zone that features restaurant booths looking directly onto the field. Were there not a net behind that goal post, a field goal could easily fly through an open window and into a bowl of buffalo wings.
It's all good energy now, with every team at 0-0, and the start of the exhibition season a week away. The Chargers will take the wrapper off their new digs next Sunday night with a home game against Seattle. Part of the reason they didn't open Saturday's event to all comers, or open the upper decks, is because they wanted an especially manageable crowd for their dry run.
There's also a section that sits directly on the field, a safe distance behind the players and down closer to the goal line. Whereas other stadiums have ground-level suites, these might be the league's only on-field seats.
Rich Gray paid $7,000 per seat for those season tickets that put him mere yards from the action. He brought his wife and two young daughters Saturday, although he's conflicted about his situation. He's a Rams fan who also has season tickets at the Coliseum, and three times this season the Rams and Chargers will have simultaneous home games.
"When the Chargers moved up, it took a minute for me to embrace them," Gray said. "But we went to the first day of training camp, they treated us well, and Philip Rivers signed my daughter's jersey."
Saturday, Gray was sitting in the NFL's version of the Jack Nicholson courtside seats. He was so close to the players he might have been able to overhear their conversations, but for the ceaseless music cranked at full volume.
AEG, which owns the venue, allowed a reporter to take a small group of spectators to the upper corner, the farthest seats from the field. Vanessa Padilla, who had Chargers season tickets in the upper deck behind an end zone at Qualcomm Stadium, said those "worst" seats at StubHub would be the best she had ever sat in for an NFL game.
The challenge for the Chargers will be building a fan base in Los Angeles, and getting fans to pay premium prices 10 times a season, rather than people looking at these games as a one-off boutique experience.
That requires winning. And for some, even that won't do the trick.
"I'm a Raiders fan," said George Barbosa of Long Beach, who joined a friend at StubHub just to survey the scene. "When the Raiders come here, this is going to be a home game for us."
Follow Sam Farmer on Twitter @LATimesfarmer
---
Get our high school sports newsletter
Prep Rally is devoted to the SoCal high school sports experience, bringing you scores, stories and a behind-the-scenes look at what makes prep sports so popular.
You may occasionally receive promotional content from the Los Angeles Times.