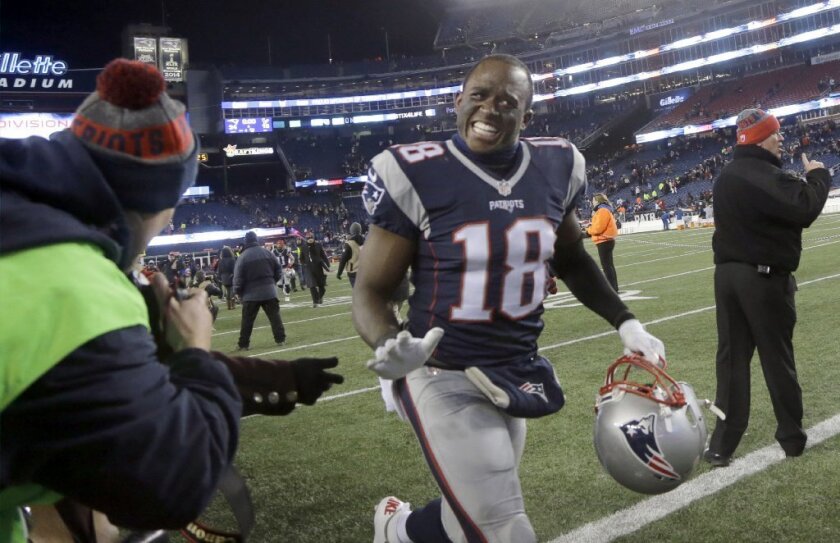 Matt Slater should be one of Jim Mora's best recruiting tools for UCLA football, especially on the eve of national signing day Wednesday. Slater is a former Bruin who became a six-time Pro Bowl special teams player and will be seeking his second Super Bowl ring on Sunday with the New England Patriots.
Except Slater has never even spoken to Mora.
"Actually, I've never met Coach Mora, no," Slater said Monday at Super Bowl media day. "I haven't been back to campus in a while."
It's not that Slater doesn't like giving back to the community. In fact, he gives back so much that he recently won the 2016 Bart Starr man of the year award for community service.
Slater said that if UCLA needs him, Mora just has to call.
"Certainly, if they reached out to me I'd love to offer my hand in whatever they need me to do," Slater said. "That place gave me a great opportunity and I would love to go back there and have an impact however I could."
Under Mora, all former players have a standing invitation to attend practice, but Slater lives full-time in the Boston area and has yet to visit. A fifth-round draft pick in 2008, he said he still follows UCLA.
"I was watching Josh Rosen when he played for St. John Bosco," Slater said. "I'm excited about the direction they're heading in, I have a lot of faith in Coach Mora."
So, yeah, all the coach needs to do is call.
"Alumni can teach current players a lot of things about their experiences, creating a family environment there is very important, especially at the collegiate level," Slater said.
"If they reach out to me I'd gladly show up to whatever they need me to show up to, I'd be glad to help out however I could."
---