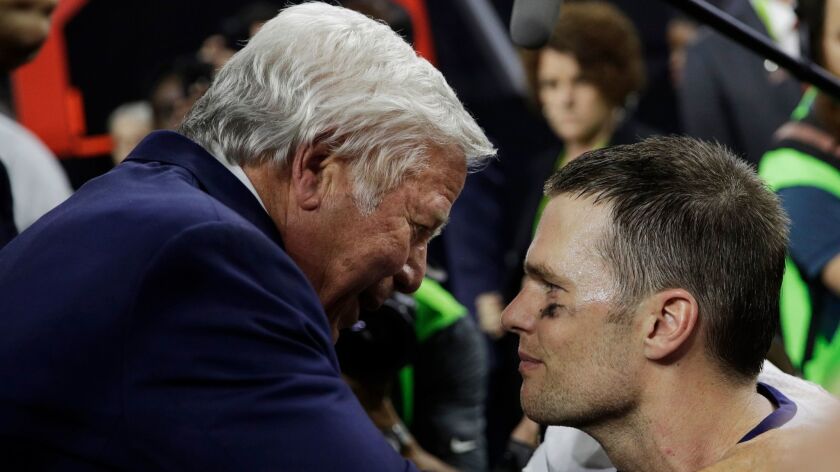 Tom Brady can do anything.
Those of us who have been paying attention for the better part of two decades now know this. The New England Patriots quarterback is pretty much unstoppable and only seems to be getting better with age, as the 39-year-old player most recently showed by leading his team to the most dramatic comeback in Super Bowl history earlier this year.
So why shouldn't we believe Brady when he says he thinks his career could extend for the better part of yet another decade?
Patriots owner Robert Kraft has had the best seat in the house for all of Brady's on-field magic, and he certainly takes the superstar QB at his word on this matter.
"As recently as 2-3 days ago, he assured me he'd be willing to play six to seven more years and at the level he performed," Kraft told reporters Monday at the NFL's annual meeting. "There's no one that would be happier than I, and our fan base."
He added: "I think Tommy's sustained excellence is just unbelievable. It's a lifestyle. He's in training now, it's not like he's stopped. ...
"He's really dedicated. The thing that's amazing about him, to this day he hasn't changed as a human being in how he relates to people, but also how he works out. The only thing that's probably changed is how he eats and his diet. I'm not sure avocado ice cream is right for me, but if I could look like him and perform half as well, I guess I'd do it."
Brady's backup, Jimmy Garoppolo, has been the topic of many trade rumors this off-season, given that his contract with the Patriots is up after the 2017 season. And with Brady now apparently talking about playing until 2024 or so, such talk is only going to heat up more.
Kraft said he leaves such matters to Coach Bill Belichick.
"I charge him to handle all football matters," Kraft said of Belichick. "We're privileged to have the greatest quarterback in the history of the game, and it looks like he's playing pretty solid. He's off the charts, in my opinion, and we're lucky to have him.
"That's the most important position on the team, needless to say. I don't think anyone could say you have too much depth at that position. I've charged [Belichick] to make those decisions. I'll leave that with him."
Twitter: @chewkiii
---