Behind the scenes, LA 2024 consultants work to push the bid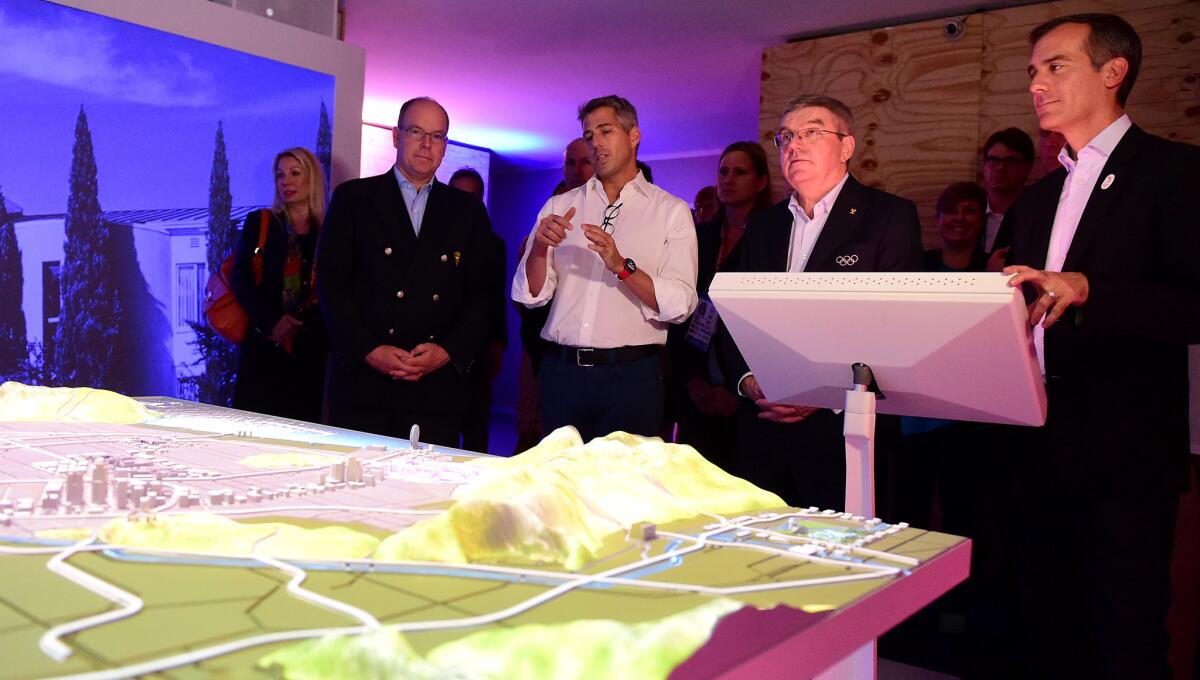 Reporting from Rio de Janeiro —
Olympic Stadium comes alive at dusk with fans arriving for the late session, lots of chatter and laughter, everyone eager to watch Usain Bolt in a 200-meter semifinal.
Beneath the stands, in a dank concourse, Doug Arnot and Bill Hanway emerge from a meeting that ran longer than expected. It has been another tough day and they look a bit haggard in their matching purple shirts.

For the record:
6:28 a.m. May 22, 2019An earlier version of a display quote was attributed to consultant Bill Arnot. The consultant's name is Doug Arnot.
"This is not glamorous," Arnot says.
They are in Rio as paid consultants to help pitch Los Angeles' bid for the 2024 Summer Games.
While Mayor Eric Garcetti and sports agent Casey Wasserman serve as the face of the campaign — schmoozing with International Olympic Committee members at cocktail receptions and private dinners — Arnot and Hanway do the grunt work.
For the past two weeks, they have slogged through traffic and stood in hallways, waiting to meet with the international federations that govern each sport at these Summer Games.
Flipping open his ever-present tablet, Hanway runs through a presentation they have just given to track officials, swiping through pages of technical drawings and artistic renderings.
"We're the nuts-and-bolts nerds," he says.
But their work involves more than specifications and diagrams — they must strike a measured tone in making the case that Los Angeles would be a fitting host for the Olympics.
::
Each of the other 2024 contenders — Paris, Rome and underdog Budapest — also sent a contingent to Brazil. The bid race here has been every bit as intense as the athletic events.
"We are honored to participate in such a competition and compete with fantastic cities," said Balazs Furjes, chairman of the Budapest contingent. "But as much as we are kind of afraid of them, they should be afraid of us too."
Because we don't have a lot to build, we can spend time on all the details that matter.
— Doug Arnot, consultant to LA 2024 Olympic bid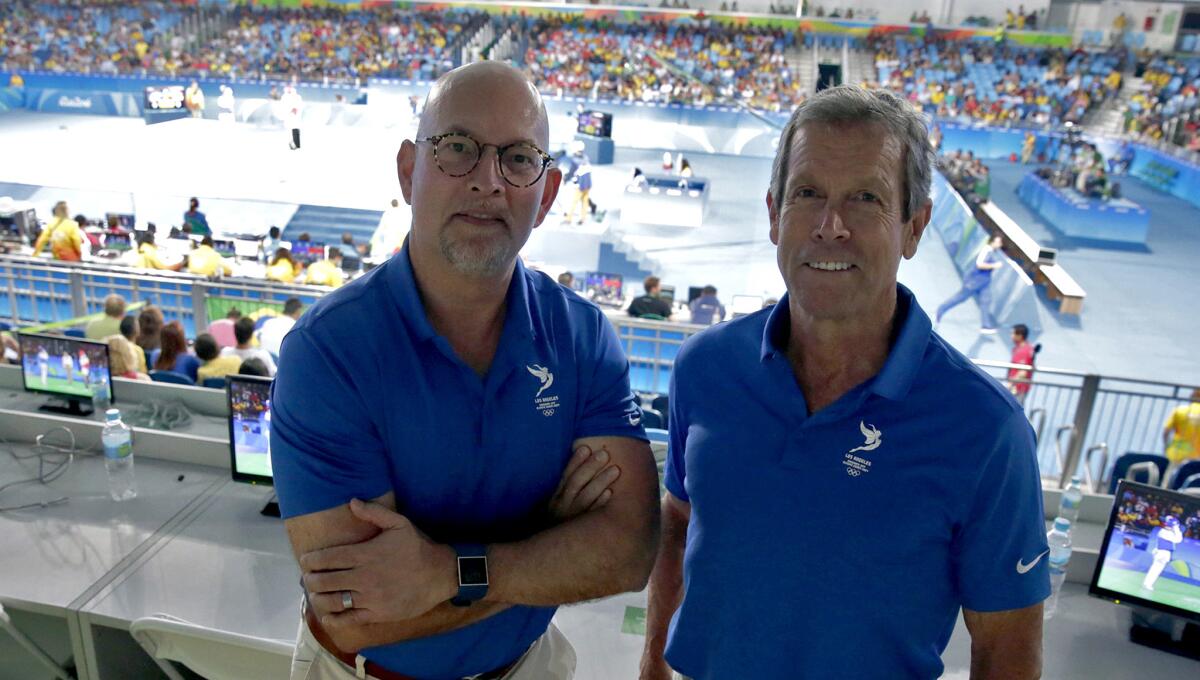 The tenor of the battle has been influenced by Rio's struggles.
Crime, pollution and Zika fears aside, these Games have been an operational headache. There has been green water in the diving pool, stray bullets zipping through the equestrian venue and fans waiting in long lines outside arenas.
"I think in the future, the IOC is likely to vote for a city where they have a high level of confidence that the Games can be delivered in a professional manner," said Larry Probst, chairman of the U.S. Olympic Committee and an IOC member.
The host city's problems have played into L.A.'s campaign as a safe choice, a metropolis with world-class venues and experience in hosting big events. Conveying this message to leaders of sports such as judo, gymnastics and volleyball — who hold sway in the Olympic world — has been tricky.
If Arnot and Hanway were to dwell too long on Rio's foibles or how L.A. might do better, it could alienate federation executives who supported bringing the Games to South America for the first time.
After decades in the business, the consultants know better; they have served in some capacity for the 2012 London Games, Rio and the upcoming 2020 Tokyo Games. Arnot also worked for Chicago's losing 2016 bid.
Hanway, 55, an architect for AECOM who splits his time between L.A. and London, has focused on the master plan during meetings here. The nomadic 65-year-old Arnot — whose resume includes stints as a prosecutor in Massachusetts and head of the U.S. rugby federation — has addressed operations.
Between them, they know most federation officials.
"And we know the top five questions for every sport," Hanway said.
Common themes among the federations are short bus rides from the Olympic village to their venue, adequate training facilities and big crowds in the stands.
Last week, after driving through an hour of traffic to reach Olympic Stadium, Arnot and Hanway waited in a third-floor lounge until there was a break on the track.
When federation officials arrived, the consultants showed them a blueprint of Exposition Park that included a refurbished Coliseum, a new soccer stadium where the Sports Arena stands and parking lots that would be converted to an expansive warmup area.
Traffic flow and well-stocked concession stands were discussed during the hour-long meeting. Arnot and Hanway emphasized that track and field would not have to share the stadium with any other sport, as it has in Rio.
"The federations like to know that their sport will be properly taken care of," Hanway said.
This idea of making officials feel special is significant. Ironically, the advantage that presumed front-runners L.A., which hosted Summer Games in 1932 and 1984, and Paris (host in 1900 and 1924) hold — a wealth of existing venues –— might also present a challenge.
IOC members have a history of choosing cities that promise to build them shiny new toys. So how does LA 2024 prove its desire to host the Games in another way?
The pictures in Hanway's tablet depict elaborate "overlays" — cosmetic transformations that venues would undergo for the Olympics.
The Coliseum would benefit from a multimillion-dollar renovation planned by USC and a temporary, raised track that would create room for offices and a 60-meter warmup track underneath. The StubHub Center in Carson would become a carnival-like scene with multiple sports held on the property.
If the marathon starts and ends in front of City Hall, as currently proposed, giant television screens and vendors could fill a public viewing area in Grand Park.
Arnot and Hanway have something additional to offer, something almost as precious as the millions of dollars another bidder might promise to spend on venue construction: time and attention.
The small things have been a sticking point in Rio. Foot-traffic flow has been sluggish with a confusing layout in Olympic Park. Many times, concession stands haven't had enough food and there have been too few entrances and exits for fans.
"Because we don't have a lot to build," Arnot said, "we can spend time on all the details that matter."
::
The day after their meeting with track officials, the LA 2024 consultants arrived at Carioca Arena 3 to visit with the taekwondo federation, one of the last stops on a two-week effort to see all 28 federations in the Summer Games.
Federation officials sometimes kept them waiting, but they were happy to talk.
"It's always good to speak with our future hosts," said Nenad Lalovic, the wrestling federation president. "We can inform them what we really need."
More attention has been paid to the work of Garcetti and Wasserman, who have met with famous athletes and influential IOC members, trying to build high-level relationships within the Olympic movement.
The bid leaders were often surrounded by television cameras and reporters at official events.
Arnot and Hanway have circulated more anonymously, walking through venues with backpacks slung across their shoulders. Wasserman calls them "the best in the business," adding that they have been crucial to LA 2024's bid.
That sort of talk makes the consultants shrug. They aren't used to media attention, saying they only hope to set the stage for what bid leaders are doing at fancy receptions and dinners.
"If we have solid technical foundation," Arnot said, "the [IOC voters] will be relaxed enough to listen to that broader message."
Get the latest on L.A.'s teams in the daily Sports Report newsletter.
You may occasionally receive promotional content from the Los Angeles Times.