Those who survive are champions in big air
Reporting from PYEONGCHANG, South Korea —
The bloody patch on Max Parrot's chin pretty much said it all.
On a day when some of the world's best snowboarders pushed each other to go for broke, the inaugural men's big air contest at the 2018 Winter Olympics turned into a game of survival.
One after another, pre-contest favorites — including Parrot — fell while attempting high-level tricks.
That left an opening for Sebastien Toutant of Canada to win gold by landing a pair of difficult 1620 jumps and then watching from the bottom of the hill as the riders who came after him crashed and burned.
"It was really stressful waiting down there," Toutant said. "I wasn't wishing like bad luck to anyone … but happy to hold up."
The silver went to Kyle Mack of the U.S. and the bronze to the surprising Billy Morgan of Great Britain. Mack, in particular, has always seen himself as more of a stylist than a daredevil.
"I was really stoked," he said. "To walk away with a silver here today is just mind-blowing."
The big air event has riders starting from atop a 160-foot tower, flying down a long ramp and launching themselves off a jump as judges score them on a variety of elements. Each competitor gets three tries with the two highest scores counting.
Saturday in Pyeongchang marked the event's Olympic debut for men — the women went earlier, with Anna Gasser of Austria winning — so the 12 finalists were hungry for a historic victory.
They were also performing in front of Ivanka Trump, who showed up in a red ski suit and caused television cameramen to swivel their lenses toward the stands in the early part of the competition.
"That's pretty cool," Red Gerard of the U.S. said.
Having already pulled out some tough jumps in qualifying earlier this week, the finalists upped the ante for the final.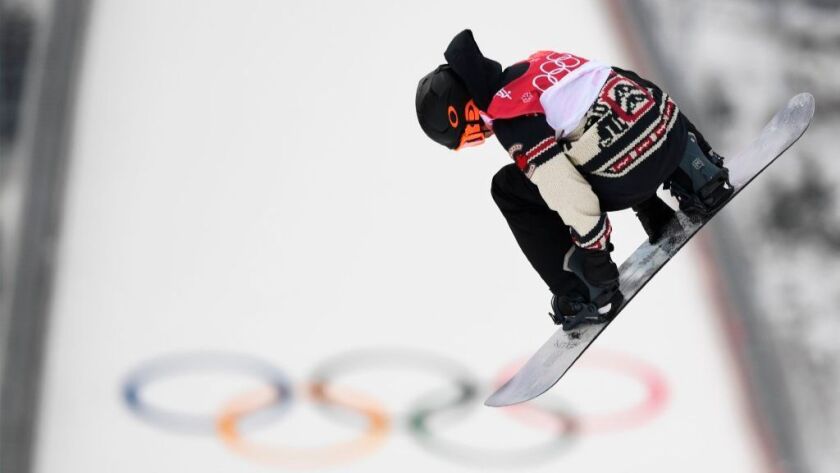 Conditions did not help any as clouds blew over and affected the lighting. The snow was a little faster, too, making it harder to stick landings.
Gerard, who won the slopestyle competition at the start of the Games, had two solid jumps but could do no better than fifth. Teammate Chris Corning hovered near a podium spot but settled for fourth after attempting an 1800 — five full rotations — on his last jump and falling.
"We gave it our best shot," he said. "Just couldn't get over my board to land it."
A heavy favorite to win, Parrot attempted not one but two 1800s and ended up on his face both times. Thus the bloodied chin.
"I'm bummed," he said. "But I have no regrets about the tricks I chose to do."
If Toutant went smaller, it was only by a degree. He started with a cab triple-cork 1620 — 4½ rotations — and followed that with a backside triple-cork 1620.
"Pretty much as perfect as I could ask for," he said.
Mack took a slightly different route to the silver, performing a couple of 1440s. That used to be the standard for winning, but the sport has progressed wildly.
So the American impressed judges with something other than rotations, executing a spectacular if risky grab on his second jump.
The "bloody Dracula" involved putting both hands behind his back to grab the tail of his snowboard in midair. It's a maneuver that had previously resulted in painful wipeouts.
"In practice, I gave it a couple attempts but could never actually land it and get the grab at the same time," he said. "After I rode away, going down the landing, I was like, wow, I did it. Finally."
As the reigning X Games champion, Parrot expressed surprise at the day's results. Teammate Mark McMorris, Carlos Garcia Knight of New Zealand and Niklas Mattsson of Sweden ended up at the bottom.
"For sure, some of the other guys on the podium are not the ones we see normally," Parrot said.
That didn't matter to Toutant, who had some podium finishes on his resume but nothing of this magnitude, at least not in big air.
As his competitors gambled and lost, he was more than happy to be the last man standing.
"I've had some ups and downs in contests," he said. "But definitely the world knows I have the skills to be up there."
Follow @LAtimesWharton on Twitter
---
Get the latest on L.A.'s teams in the daily Sports Report newsletter.
You may occasionally receive promotional content from the Los Angeles Times.