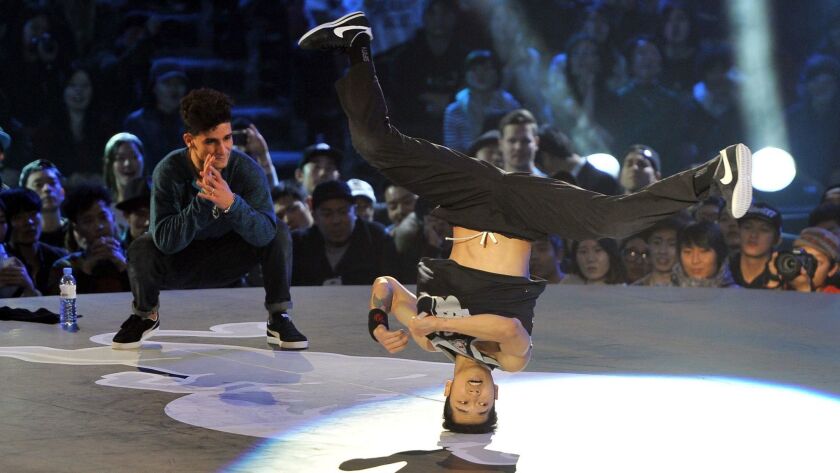 French officials have declared that not only is breakdancing a sport, it should be an Olympic sport.
The organizing committee for the 2024 Summer Games in Paris has included men's and women's "breaking" on a list of competitions it wants to add to the program, along with skateboarding, surfing and sport climbing.
"Breaking is now seen as a sport in its own right," Paris 2024 stated Thursday. "A quintessentially urban sport, breaking occupies a place of its own thanks to its universality and popularity among young people."
Host cities are allowed to propose a handful of additional events, which must then be evaluated by the International Olympic Committee.
While breakdancing might seem like a shock, it theoretically suits the Olympic movement's ongoing campaign to stay relevant with new generations, an effort that has previously seen the addition of snowboarding and BMX racing.
"We are pleased to see that Paris 2024's proposal for new sports to the Olympic program is very much in line with the reforms of Olympic Agenda 2020, which is striving to make the Olympic program gender-balanced, more youth-focused and more urban," the IOC said in a statement.
Not everyone was happy with the announcement. Squash officials expressed "great disappointment" at not making the short list.
"We truly believe squash could seamlessly integrate into the Olympic program with minimal costs and an optimized pool of participants," the World Squash Federation and the Professional Squash Assn. said in a joint statement. "Our unique interactive glass court would allow squash to bring a lot of additional excitement and spectacular action."
Baseball and softball — cut in the past, then reinstated for the 2020 Tokyo Games — had hoped to be included again in Paris. The sports' combined federation said that it "remains committed to boosting the growth of baseball-softball in France and around the world."
Sign up for our daily sports newsletter »
Paris' new sports otherwise fell in line with Tokyo, which also added skateboarding, surfing and sport climbing.
With young dancers competing under nicknames such as Bumblebee and Ram, breaking debuted at the 2018 Youth Olympics in Buenos Aires and, as Paris 2024 officials pointed out, is "so popular in France that the country is now regarded as second only to the USA in terms of practitioners (approximately 1 million) and the organization of competitions."
IOC officials will consider the proposal this spring. Approval does not guarantee the event will remain on the program for subsequent Games.
Follow @LAtimesWharton on Twitter
---