Column: Golden roar: Japan's Yuzuru Hanyu displays mastery in defense of his Olympic title
Reporting from PYEONGCHANG, South Korea —
Japan's Yuzuru Hanyu rose to the occasion to defend his Olympic figure skating title and American champion Nathan Chen nearly rose from the depths of 17th place to grab a medal, propelled to fifth place by a powerful performance that featured an Olympic-record five clean quadruple jumps.
The men's figure skating finale at Gangneung Ice Arena was about affirmation, redemption and excellence, about Hanyu crying for sheer joy as he came back from a serious ankle injury to become the first man to repeat as Olympic champion since American Dick Button triumphed in 1948 and again in 1952, about Chen redeeming himself after terrible short-program performances in the team event and the men's individual battle, and a suave Javier Fernandez winning Spain's first Olympic figure skating medal.
When the last Winnie the Pooh doll had been swept off the ice Saturday — Hanyu's fans toss them in tribute to his affection for the beloved A.A. Milne bear — Hanyu had earned his crown with 317.85 points. But the drama lasted until the final skater, when Japan's Shoma Uno overtook Fernandez for the silver medal, 306.90 points to 305.24, and pushed China's Jin Boyang (297.77) off the podium.
Hanyu wasn't perfect, but he was spellbinding as he became only the fourth man to win successive Olympic medals in this event. "I thought there was no point if I didn't win, that it would be a result that would haunt me for the remainder of my life," Hanyu said. "I did my best today and I want to say thank you."
No, the skating world should thank him for so skillfully blending artistry and athleticism.
"He did great. I'm very proud of him," Chen said. "He's really changed the game quite a lot over the past couple years. Back-to-back Olympics — it's huge."
Chen, who trains at the Rinks-Lakewood Ice, had the highest-scored long program, at 215.80 points, but he had put himself in too deep a hole to finish in the top three and ended up with 297.35 points. Seventeen-year-old Vincent Zhou, who trains in Riverside, zoomed from 12th to sixth on the strength of a five-quad long program in his Olympic debut and finished with 276.69 points. Adam Rippon, who also trains at Lakewood Ice, skated an engaging and finely edged program but his lack of quadruple jumps kept his technical score down and left him 10th, with 259.36 points.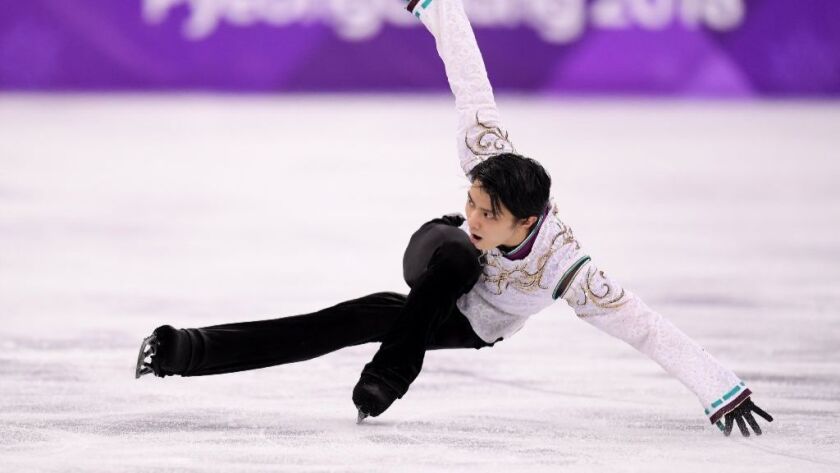 "All three American men finished in the top 10, which is awesome, and Nathan won the free skate and I skated lights out," said Zhou, whose move from 12th to sixth reaffirmed his intentions to continue competing through the 2022 Beijing Winter Games. "It was a great day, something I'll remember forever."
Chen will remember it too, though his memories will be tinged with more than a little regret because of his poor effort in the short program. "If you watch him in practice, you wouldn't be surprised by what he did in the free skate," Uno said in Japanese. "You would be surprised by what he did in the short program."
Because Chen was so far back after the short program, the 18-year-old Salt Lake City native skated in the second group Saturday. He took over first place at about 11:30 a.m. here and sat for two hours in the room reserved for the top three skaters, spending some of the time with Zhou while they recovered and rehydrated. Zhou ate a peanut butter and jelly sandwich.
"I was sort of hoping that I'd be able to remain on the podium, but these guys skated amazing," Chen said. "They definitely deserve it. I'm happy that I was able to at least win the free and end with that.
"I did what I did in the short program and these guys skated well in the short and did pretty well in the long as well. I'm not going to try and make an excuse for that. I just didn't skate the short well."
Hanyu, 23, ranked second in the long program with 206.17 points, but the huge lead he had built after the short program held up. "I thought I won. In Sochi, I thought I might have won. This time, more than anything, I felt I won the battle with myself," he said. "There was nothing to be ashamed about the performance in Sochi, but there were mistakes. I was happy to be able to erase those mistakes."
No mistake here: Hanyu deserved the gold medal. But Chen and Zhou emerged as winners too.
Follow Helene Elliott on Twitter @helenenothelen
---
Get the latest on L.A.'s teams in the daily Sports Report newsletter.
You may occasionally receive promotional content from the Los Angeles Times.