IOC group tours potential L.A. Olympic sites, mingles with stars and offers praise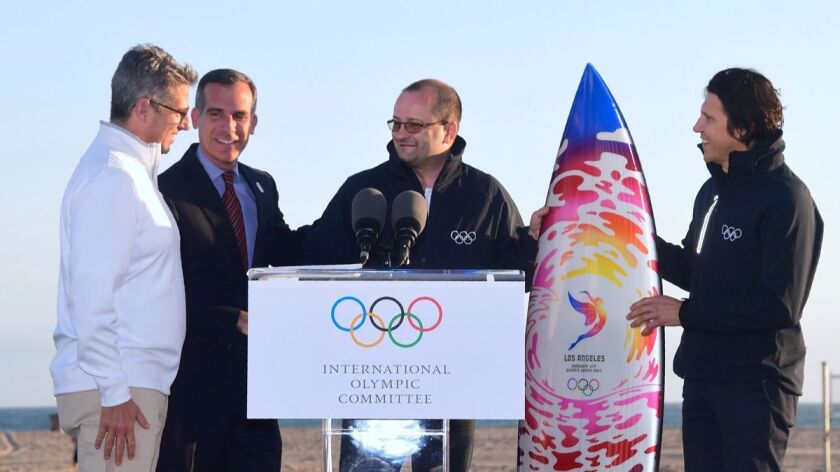 After a string of cloudy days, morning dawned clear and warm on Thursday — a bit of good luck for the private bid committee trying to bring the Olympic Games back to Los Angeles.
With "Follow the Sun" as its motto, LA 2024 had hoped for some blue skies to coincide with a visit by officials from the International Olympic Committee.
The weather might have been the only thing bid leaders left to chance.
Pretty much everything else about the IOC evaluation commission's stay in Southern California this week has been meticulously planned, each detail meant to showcase the campaign.
Some of that preparation has figured into long meetings and exhaustive tours of the 30 or so venues that would be required to host the Games.
Bid leaders might have cleared a significant hurdle Thursday when evaluators reacted enthusiastically to the proposed athletes village at UCLA and media housing at USC.
"We stayed a long time there because those will be key pieces," said Patrick Baumann, chairman of the visiting commission. "These were really impressive because these two beautiful campuses, they have everything."
But technical merits are only part of the equation. LA 2024 has also sought to impress with Hollywood flash, such as a dinner at bid Chairman Casey Wasserman's mansion in Beverly Hills.
Sylvester Stallone mingled with IOC members. So did Kobe Bryant, Disney Chief Executive Bob Iger, Snapchat co-founder Evan Spiegel and tenor Placido Domingo. Wasserman called it a chance to "share some L.A. magic with our guests."
Just four months remain in the contest for 2024, a race that has come down to L.A. versus Paris with no clear front-runner. The IOC has indicated it might name two winners, giving 2024 to one city and 2028 to the other, but that hasn't cooled the competition.
If staging the Games is expensive — L.A. has proposed a $5.3-billion budget — so is bidding. Host candidates often spend upward of $50 million.
The official evaluation represents a major step as delegates travel to each city, gathering information for a report that will be distributed to fellow IOC members who are prohibited from visiting in advance of the vote.
The 2024 commission arrived at Los Angeles International Airport on Tuesday. As darkness fell, buildings in key spots across the city lighted up in blues, yellows and purples — the official colors of the bid.
Commission members were taken to Dodger Stadium to watch an evening game from a luxury suite along the first-base line. Baumann was outfitted in a Dodgers jersey with the number 24, and dessert was in the form of pastries emblazoned with the Olympic rings.
Candidate cities face some restrictions in how lavishly they can entertain, but the rules are more relaxed than the overall bid limitations that seemed to have frustrated Mayor Eric Garcetti.
"It's like dating with a straitjacket," said Garcetti, who has spearheaded the LA 2024 campaign. "It's a little hard to wrap your arms around each other."
He quickly added, "We're trying to do as much Houdini as we can."
So, after a Wednesday filled with presentations in a windowless conference hall downtown, LA 2024 transported everyone to the party at Wasserman's house.
The entrance was lighted in rainbow colors, with luminescent beach scenes projected across the walls inside. Photographs of the event show Bryant and Domingo chatting with guests.
All of that was a prelude to the venue tours on Thursday, which Garcetti referred to as "the day we had been waiting for."
Evaluators walked into Staples Center to find the LA 2024 logo in place of the Lakers' image at midcourt and on the basket stanchions. Around the arena's deserted concourse, television monitors flickered to life with highlights from past Olympic basketball games.
It was no coincidence — not with Baumann also serving as secretary general of the international basketball federation — that balls were quickly produced for a shoot-around.
"I certainly failed miserably," Baumann said.
Though L.A.'s proposal relies almost entirely on existing venues, every site would have to undergo an "overlay." That might entail special signage, decorations, additional scoreboards and seating.
Evaluators were provided with "augmented reality" in the form of hand-held tablets. Wherever they pointed the devices — up and down, side to side — the screen showed a moving digital image of what the venue would look like for the Games.
Old-fashioned television footage came into play at the Coliseum when Nawal El Moutawakel, an IOC member and former hurdler, arrived. The giant scoreboard played scenes of her gold-medal performance at the 1984 Los Angeles Games.
El Moutawakel grew teary-eyed, Garcetti said.
Evaluators praised the way LA 2024 had grouped venues in clusters around the city. They liked the concept of "live parks" where fans could gather to experience the Olympics without having to buy expensive tickets.
Bid leaders had been eager to show they made a smart move by proposing to use UCLA and USC instead of constructing new housing. They wanted to prove the accommodations were something more than just bare-bones dorm rooms.
Christophe Dubi, the IOC's sports director, seemed impressed when he said after the tour: "One of the things we all concluded … we all want to go back to [college]."
By Thursday evening, everyone had arrived on Santa Monica Beach for an outdoor news conference, followed by appetizers at a nearby hotel.
"It was a long day on the road," Wasserman said. "But we had a lot to see."
The evaluation visit was scheduled to conclude with another round of meetings Friday morning, followed by a final news conference. And after that?
The IOC delegation was headed for Paris.
Follow @LAtimesWharton on Twitter
---
Get the latest on L.A.'s teams in the daily Sports Report newsletter.
You may occasionally receive promotional content from the Los Angeles Times.