Slovenia rallies to upset U.S. in men's hockey, 3-2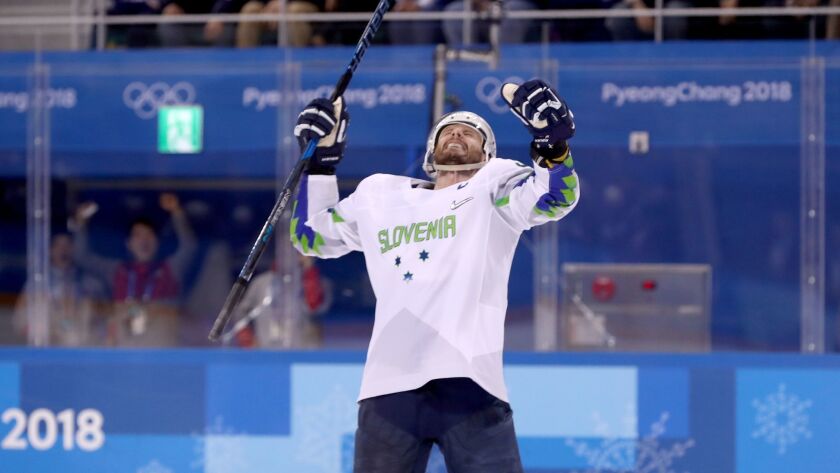 Reporting from Pyeongchang, South Korea —
The U.S. men's hockey team doesn't have a monopoly on miracles that occur on Olympic ice.
Slovenia, which had to get through a qualifying process to earn a place in this tournament — and then had to say goodbye to its best player, Kings center Anze Kopitar, because the NHL wouldn't let players represent their homelands here — wrested control of a game the Americans had dominated and rallied for a stunning 3-2 overtime victory Wednesday night at Kwandong Hockey Centre. Playing in only their second Olympic tournament ever, the Slovenians stayed poised and positive while the U.S. built a 2-0 lead and pounced when they sensed the Americans were losing energy and momentum.
Taking NHL stars out of the equation might prove to be a bigger equalizer here than anyone could have imagined. Slovakia's 3-2 victory over the favored Olympic Athletes of Russia on Wednesday provided additional reason to believe this is going to be a wild ride because the talent level doesn't differ much when teams are deploying players from the KHL and second-tier leagues in Europe.
Slovenia couldn't come close to matching the U.S. team's depth and skill at Sochi four years ago. This time, it had no reason to feel inferior. "We know that we had a lot of chances in the first and second period and that we could play with them. It was no problem," Slovenia forward Blaz Gregorc said. "So we just said we need to stick together and fight to the end."
That they did, even though goals by former Kings farmhand Brian O'Neill from the slot at 17:44 of the first period and Jordan Greenway, on a backhander from deep on the right side at 12:57 of the second period, seemed to put the game out of reach. But the Americans' energy inexplicably flagged in the third, to the surprise of coach Tony Granato.
"I thought the way we played the first two periods we were wearing them down," he said. "We made them play in their own end a lot. We created a lot in the offensive zone. I thought we did a great job on the forecheck in the offensive zone. If you look at the first two periods you would have thought that they would have been tired."
Jan Urbas put a dent in the U.S lead when he scored through a screen at 5:49 of the third period. Jan Mursak, who played 46 NHL games with the Detroit Red Wings, tied the score by converting a rebound with 97 seconds left in the third period with Slovenia's goalie pulled in favor of an extra skater.
"I don't think we played bad in the first two periods. We just didn't score. We realized we needed to keep the puck a little bit more," Mursak said. "After we scored that first goal, I think we really got that extra energy and the feeling that we can score some more. Then we started shooting the puck and got a lucky rebound and it went in."
Mursak won it from close range 38 seconds into three-on-three, perhaps the team's biggest Olympic victory to date. "I think it's huge," Gregorc said. "Everybody's cheering. I think everybody is up on their feet and they're really happy for us, I think."
Maybe not the Americans, who knew they bungled this one. "In the first two periods we were pressuring the puck, we got in on the forecheck, used our speed, created turnovers and brought pucks to the net," U.S. captain Brian Gionta said. "We got away from that in the third."
No kidding. "That third period," O'Neill said, "is something we need to learn from."
Granato said he didn't want to make excuses but he suggested the long day (the game began after 9 p.m. Korean time) and Olympic first-timers' excitement might have drained his players mentally by the late stages of the game. But Slovenia dealt with those same factors, and handled them well. If it's more than that—maybe a lot of speed but not enough finishers-- Granato doesn't have much time to remedy it, since the U.S will play Slovakia here Friday at noon. That game, he acknowledged, will be a challenge.
"Tournaments are about getting better each and every game and learning from what happened," he said when asked if he will change his approach to the rest of his team's preliminary round games, "so I think more the mindset of realizing it's going to take 60 minutes to close out any team in a tournament like this. Because these are good teams we're playing. We'll go into the game the same way we went into this one…. Tonight is about filing it now and getting ready for the next one. If you drag this one out and you think about it for the next 36 hours, we're not going to be ready to play in a couple days. This one's over and done with. And we've got to start figuring out how to get the energy we need to be ready for our next game."
Follow Helene Elliott on Twitter @helenenothelen
---
Get the latest on L.A.'s teams in the daily Sports Report newsletter.
You may occasionally receive promotional content from the Los Angeles Times.