Olympic high jumper paralyzed by freak injury now hopes to walk down aisle at wedding
Olympic high jumper Jamie Nieto was paralyzed from the chest down after slipping and landing on his neck while trying to perform a backflip.
Jamie Nieto sprawled face down in the grass near the high jump pit at Azusa Pacific University's deserted Cougar Athletic Stadium, unable to feel his arms or legs.
The two-time Olympic high jumper's mind raced. An instant earlier, he had finished another session coaching four Olympic hopefuls by performing a couple of backflips. He had reeled them off hundreds, maybe thousands of times at the end of each competition before retiring in 2013. But on the warm April morning last year, the 39-year-old's foot slipped. He knew in midair that the flip had gone wrong. His neck crashed into the ground, followed by the rest of his body.
Nieto's chest felt like a tight band encased it. He prayed he wasn't paralyzed.
T.J. Shankar, who grew up in India watching videos of Nieto's jumps, figured his coach was kidding around. Jillian Schmidt, a former Cal Poly Pomona jumper aiming for the U.S. Olympic Trials, thought Nieto's body shook from laughter. They were convulsions, not laughs.
Nieto wheezed three words: "I ... can't ... move."
Sam Saidi, who relocated from Kansas a few months earlier to train with Nieto, called 911.
"We need an ambulance right now. Our coach hit his head," Saidi told the operator, the words spilling out almost too quickly to understand. "Please hurry up."
Someone screamed "Coach Jamie! Coach Jamie!" in the background. Another person told Nieto in a calm voice: "You're going to be OK."
Following the operator's instructions, the group rolled Nieto onto his side to help him breathe. Schmidt cradled the coach's head in her hands.
They admired Nieto, seeing him as the joke-cracking, perfectionist leader of their jump-happy family. He had a magnetic smile and remained relentlessly positive, no matter what obstacle they faced during practices five days each week. He left nothing to chance: long visualization sessions to prepare for any situation and the thick folder called "the bible" filled with every detail of the program. They idolized him and now they choked back tears and panic.
Nieto's eyes seemed unusually calm. He looked as if he had accepted what happened. He asked the athletes to pray.
"It's going to be all right," Nieto told himself, "You just have to go through this."
One of the jumpers, Darius Purcell, fetched a Bible from his car and placed it next to the coach. Saidi shouted prayers. One hand rested on the Bible, the other hand extended skyward.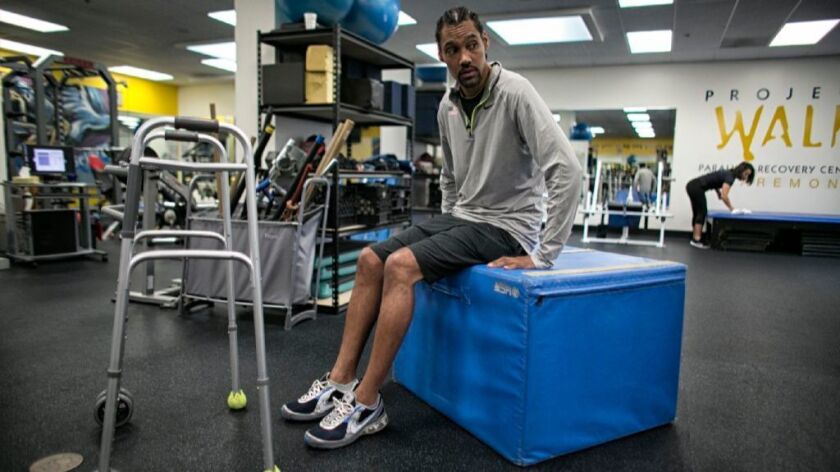 During a five-hour surgery at LAC+USC Medical Center, doctors removed a disk from Nieto's neck and fused the C3 and C4 vertebrae together. The disk jammed into the spine, but it remained intact. In a waiting room, a doctor told Schmidt and the other jumpers it wasn't clear if Nieto could walk again. He was partially paralyzed from the neck down.
Raised in Sacramento, Nieto started jumping after being cut from Valley High's basketball team as a junior. It wasn't easy. Nieto figured he had more down meets than successful ones. He bounced from Sacramento City College to Eastern Michigan University, where he still holds the school's indoor high jump record. He finished fourth at the Athens Olympics in 2004, then at age 35, became the oldest male high jumper to make the U.S. Olympic team and placed sixth at the London Olympics in 2012.
Nieto won four U.S. championships. He had a personal best of 7 feet, 8 inches. He even jumped over a Volkswagen sedan. A backflip — sometimes replaced with a back handspring — became his signature move after every competition.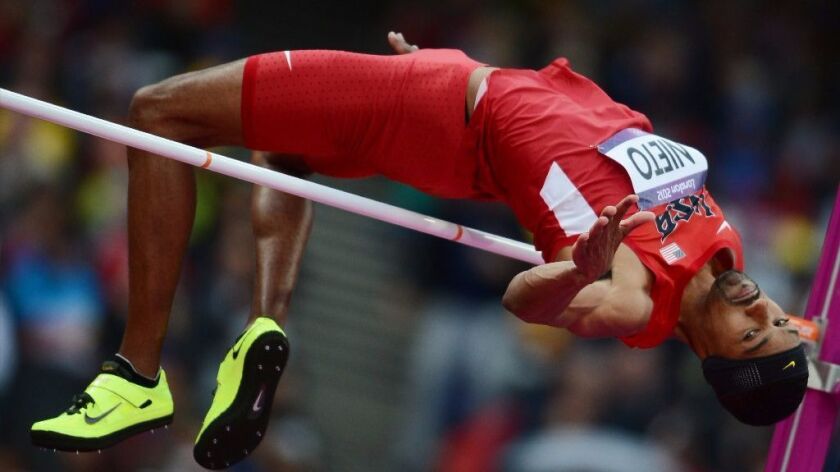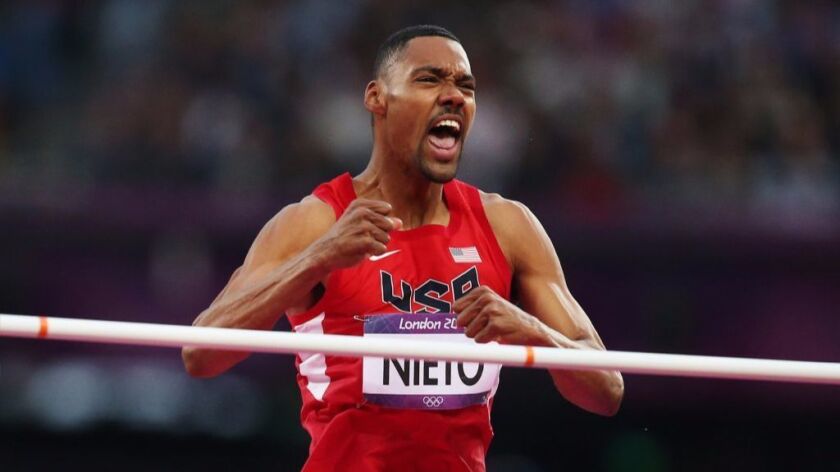 Retirement wasn't any less active. He played Roberto Clemente in a 2013 film about the Pittsburgh Pirates Hall of Famer, wrote screenplays, coached at USC and, on a whim, could still clear 6-10 without any training or a full approach.
Now a tube snaked down his throat to help Nieto breathe. He blinked to communicate with his girlfriend, Shevon Stoddart, a two-time Olympic hurdler for Jamaica. She recited the alphabet; his eyelids fluttered at the correct letter to spell each word.
"I feel like the Olympic Games were a warmup for what he has to do now," said Stoddart, who met Nieto five years ago during an audition for a commercial.
The tube came out. Nieto struggled to take a deep breath. The shallow, halting breaths left him panicked. In those moments, he felt like he was dying.
Nieto pestered doctors about when he could start rehabilitation. He told them he'd return to filming movies in the next year. He shrugged. Squeezed his legs together. Moved a forearm. The process never seemed to move quickly enough. He screamed at his feet to move when Schmidt and Saidi and the rest of the jumpers visited. They prayed; the feet stayed in place.
Three nurses had to help Nieto shower. Left alone, he'd teeter and fall over. He had no core stability. He couldn't sit up or bend over. He felt as helpless as a newborn. He cried.
Three weeks after the accident, Nieto's right index finger twitched. He had moved to the Rancho Los Amigos National Rehabilitation Center in Downey. Each morning, he imagined squeezing his hands together 300 times. He felt like the hands actually moved, though they remained still. The twitch changed everything. By the day's end, he moved seven of his 10 fingers and all of his toes.
He didn't like to see his reflection in mirrors or watch old high jumping videos. They were too painful. And, besides, he wanted to move forward.
"Maybe after 20 years of high jumping it's just programmed into my life and my thoughts," Nieto said. "OK, I'm down now, but how can I do better? I've got to get better."
A few days before leaving Rancho Los Amigos on July 6, Nieto posted a promise on Facebook. The words were familiar to anyone who knew him.
"I'm going to Walk again, I'm going to Run again, I have the Fight of an Olympian."
On an overcast afternoon in May, Nieto faced a floor-to-ceiling mirror inside Project Walk's rehab facility in Claremont. He hefted an inch-thick wooden dowel. Once, twice, three times. His arms trembled. Veins bulged. He grinned.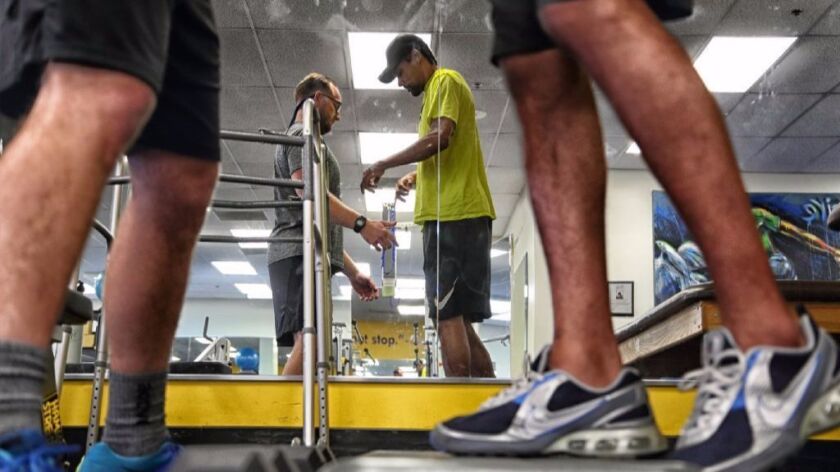 "I'm getting higher," said Nieto, wearing a gray T-shirt from the 2012 U.S. Olympic trials.
The 40-year-old lost his balance and lurched toward the mirror.
"Whoa," Nieto said.
Skye Severns, a recovery specialist, grabbed his chest.
"I got you," Severns said.
This is what recovery looks like. Four two-hour sessions each week plus a fifth day at his South Pasadena home. At first, Stoddart had to lift Nieto from his wheelchair and onto the blue mat used for some of the exercises. When he transitioned to a walker, the journey from the car to the mat took 40 minutes. Now it's down to seven minutes. They time everything.
And, really, each day presents a new obstacle. Nieto needed 45 minutes to tie one shoe for the first time. The exertion left him drenched in sweat. With each small victory, Stoddart gently pushes him to do more. Turning on a lamp. Showering on a bench by himself. Combing his hair. Putting on a shirt. Bench pressing 10 pounds. She wants him to find solutions without her help.
Everything below the chest still feels numb and tingly for Nieto. He compares the sensation to hitting your funny bone. The feeling isn't as intense as previous months. He knows what toe is being touched, for example, but the feeling is numb and distant. His arms feel hot and cold with maybe 70% of their old sensation. His legs feel pressure, but not pain. The left side of his body is stronger, more mobile than the right side, one of the mysteries of recovery. Each day seems to bring more progress.
After the accident, doctors predicted Nieto might regain 30% of his body's previous function. He still chafes at the estimate and figures he's at 60 or 70%. The doctors haven't given him another number.
"They don't know," Nieto said. "I'm well beyond 30%."
He has adapted to a body in transition. He sold his first screenplay in May for the Bounce TV show "Family Time." He dictated it on his iPhone, then pecked out edits with his thumbs. He used the same approach to write the first 10 chapters of his autobiography and collaborate with Stoddart on the script for a horror film about a murderer. He wants to coach again and even joked with Shankar about competing in the Tokyo Olympics in 2020.
"I felt like God told me I'm going to make a full recovery. I've just got to go through this," Nieto said. "You're going to make it. You've just got to keep going, keep pushing."
Walking might be the hardest part. Nieto rolled onto his stomach, then awkwardly propped himself up on all fours. His body shook. He positioned himself to sit on the edge of the mat. The sessions leave him feeling like he spent hours running up and down stadium stairs.
Nieto's legs trembled as he shuffled toward Severns.
"Every step is getting quicker," Nieto said.
He panted and shook and smiled.
Nieto's first unassisted journey last year spanned three steps. Then six steps, 12 steps, 23 steps and finally 53 steps on the one-year anniversary of the accident. Now he's up to 80 steps. They aren't fast, requiring every bit of mental and physical energy he can summon.
Three steps, pause. Stay balanced. Three steps, pause. Don't rest against the wall.
When his body feels as if it's teetering or fatigue creeps in, he shoves the thoughts aside. The next step is all that matters. Well, almost.
"I realized what I wanted out of life," Nieto said. "What was I waiting for?"
He tried to propose to Stoddart in the hospital. She wanted him to focus on recovering. Last October, she pushed his wheelchair into a jewelry store at the Del Amo Fashion Center in Torrance. A clerk handed a small box to Nieto.
"Luckily, my hands were working well enough," he said.
Nieto pried the box open, pulled out the ring and asked Stoddart to marry him. She said yes.
They scheduled a July wedding at a church in San Diego. All the progress and the pain, the little victories and the tears point to one goal. The trip down the aisle and back requires 150 steps. Nieto plans to walk every one.
Follow Nathan Fenno on Twitter @nathanfenno
---
Get the latest on L.A.'s teams in the daily Sports Report newsletter.
You may occasionally receive promotional content from the Los Angeles Times.