Column: Suddenly, a quandary for the U.S. men's figure skating selection panel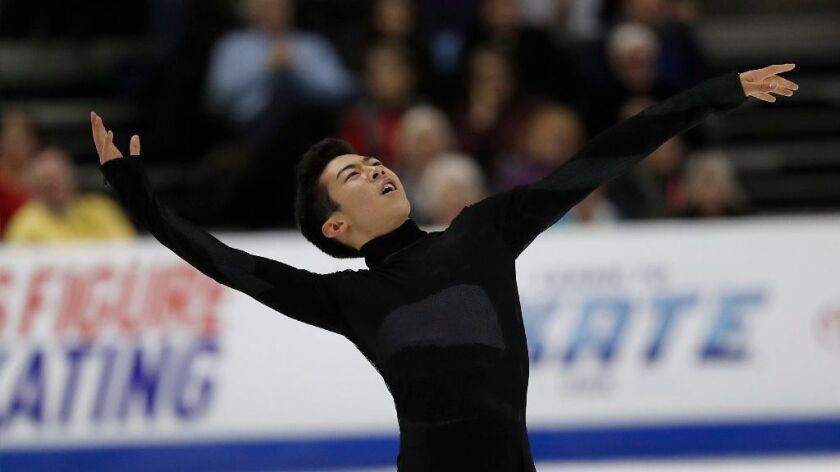 Reporting from san jose —
The drama that hovered over the selection of the U.S. women who will compete in the Pyeongchang Olympic singles event fizzled out with little more than a whimper. But choosing the three American men who vie for singles medals at the Winter Games unexpectedly veered toward controversy Saturday night when prime contenders Adam Rippon and 2014 Olympian Jason Brown imploded in their long programs, leaving U.S Figure Skating's selection panel in a quandary.
Do they reward a remarkable night for runner-up Ross Miner or look at it as a fluke and give more weight to its established criteria of evaluating each skater's body of work over the last year? If the long-term view gets more weight, Rippon might very well get an Olympic berth instead of Miner or third-place finisher Vincent Zhou, a possibility Rippon clung to Saturday night. The team will be announced on Sunday morning.
Nathan Chen defended his title and certainly clinched his first Olympic berth by reeling off five quadruple jumps, finishing with 315.23 points. But Miner, who last cracked the top three at the U.S. championships when he finished second in 2013, moved up from sixth after the short program with an entertaining, one-quadruple jump program that gave him a total of 274.51 points. Zhou, who got negative grades of execution on four of his five quadruple jumps on Saturday, moved up from fifth to third with 273.83 points. Rippon, who had said last week the only way he'd miss the Olympics would be if a competitor's mother were part of the selection committee, dropped from second to fourth and, presumably, began checking committee members' family trees.
"I knew that there was a criteria set for the Olympic team, and I feel like I have better criteria than second- and third-place [finishers] here," said Rippon, who totaled 268.34 points after under-rotating and falling on his opening quadruple lutz jump and reducing the difficulty of his last two jumps to singles instead of triples. "But with that being said, Vincent and Ross skated very well tonight. And no matter what the selection is, I will be 100% OK and can handle that."
He remained convinced he met the overall criteria — success at national and world competitions, individual Grand Prix events and the Grand Prix Final — better than Zhou or Miner has . "No question," Rippon said. "My Grand Prixes are better than everybody except Nathan. I had a bad U.S. championship but I qualified for the Grand Prix Final, and I wasn't at the world championships last year because I had a broken foot. I actually broke my foot a year ago today. I skated a little bit like it was still broken."
Miner, 26, said he earned the committee's backing. "I know it's not a fluke," he said of his performance here. "That's what I do at home every day. I did my job and it's up to them to decide what they decide, but I think I deserve to be there."
Zhou, who was second at last year's U.S. competition and won the world junior title, also said he merited an Olympic berth. "I've been training very well," said Zhou, 17, a San Jose native. "I know that I deserve to go to Korea, but it's not up to me, it's up to the selection committee."
At least Chen left no doubts. He got only one deduction, of .03 of a point, for his execution of a single axel jump, but he improvised a three-jump sequence to keep his technical score high. "I laid out a five-quad program, which I hadn't been able to do all season," said Chen, who is undefeated this season. "Ultimately I'm very happy with tonight and I think I really did my job here."
Now, it's up to the selection committee to do its job.
Alexa Scimeca-Knierim and husband Chris Knierim, who won the 2015 U.S. pairs title, won again on Saturday despite a shaky free skating routine in which both struggled with side-by-side jumps. They finished with 206.60 points and are sure to get the lone U.S. pairs berth in Pyeongchang. The sad state of American pair skating means their goal will be a top-10 finish rather than a medal. "It wasn't our best skate," Chris Knierim said. "We do have a lot of strong elements, which helped us stay up. We still need to improve and get better for future competitions." No U.S. pair has won an Olympic medal since Jill Watson and Peter Oppegard won bronze at Calgary in 1988.
The Knierims' expected Olympic selection will be announced on Sunday. The selection of the three ice dance duos will be announced after the free dance, the final event of the competition. Defending ice dance champions Maia and Alex Shibutani, who are sister and brother, lead after the short dance with 82.33 points. Madison Hubble and Zachary Donohue (79.10) and Madison Chock and Evan Bates (77.61) are second and third, respectively.
Follow Helene Elliott on Twitter @helenenothelen
---
Get the latest on L.A.'s teams in the daily Sports Report newsletter.
You may occasionally receive promotional content from the Los Angeles Times.