U.S. women's water polo team gives grieving coach a reason to smile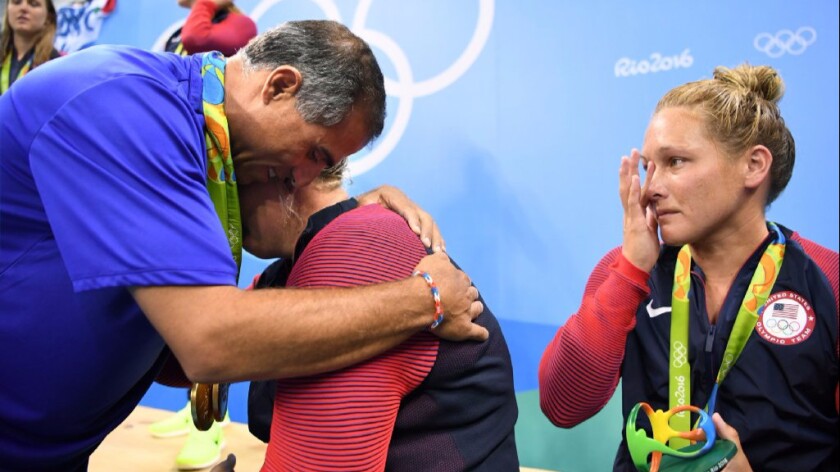 Reporting from Rio de Janeiro —
There was less than three minutes to play in Friday's women's Olympic water polo final when the emotions started to kick in for Adam Krikorian.
No women's team had ever won consecutive gold medals in the sport, something Krikorian's team was about to do. No team had ever scored more goals, given up fewer or won by a larger margin than Krikorian's U.S. team did in its 12-5 rout of Italy.
Yet Krikorian's emotions had nothing to do with joy or accomplishment. Two days before the opening ceremony of the Rio Games, Krikorian's brother Blake was found dead in his car at a Northern California beach. The coroner said he had gone paddle boarding and died of a heart attack. He was 48.
"It was hitting me pretty hard at the end of the game. Just thinking about my brother," the coach said, taking a long pause to compose himself, "thinking about how hard this journey's been."
But it's a journey Krikorian insisted on finishing. After returning to California to be with his family, he had little time to grieve before coming back to Rio in time for his team's first game. Over the next 10 days his players rewarded him with a remarkable run, winning their six games by a combined 41 goals.
When it ended, the 13 women lined up on the side of the pool and, one by one, draped their goal medals around their coach's neck.
"The thing I kept coming back to was it would be very selfish to let what happened to me personally affect this group and what we have set out to do," Krikorian said. "These girls have worked so hard for four years. Some have worked for their entire lives for this moment.
"So who am I to ruin that for them? I realized that it's not about me, it's about the team."
The team mirrored that selflessness Friday, with five different players scoring the five first-half goals as the U.S. took a 5-2 lead and never looked back. Eight of the 10 swimmers scored at least once, led by Kiley Neushul, who had three goals on four shots.
Melissa Seidemann, one of the team's four two-time Olympians, also scored while dealing with emotions of her own. As tears flowed she explained that her mother took ill shortly after arriving in Brazil and missed Friday's game.
She insisted on playing for her coach, as did goalkeeper Ashleigh Johnson, who led her Miami high school to a state swim title before quitting the sport because she didn't like swimming.
With a gold medal at stake Friday she played her best game of the tournament, saving nine of 13 shots, including a penalty try.
"He is going through a really tough time right now. We're all behind him," Johnson said of Krikorian. "It meant a lot to us for him to come and be with us [on] the biggest stage we'll ever perform on as a group."
No group has ever performed better. Friday's win ran the Americans' season record to 40-2 and their winning streak to 21 games. They've won every major international tournament their sport has to offer over the last two years, justifying their No. 1 world ranking.
FULL COVERAGE: 2016 Summer Games »
Asked whether this team is the best in history, Krikorian finally let a smile crease his face.
"You could make a strong argument," he said.
You could also make an argument that the team, with an average age of 23, hasn't peaked yet. Three players are still teenagers; one is still in high school. Nine made their Olympic debut last week.
Krikorian, 42, hasn't decided whether he'll stick around to see how it all works out. After seven years and two gold medals, the most successful women's water polo coach in history said he needs a break, first for his family and then for himself.
"Everything the last three weeks, it's been a whirlwind," he said. "To play as well as we did today, in that moment in that atmosphere in the gold-medal game when you've been thinking about this the last four years, it's a dream come true.
"Honestly, I need to take some time to evaluate where I am," he continued. "I love coaching. I love this team. That doesn't mean this is what I'm going to do the rest of my life. I need to figure that out."
Follow Kevin Baxter on Twitter @kbaxter11
---
Get the latest on L.A.'s teams in the daily Sports Report newsletter.
You may occasionally receive promotional content from the Los Angeles Times.