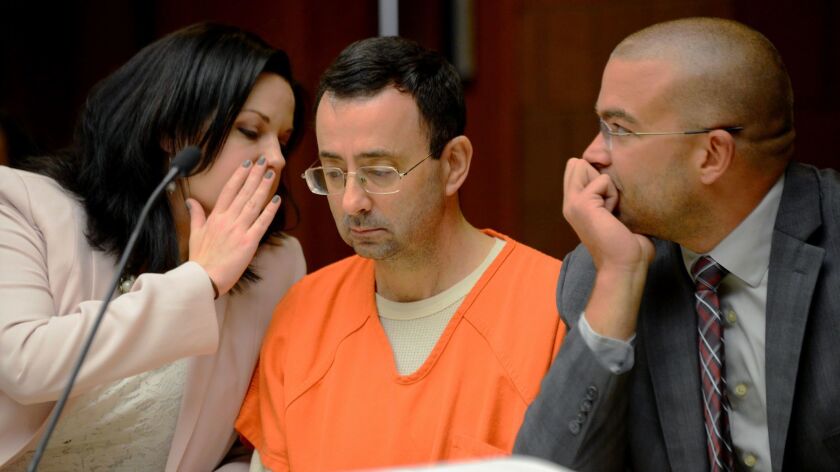 USA Gymnastics needs a "complete cultural change" to better protect athletes from sexual abuse, according to an independent review of the embattled organization's practices.
The report released Tuesday by former federal prosecutor Deborah Daniels recommends that all USA Gymnastics members be required to immediately report suspected sexual misconduct to legal authorities and the U.S. Center for SafeSport. Daniels also suggested that USA Gymnastics prohibit adults from being alone with minor gymnasts "at all times" and bar unrelated adults from sharing or being alone in a sleeping room with gymnasts. She also recommended preventing adult members from having "out of program" contact with gymnasts through email, text or social media.
USA Gymnastics ordered the review last fall following a series of civil lawsuits filed against the organization and a former team doctor by a pair of gymnasts who claim the physician sexually abused them during their time on the U.S. national team. USA Gymnastics has denied wrongdoing. The organization stated it went to authorities quickly in the summer of 2015 after hearing claims of abuse against Dr. Larry Nassar but later amended the timeline following a Wall Street Journal report, saying it conducted a five-week internal review before going to the FBI.
"A delay is impermissible," Daniels said.
A Michigan judge on Friday ordered Nassar to stand trial on charges of sexually assaulting six young gymnasts who said he molested them while they were seeking treatment for various injuries. It is one of four criminal cases against Nassar in the state.
Daniels said USA Gymnastics "inadvertently suppressed" reporting of abuse because of several factors, including that athletes are taught to follow instructions and obey coaches and trainers.
"Athletes sometimes aren't aware of where the boundaries are, so they're not trained in that regard," Daniels said. "Parents aren't real sure [either]."
Daniels said the organization needs to more closely monitor member clubs to make sure its bylaws are followed. She suggested stripping membership from clubs that fail to report claims of child abuse, plus periodic random audits to see if updated policies are being followed.
The USA Gymnastics Board of Directors unanimously voted to develop a plan to implement many of Daniels' 70 recommendations.
"We're confident it will make us a better organization to develop a culture that had safe sport as a top priority," said chief operating officer Ron Galimore.
---