U.S. barely beats Lithuania, 99-94, in men's basketball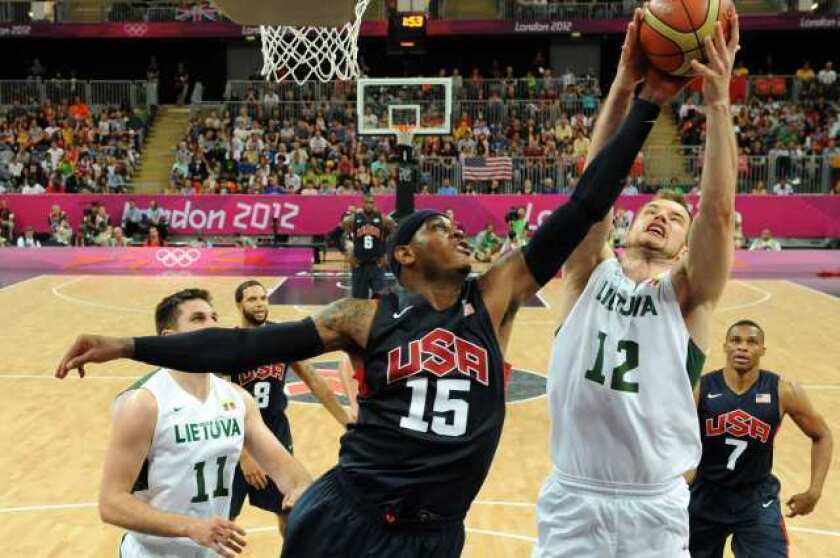 LONDON -- The U.S. never longed so much for Nigeria.
The men's basketball team came closer to crashing than creating more Olympic records, finally pushing past Lithuania for a 99-94 victory in a preliminary game Saturday at Olympic Park basketball arena.
LeBron James had 20 points and took over down the stretch for the U.S., which looked completely unlike the group that set a slew of Olympic and team records in a 156-73 victory Thursday over Nigeria.
The U.S. wasn't nearly as dependable from three-point range Saturday, making 10 of 33 shots (30%) after a sublime 63% behind the arc two days earlier.
PHOTOS: Day 8 Olympic highlights

The U.S. also didn't share as much as it did in previous games, totaling a puny 13 assists while Lithuania had 21.
There was actually tension in the arena for the first time in a U.S. game, with fans chanting, "USA! USA!" as their team tried to rid itself of Lithuania.
Lithuania even held an 82-80 lead after Linas Kleiza's three-pointer with seven minutes left to play.
James was the go-to guy in the end, though. He had nine points in the last 3:58, including a three-pointer, dunk and two successful drives.
Carmelo Anthony had 20 points for the U.S.
Kleiza, a forward for the Toronto Raptors, had 25 points for Lithuania, which entered with a 1-2 record.
In other surprising news, Spain continued to falter badly, losing to Russia earlier Saturday, 77-74. The team expected to challenge U.S. for a gold medal barely beat Great Britain on Thursday, sneaking away with a one-point victory.
Spain lost to Russia in part because Pau Gasol missed the first of two free-throw attempts that would have tied the score with 5.2 seconds to play.
"We should be at a better place right now," Gasol said. "It's very inconsistent at this point…. We are capable of playing very average for the potential of the team we have."
ALSO:
London Olympics: What to watch for on Saturday
Serena Williams routs Maria Sharapova to win gold medal
Double amputee Oscar Pistorius advances to 400-meter semifinals
---
Get the latest on L.A.'s teams in the daily Sports Report newsletter.
You may occasionally receive promotional content from the Los Angeles Times.