Now that was cool under pressure.
With a false fire alarm blaring in the background, Jared Goff stood poised at the microphone, answering questions about another star-making performance Sunday against the Chargers.
The Rams quarterback never paused. He did not miss a beat. He even correctly anticipated the end of the minutes-long alarm.
Goff's postgame performance mirrored what he did on the field, where he outdueled Chargers veteran Philip Rivers in a 35-23 victory, the first round in what the Chargers last year dubbed the "Fight for L.A."
On a day when the Rams lost star cornerbacks Marcus Peters and Aqib Talib because of injuries, Goff passed for 354 yards and three touchdowns as the Rams improved to 3-0.
Goff completed 29 of 36 passes, with one interception. He connected with receiver Robert Woods for two touchdowns and with receiver Cooper Kupp for another.
"In the first half he was completing about 90% of his passes," Chargers coach Anthony Lynn said.
Lynn was close: Goff was actually 21 of 25 in the first half, which is 84 percent.
So go ahead, keep calling him a system quarterback.
Goff said this week that he did not mind the tag as long as the Rams were scoring 30 points and winning games.
They did that again, in a game that featured Todd Gurley rushing for 105 yards and a touchdown, the Rams blocking a punt for a touchdown, and a depleted defense that rose to the occasion in the fourth quarter to stave off a potential comeback. But Goff led the way
"He's not a system quarterback, right?" coach Sean McVay said with sarcasm.
Rivers displayed all the hallmarks that could make him a Hall of Famer. The 15th-year pro passed for 226 yards and two touchdowns, including a beautiful 42-yard strike to Mike Williams. He also showed the veteran pocket presence that Atlanta quarterback Matt Ryan used to beat the Rams in a wild-card playoff game last season.
Goff, in this third season, is starting to do the same.
"I've always kind of had it," he said, citing the progression he made in high school, and then in college. Now he's doing it as a pro.
"Starting to get more comfortable, and as time goes on I will continue to get more comfortable and better," he said.
Goff kept his feet moving, scrambling for a long gain in the first quarter to keep alive a drive that he capped with a three-yard touchdown pass to Woods.
Early in the third quarter, he moved in the pocket, eluded a sack and delivered a pass down the right sideline to Kupp, who shed Chargers cornerback Trevor Williams on his way to a 53-yard touchdown.
But Goff is mainly turning heads with his passes.
Last season, his first running McVay's offense, Goff was connecting with a lot of wide-open receivers. This season the windows have become smaller, but Goff seems to be delivering the ball with more velocity, and his receivers are consistently making difficult catches on balls expertly placed out of defenders' reach.
"I'm getting more comfortable with anticipating stuff and anticipating windows," Goff said, adding, "That just happens as you grow and get better."
Said Woods, who caught 10 passes for 104 yards: "He's putting it right in a catchable spot every single time."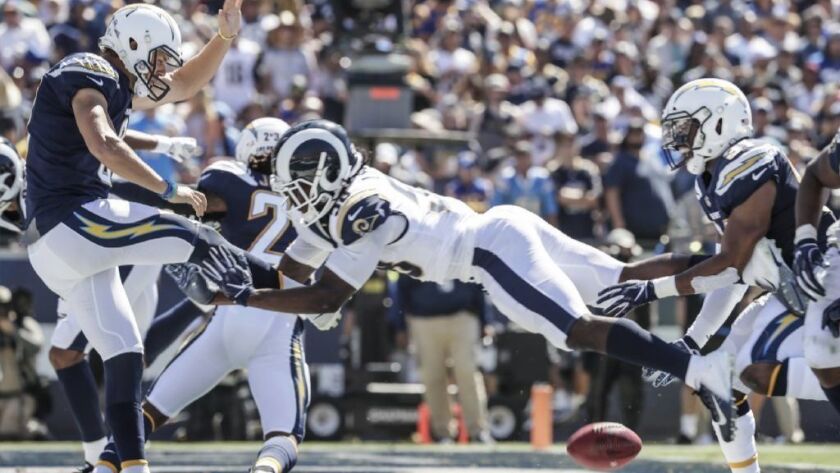 Goff is still making occasional mistakes. In the second quarter, Chargers rookie safety Derwin James picked off a pass in the end zone, but the Rams showed again that they can win with all three phases.
James returned the interception out of the end zone and went out of bounds at the Chargers' one-yard line. On fourth down, Rams middle linebacker Cory Littleton burst through the middle and blocked a punt that safety Blake Countess recovered for a touchdown and a 21-6 lead.
The defense's streak of six scoreless quarters ended on Rivers' first touchdown pass to Mike Williams late in the first quarter. But in the fourth quarter, with Peters and Talib in the locker room because of lower leg injuries, the Rams forced the Chargers to settle for a field goal instead of a touchdown that might have pulled them within eight points.
When the Rams got the ball with 4:40 left, Goff engineered a drive that ran out the clock.
About 30 minutes later, when his postgame news conference ended, a barefoot Goff retired to a locker room that was full of teammates splayed on the floor or massage tables. They were receiving immediate treatment for the short turnaround necessary for a Thursday night game against Minnesota. Goff took his place, face down on a table, for a massage.
"I feel good right now and I feel confident," Goff said. "Got the Vikings in four days so got to get ready."
Follow Gary Klein on Twitter @latimesklein
---