This time the Patriots make the unbelievable Super Bowl catch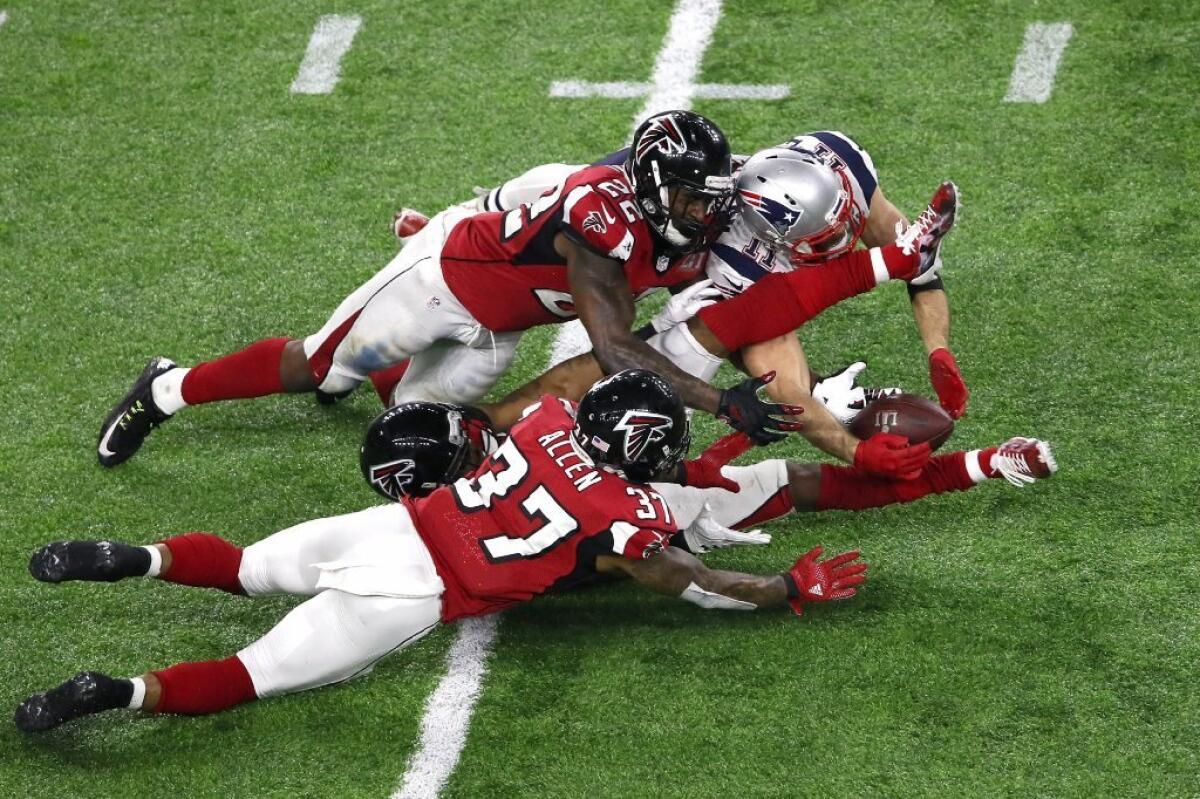 The New England Patriots were victimized in previous Super Bowls by unbelievable catches by New York Giants tight end David Tyree and receiver Mario Manningham.
On Sunday, the Patriots got their own miracle catch from receiver Julian Edelman in a 34-28 overtime victory over the Atlanta Falcons in Super Bowl LI at NRG Stadium.
His team trailing 28-20, late in the fourth quarter, Edelman ran a route over the middle and leaped to try to catch a pass thrown by Tom Brady. Three Falcons defenders converged on the ball, which cornerback Robert Alford tipped into the air. Edelman somehow stayed in control of his body as all of the players hit the turf, and he held on to the ball.
"It was one of the greatest catches I've ever seen," Brady said.
"I don't know how the hell he caught it. I mean, I don't think anybody — I don't think he does, but that's the way it goes."
The Patriots gained 23 yards on the play, which keyed a drive that resulted in a touchdown and game-tying two-point conver- sion.
"I knew I had a good feel on it," Edelman said. "I didn't know if a piece of the ball was touching [the ground]. I don't know what the dang rule is. No one knows that the rule is. I'm pretty sure I caught it."
Brady connected with Danny Amendola on the next play, setting up a short touchdown pass to running back James White.
After the game, Patriots receivers still could not believe Edelman's catch.
"That's going to go down in history as one of the greatest catches," Chris Hogan said.
"Jules makes plays for us. He's a playmaker on our offense and he's a go-to guy. He found a way to catch that ball. It was incredible."
Said Amendola: "Unbelievable. It was an awesome catch. I don't know how he did it."
Edelman finished with five catches for 87 yards.
But he will be known for the catch.
"It feels good," he said. "I'll tell you that right now. It still hasn't hit me."
Follow Gary Klein on Twitter @latimesklein
Get the latest on L.A.'s teams in the daily Sports Report newsletter.
You may occasionally receive promotional content from the Los Angeles Times.