Case Keenum and other Rams veterans report to training camp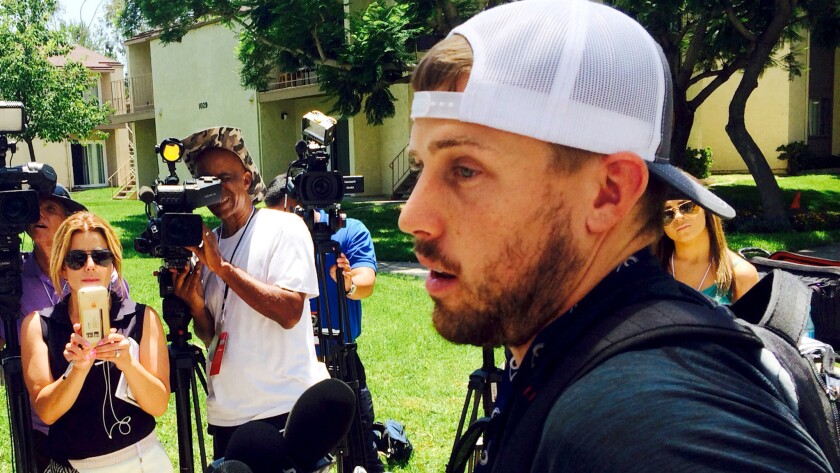 Case Keenum experienced a series of firsts as he arrived at Rams training camp.
The quarterback is atop a depth chart going into the exhibition season for first time in his NFL career.
He was greeted upon on arrival by a film crew that followed him to his room. And he is traversing the UC Irvine campus on a bicycle, a mode of transportation he has not used since he was about 12.
"This is a little different too," Keenum said Thursday as he looked out upon a crowd of reporters, photographers and camera operators. "A few more of you guys."
Keenum, 28, is expected to eventually become a backup for Jared Goff, the No. 1 pick in the draft. But Coach Jeff Fisher and General Manager Les Snead have said that Goff will not play until he is ready.
So for now, Keenum remains focused on becoming the starting quarterback for a franchise that has returned to Southern California after more than two decades in St. Louis.
Rookies reported Tuesday and veterans were expected to continue rolling in before Friday morning's mandatory team meeting.
The Rams will hold their first full-squad open practice Saturday.
Keenum, Goff, Sean Mannion and Dylan Thompson are quarterbacks for a team that just released veteran Nick Foles, last season's opening game starter.
Keenum supplanted Foles late last season and completed 61% of his passes with four touchdowns and one interception in six games. The Rams were 3-2 in Keenum's starts.
Foles became expendable after the Rams traded for the No. 1 pick so they could draft Goff.
Keenum said Foles was one of his best friends.
"I know whatever team he lands with is going to land a really good quarterback and a great teammate," Keenum said. "I know that it's been kind of a weird situation for him, but that's the tough part — it's a business and you kind of have to handle a lot of that stuff before you can go play."
The Keenum-Goff competition and dynamic will be one of the main story lines during training camp and exhibition games against the Dallas Cowboys, Kansas City Chiefs, Denver Broncos and Minnesota Vikings as the Rams prepare for their Sept. 12 opener against the San Francisco 49ers on "Monday Night Football."
Keenum, who will earn $3.6 million in his fifth pro season, said he had a "a great relationship" with Goff, who signed a four-year deal worth $27.9 million.
As he did before the start of organized team activities, Keenum said he would offer Goff help when needed but would not overload him with advice, deferring instead to offensive coordinator Rob Boras and quarterbacks coach Chris Weinke.
He looks forward to a healthy competition with the rookie.
"When it's good people, it really makes it a lot easier — and he's good people," Keenum said. "We're trying to make each other better.
"The way I've always seen it — I don't want him to do bad. I want him to do good. But when I'm competing with somebody, I want my best to be better than his."
Keenum and Goff kept busy during the break between the end of OTAs in June and their arrival at camp, practicing with receivers and tight ends.
"We thought we'd try to work a little bit — not just sit around on the couch and eat Cheez-Its all summer," Keenum said. "I think we made a jump."
Defensive tackle Aaron Donald, offensive tackle Greg Robinson and safety Cody Davis were other Rams veterans who spoke with reporters Thursday.
Donald, a two-time Pro Bowl pick, said he was in better shape than when he arrived for his first two training camps.
The 6-foot-1 Donald is listed at 285 pounds. He has 20 career sacks and is regarded as one of the most dominant defensive players in the NFL.
"I just lost some body fat and added some muscle," he said, chuckling. "I had a little bit of a gut. It's still there, but it just isn't as bad as it was last year."
Robinson, the second pick in the 2014 draft, said he was looking forward to making a jump at left tackle.
"I'm not satisfied with my performance the first two years and I have to fix that any way possible," he said. "My main focus is just being consistent and trying my best to just perform to the best of my ability."
With the departure of Rodney McLeod to the Philadelphia Eagles, Davis is listed as the starting free safety going into training camp. Like McLeod, Davis was an undrafted free agent when he signed with the Rams in 2013.
"It feels a little bit different just because I'm going into my fourth year — I can't really believe that," he said. "I guess I'm the old guy in the room, partly, so that feels a little bit different.
"But there's not much different in is my mind-set going in."
Etc.
The Rams put offensive tackle Rob Havenstein on the physically-unable-to perform list.
gary.klein@latimes.com
Twitter: @LATimesklein
---
Get the latest on L.A.'s teams in the daily Sports Report newsletter.
You may occasionally receive promotional content from the Los Angeles Times.